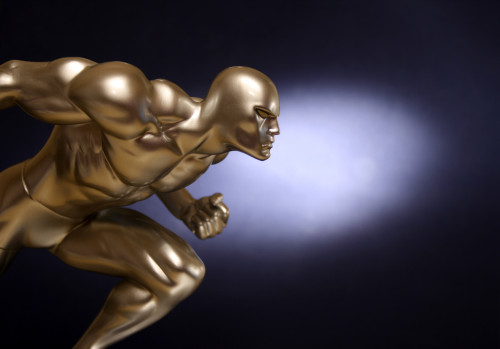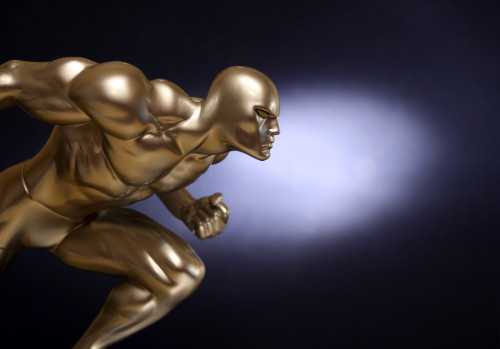 Not long ago, I reviewed Bowen Designs' Silver Surfer Galactus Scale Statue. At the same time they shipped the mini statue, Bowen also released a new full size collectible of the Surfer, in scale with the rest of their Marvel line of statues. Here's my review of this newest full-size statue, along with photos.
The first thing to note about the 2008 Silver Surfer statue is that its pose is unmistakably similar to the pose of the Galactus Scale statue released at the same time. Standing around 12″ tall from the top of his head to the bottom of his base and with a surfboard measuring about 13″ long, the full-size statue is significantly larger than the mini statue, but it's otherwise a very similar piece. Both statues depict the Surfer in action, leaning forward on his board, which is supported by a black curved display base. Both Surfers have one leg extended behind them with the other bent in front, and both have one hand clasped in a fist, elbow bent, with the other extended away. But really, if you're going to make a statue of the Silver Surfer in action, what other sort of pose could you reasonably go with?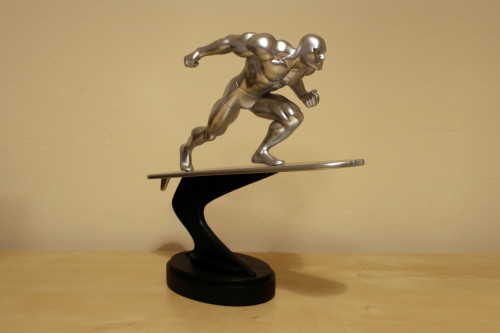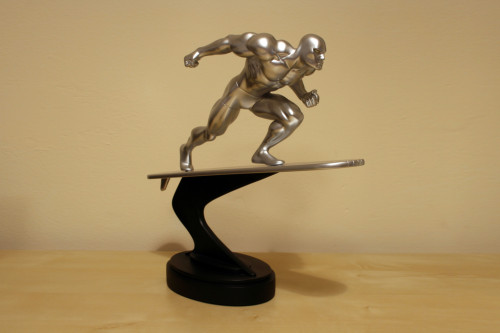 Similarities aside, I thought both pieces were distinctive and well crafted enough to add to my personal collection. This Surfer's scale makes him a big and eye-catching piece, as the surfboard really stands out in the middle of any collection. The paints are smoothly silver all over, with some white and black on the eyes. The silver is not a chrome finish but gives a nice metallic shine that is slightly reflective. The surfboard comes affixed to the black base, and the Surfer attaches to the board by a metal pin in his back foot that slides into a hole in the board and a shallow hole in his front foot that aligns with a small nub on the board.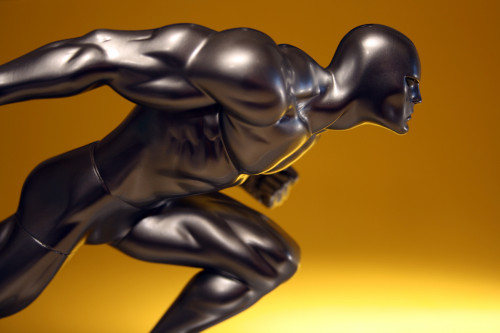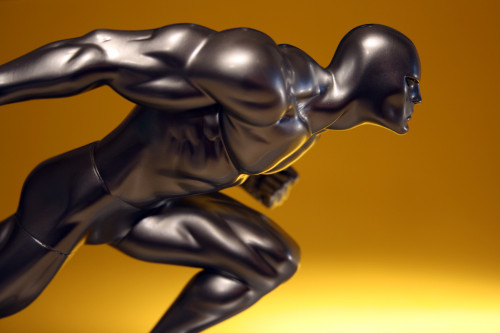 In the box, the surfboard and Surfer are packaged separately in the styrofoam inner box. For some reason, the workers at the factory placed a small plastic shield at the back of the Surfer's head in the box. I've heard a lot of reports from people who have had that plastic adhere to the silver paint on his head, causing unsightly blemishes in the paint coat when they removed him from the box. I was lucky and didn't have a problem with the paint sticking on mine, but it's worth noting if you pick this guy up.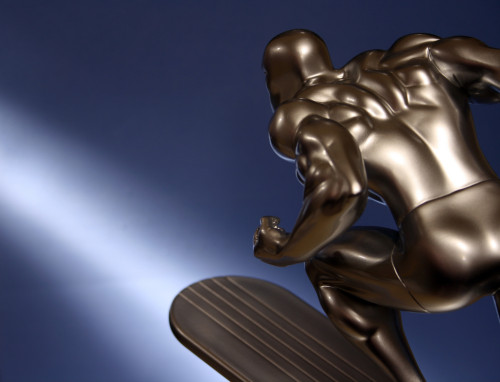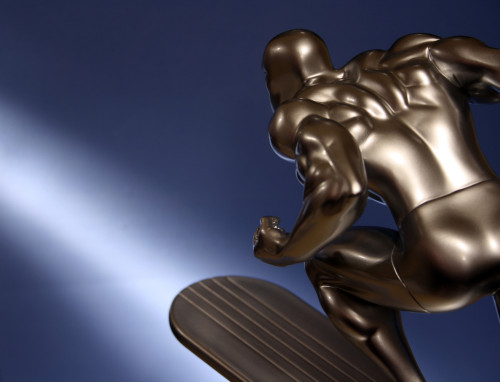 The 2008 Silver Surfer statue is limited to 3500 pieces and is a fine addition to the ever growing Bowen Marvel line.
( Bowen Designs 2008 Silver Surfer Statue Photos )