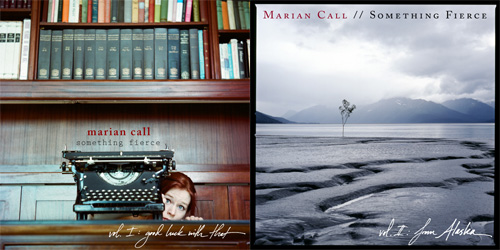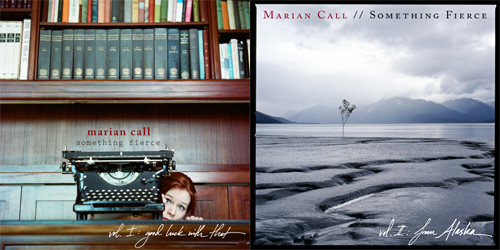 Last year, Marian Call's double album Something Fierce was one of my favorites of the year. This year, in an effort to get more mainstream attention (NPR, Paste Magazine, etc.), she is rereleasing the album on November 13. In order to promote it, she has created an Adventure Quest over on her blog. Fans are given a task to perform each day in order to help promote the album. Even the Bad Astronomer, Phil Plait, has beaten me to the promotion. For my part, given that I never did a full review of the album, this seems like a perfect excuse to do exactly that.
So, I'll start off by quoting myself here: Marian Call's "music is ready made for a geeky English teacher fan of Joni Mitchell like me." The songs have a literary quality to them. For an obvious example, you have "Dear Mr. Darcy," which is technically the title track ("Do not underestimate me, boy; look closer and you'll find that if you peel back the polite there might be something fierce inside") and is one of my favorites. The phrasing on this track really amplifies the meaning of the lyrics, especially the repeated line about dropping bricks. For some reasons, it always makes me think about Douglas Adams's line from The Hitchhiker's Guide to the Galaxy: "The ships hung in the sky in much the same way that bricks don't."
But it isn't just the literary references that make this a more literary album. There are also the themes running throughout both albums of the set. The first album's theme is "Good Luck With That," which manifests itself in different ways in several songs. Sometimes that theme is sincere ("Good Morning Moon," which was written as a wake-up song for the crew of the International Space Station), sometimes sarcastic ("The Avocado Song," another favorite, which uses various items that don't last long as metaphors for bad relationships), sometimes melancholic ("All New (Heart Shut Tight)", about a failed relationship), but always there if you look for it.
Disc Two has a more direct theme: "From Alaska." Marian isn't originally an Alaskan, but when she moved she fell in love and has adapted quite nicely to the state after first arriving ("Whistle While You Wait"). Not quite completely, however, as evidenced on "I Wish I Were a Real Alaskan Girl." Of course even Alaska becomes a metaphor; "Equinox," for example, uses the balance of the equinox and the coming winter to describe the end of a relationship (I get the impression from this album that Call hasn't always been terribly lucky in love). And "Anchorage" itself becomes an anchor not just for Call, but for the entire album by ending with the lyrics "Anchor me here." Regardless of the theme, Marian's vocals create a perfect blend of music and lyrics.
Perhaps this album isn't nearly as geeky as her previous album, Got to Fly, but given that Marian Call is quite the geek herself, I'd say it qualifies as "geek music." So if you're already a fan of her geekier stuff, and you like her voice, you really owe it to yourself to check out this double album. And if you like it, don't forget that "great music is worth money" and buy it!