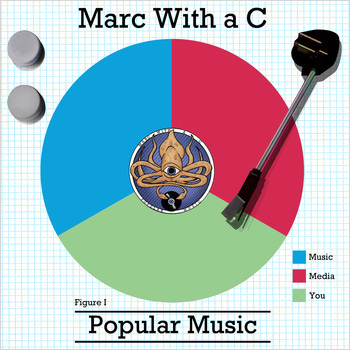 The latest release from low-fi artist Marc with a C, Popular Music, is crowd sourced in more than one way. First, he used Indiegogo to fund the recording, which is no surprise for an indie musician. But he also used Facebook and Twitter to solicit suggestions for types of songs that he wrote. He then took those suggestions, mixed them together, and created the various songs that appear on the album. He even provides helpful charts for how much of each suggestion is in each song. It's a great idea, and it's lead to Marc's best album to date, and quite probably already my favorite album for the whole year (and, yes, I'm aware that They Might Be Giants have a new album due out later this year). Oh, and it is Marc with a C, so expect naughty words.
So what makes it such a great album? Musically it's pretty typical Marc with a C: lo-fi guitar-based pop with a definite DIY feel. Upon first listening, it's obvious that the order of the songs was chosen with care as they all flow together quite nicely. This is where we start to see the greatness. By starting with a ringtone of a phone ringing followed by a voicemail message about talking on the phone and ending with a Ferris Bueller-esque "the album is over" message, the album feels like a postmodernist novel: disjointed, without much connection, but somehow still a story. Add in the fact that the title track is "nothing more than a sound check" which is followed immediately by a commentary on the actual recording ("I've got the proper amount of snare in my headphones now"), plus the juxtaposition of two dick-joke laden tracks ("Dickpuncher III: The Dickening" and "The True Story of Triforce Mike") on side two (yes, "side two" — more on that later), and it's pretty clear that Marc was trying to create something meta, which is appropriate for postmodernism.
Need more proof? How about "Whack Jite," the not-so-subtle style parody of / tribute to the singer from the White Stripes and the Raconteurs? Or "Free Bird," which is about actually giving away a bird (and clearly meant to be pulled out for the idiots at live performances who drunkenly call for "Free Bird")? In fact, it seems that each time I listen to the album I discover something else that makes it into a postmodernist masterpiece (it's also a big reason why it took so long to get this review out). Marc himself recently commented that the last track was really "the whole reason that [his] new album exists at all." He is only sort-of kidding; the track isn't just the last track, it's also about writing about writing and talking about talking (how much more meta can you get?).
And then there's the recording itself. For the first time in I have no idea how many years, I actually bought a vinyl album (hence my "side two" comment earlier), and I even had to buy a record player to play it. All of Marc's albums are meant to be heard on vinyl (and there's a good chance I'll buy the rest that way, too), and it's easy to see why. The lo-fi music just fits better on vinyl than in a digital format. Now, I'm not going to claim that I truly hear a difference (I did as direct a comparison as I could, hooking up the same set of speakers to both my iPod and my record player, in order to minimize the possible variables), but there's definitely something aesthetically appealing about putting an album on an actual turntable and moving the arm onto an actual physical object, then waiting the briefest of seconds to hear the actual recording. And listening with headphones (wireless, just to add to the meta nature of the whole thing), I can hear the faint susurrus of the needle on the record between tracks. So, the medium truly is the message.
If you have enjoyed anything Marc with a C has done in the past, you truly owe it to yourself to buy this album. Heck, if you are a music lover of any kind, especially if you appreciate postmodern meta-commentary, you really should pick it up. You won't be disappointed.