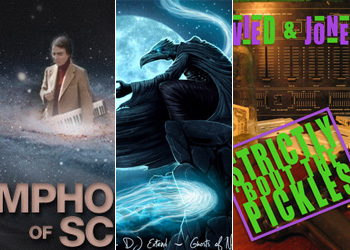 Last week I featured six new releases. This week brings us six more. Once again, there's some explicit language in some of the albums, including track names used in the reviews (though fewer this week than last).
Trock pioneers Chameleon Circuit return with their sophomore release. Once again they feature songs about the Doctor as well as his companions and enemies. There's more cohesion on this album than their debut, with many tracks running into each other. Often the end of one track sort of previews the next. For example, the transition from "Nightmares" sounds like a chugging train which then becomes the main driving beat of "Travelling Man." Vocally, Alex Day reminds me at times of '80s English alternative bands like The Smiths or The Housemartins / The Beautiful South. Weirdly, I'm not a fan of those bands, but I love Chameleon Circuit. It probably has to do with the content of the lyrics. Anyway, like the last album, this contains tracks about specific episodes (e.g., "Kiss the Girl" about "The Lodger" and "Big Bang 2" outlining the story of the Pandorica) as well as more character based songs (e.g., "Mr. Pond" about Rory and "Regenerate Me" about the Doctor himself). There's a lot of cheesy music out there in the world of fandom-based music, but Chameleon Circuit is decidedly not one of those bands. In fact, they actually made the Billboard Heatseekers list at #23. Pretty impressive for a band that does songs about Doctor Who.
Florida's own Marc with a C is back with a concept album about an arrogant jerk (Brian) who loses his girlfriend (Jenny Oliver). Along the way he becomes obsessed with flossing ("Since I Left My Baby, I Can't Stop Flossing") and discovers The Great Squiddy ("Love My Little Squiddy" based on a lyric that George Harrison never got to use with The Beatles). Perhaps it's not a typical story about boy losing girl, but it's got Marc with a C's signature lo-fi comic story-telling so it works quite well. In some ways, he reminds me of Jonathan Coulton (and others) in that his songs often start out normal enough then take a weird turn along the way (e.g., "You're My Princess"). In fact, the entire story is kind of like that. Becoming obsessed with flossing is pretty strange, but discovering The Great Squiddy and deciding to spread His divine message through rock 'n' roll is definitely going off the deep end. It's a really fun, clever album that you should support with your money (it's available in digital form for whatever price you're willing to pay).
Strictly speaking, this isn't quite a new release, although the latest track from it dropped in September. I first became aware of Symphony of Science with their viral video, "A Glorious Dawn" featuring Carl Sagan and Stephen Hawking. Their voices were Autotuned and set to electronic beats. Since then, several other scientists and science advocates, living and dead, have been added to the mix: Bill Nye, Neil deGrasse Tyson, Richard Feynman (both his voice and bongo drumming), Jane Goodall, Alice Roberts, Carolyn Porco, Michael Shermer, Phil Plait and PZ Myers are just a few. Not only is the music great, there are some great messages and highly quotable lines in each track. How cool is it to have catchy tunes that use actual scientists' words? Very cool. Because of "The Poetry of Reality," I have a new favorite quote about how wonderful science is: "There's real poetry in the real world. Science is the poetry of reality" (Richard Dawkins). In fact, the music is so good, I used several tracks for my own PhotoStory about The Amaz!ng Meeting 9. If you're a fan of science, you owe it to yourself to check out the Symphony of Science.
It's a safe bet that if Stevie D from the Illbotz is involved in something, it'll be both good and funny. This collaboration with Joneski is no exception. "Funky Dope F**kin'," for example, features both rappers rapping about the girls they meet mixing them up with each other. They start to object — but then decide to just go with it. Like the Illbotz and other nerdcore rappers, there are also a couple of skits on this one. In "Generic Haters Skit," Stevie D and Joneski try to diss all the haters but realize that no one actually hates the album. Several tracks feature samples from some unusual sources. "Joneski Boogie" uses "Jungle Boogie," which makes a certain amount of sense, but using "Jesus Christ Superstar" to create "Super Nice Superstar" is certainly not expected. I suppose, however, that the unexpected should be expected when dealing with Stevie D (I'm less familiar with Joneski, but considering he has an album which he claims is previously missing Jim Morrison tracks, I'd guess he deals in the unexpected, too). As will shortly become a theme in this list, this album is also available completely for free so check it out now!
I really enjoy John Anealio's singer-songwriter nerdy music. It's catchy and fun, even when he's singing about topics I know nothing about (I've never read any George R. R. Martin, and I didn't care for the TV show, Games of Thrones. And yet I find "George R. R. Martin Is Not Your Bitch" sticking in my head randomly. Go figure.). And when I'm in on the joke, it's even better. "Unicorn Pegasus Kitten" is pretty definitely my favorite track on this EP. I'm a big Wil Wheaton fan, and I remember when he first posted the picture that inspired the track. There's also "Blue Lego (Steve Jobs Hates Flash)" about the frustration of trying to access videos on Safari only to find they won't work. As an iPod Touch owner, I've run into this problem (fortunately, I now own a Droid X so I don't have to worry about it so much anymore). The five songs on this EP serve as a great introduction to his music. Oh, and best of all, it's available completely for free at Bandcamp.
As a child of the '80s, how could I resist an album written by someone who took his name from The Dark Crystal? It's pretty clear that The Garthim-Master is also a child of the '80s; not only does this album feature a track about The Dark Crystal ("The Crystal Shard"), it also has tracks about Dune ("Fremen Oath"), Watchmen ("Rorschach's Journal"), Star Wars ("Dude, Where's My AT-AT At?" featuring Wordburglar, and "Mynocks and Jawas"), TMNT ("Krang"), Gremlins ("After Midnight" featuring Cam the Wiz), and Back to the Future ("Forward to the Past (88 mph)"). It's not all '80s, though, since there's a track about Heroes ("Save the Cheerleader," which focuses on the time before the series went wrong) and others about MMORPGs (like the appropriately titled "MMORPG"). Ghosts of Nostalgia is clearly an apt title for this fun album. If you, too, are a child of the '80s, it's well worth a download, especially since it, too, is completely free!