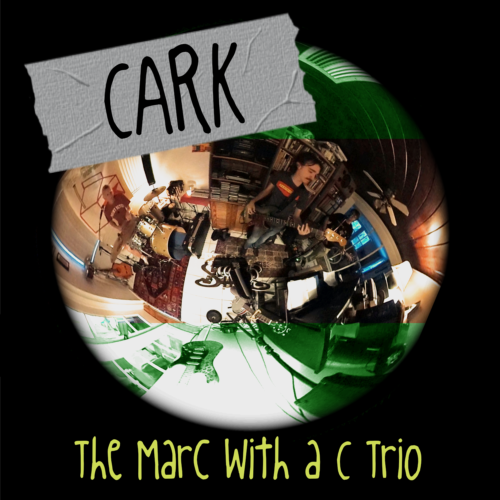 This coming Saturday, Oct. 8, is Cassette Store Day. To celebrate this fact, Marc with a C teamed up with frequent collaborators Jim Myers and Emmit Dobbyn to create special trio versions of his songs for a limited edition cassette release (with no plans for a digital only version, though the cassette does come with a download code). So limited in fact, the only way to guarantee that you'll get a copy is to either drop by Park Ave. CDs in Orlando or call them to place an order on October 8.
Clocking in at 90 minutes, the album nicely represents every era of Marc's rather extensive catalog. With the addition of Jim and Emmit, however, the songs take on a new life that feels very close to a live show with the three of them (even though it was recorded in studio). Take the recent track "Epic Fail" as a perfect example of this. It's a great song from Unicorns Get More Bacon, but this version is just incredible, particularly Jim's drumming.
Adding to the live feel are minor changes to the lyrics that Marc usually includes in live sets (e.g., "She gave herpes to the undercover police" in "No London in Brazil" or "A nerdy girl knows what kind of hentai that she wants" in "Nerdy Girls"). There's even "audience" participation on "Motherf***ers Be Bullsh**tin'" — well, actually it's just Jim and Emmit as the audience, but still.
I'm not going to release the full track list because that will spoil the surprise of listening to the entire album, but I will say that cassette is a perfect format for this release. Marc clearly chose the songs very carefully to fit perfectly into the ninety minutes allotted, with 15 tracks hitting exactly 45 minutes on each side (there's even that cassette intro and outro sound — you know the one — at the beginning and end). The fact that it was recorded in just one day also seems appropriate to the format, as if the three musicians spent the day compiling the perfect alternate reality mixtape of Marc's music.
If you're one of the many people who's been clamoring for a Marc with a C cassette release, then Oct. 8 is finally your day. Get yourself over to Park Ave. CDs or give 'em a call if you can't get down to Orlando. There's a very good chance it's the only way you'll be able to get your own copy of this unique collection!