Well, geez, March has been a great month for geek music here on Fandomania. With three lists of music videos and three sets of reviews, there's plenty to love. Let's get to this last set of reviews now!
On this album, Count Jared has, I think, truly found his genre. The rockabilly tracks on his previous albums were always great, so an entire album of the style, combined with his gothic sensibility, makes so much sense. His voice and guitar playing are just perfect for this style of music, and it's not something that anyone else is doing in the geek music world.
The album begins with a song about a new type of "dance," the "Zombie Stomp." We also get several more dance numbers: "Boneyard Boogie," "Flying Saucer Shake," and the fully instrumental "Transylvania Twist" (which reminds me of Shadowy Men on a Shadowy Planet, the band that did the Kids in the Hall theme song). Along the way, the Count takes us through a world populated by whiskey drinkers, vampires, aliens, and even Death himself.
Stand out tracks on the album include "Dracula's Place," which particularly shows off Jared's guitar skills, and "Sweet Elvira," one I'm particularly partial to. I remember watching the Mistress of the Dark on early cable; I think it's a big factor in why I love B-movies so much. I think my favorite track is, kind of surprisingly, the one that has the least amount of genre references: "Party Liquor Rain." It's such a solid track all around that I just can't help but love it.
If you're a fan of the rockabilly sound, especially if you like gothic / horror themes, you really ought to check out Graveyard Hootenanny. It's a whole lot of rockin' fun!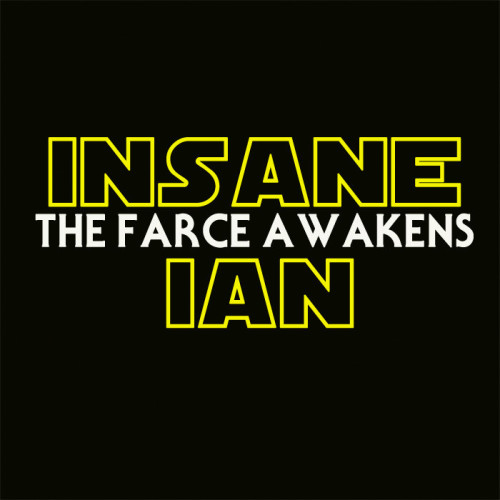 There are only three songs on this EP, and they all share the same name: "Kylo." Three guesses as to who they're about, and the first two don't count. I'll also bet you can figure out at least two of the songs that Insane Ian parodies (here's a hint: the leader of the Knights of Ren's name rhymes with a certain greeting). The third is one I would never have figured out without the Bandcamp notes. Now, just because a couple of them are easy to guess doesn't mean they aren't clever. It is, after all, Insane Ian who made them, so you know they're going to be good.
The first "Kylo" is a lament from the perspective of Luke Skywalker (and, yes, it's a parody of Adele's "Hello," with the requisite reference to Kylo being on the Dark Side). The second is a parody of "Stylo" by TV's Kyle and is basically just a silly song about Kylo (hmmm… I just got the Kyle / Kylo connection, too. Cool!). And wrapping up with the third, Ian gives us just one verse of Han Solo's version of Lionel Ritchie's "Hello." But the ending is pretty effin' sweet!
If you somehow have managed to avoid seeing Star Wars: The Force Awakens, you're probably the only person in the world who would not appreciate these songs. In other words, everyone who reads this is likely to enjoy The Farce Awakens. So just go buy it already!
Thundering Asteroids! – "Polybius" / "Hi-Keeba!" cassingle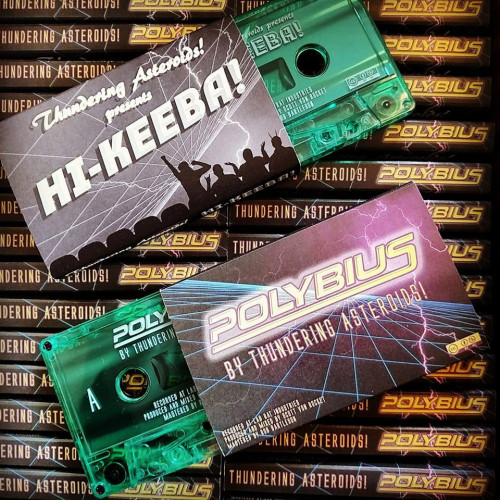 Yes, you read that correctly. The awesome nerd punk band Thundering Asteroids! is celebrating their final concert on April 2 in Portland by releasing a limited edition cassingle (and also digital download version, both of which will be available starting on April 2).
Fans of video arcades will likely remember the legend related in side one's "Polybius." The game supposedly just showed up in an arcade one day and was used by the "men in black" to… I have no idea; those weird conspiracy theories don't always make much sense to me. I actually hadn't heard about it until an episode of Skeptoid podcast from a few years ago, but I'll admit it's an interesting story despite my not believing in it. Side two's track, "Hi-Keeba!" is one I'm kinda embarrassed I had to look up since it's an MST3K reference. I've seen a good number of episodes, but I guess I must have missed the original one that it's from. Great track, nonetheless.
It's too bad the band is ending, but if you're gonna go out, this is definitely a great way to do it. And of course we still have their music to rock out to.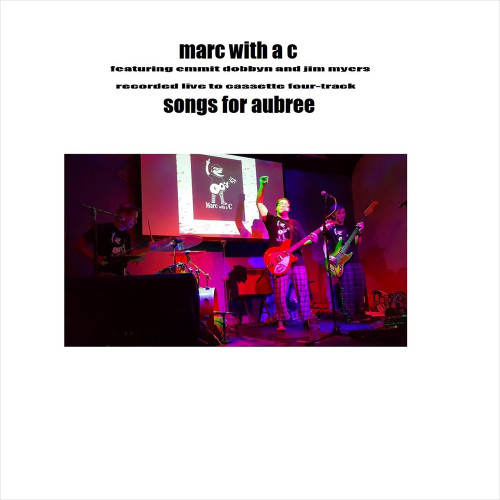 Marc's latest EP isn't just a collection of new, full band live studio versions of several tracks from across his back catalog (recorded on an actual cassette four-track, giving it that early Marc with a C lo-fi sound), it's also a way to help out a fellow geek and fan. I don't do a lot of direct quoting of descriptions in my reviews, but I think Marc's words will work much better than mine here:
I have a fan named Aubree. She's a very nice lady, and she's become quite good friends with Emmit. As of this writing, she's 20 years old… and she has roughly 20% pulmonary functionality. Aubree has cystic fibrosis which is a genetic disorder that affects mostly the lungs but also her pancreas, liver, kidneys, and intestine. Many hours a day are spent doing breathing treatments and CPT to clear the lungs of thick mucus. Aubree is hospitalized every 3 months for at least 2 weeks to receive intravenous antibiotics for infections. There is no cure for cystic fibrosis.

As you can imagine, insurance only covers a small percentage of her needs. And while I can't solve her health issues, today I'm releasing this digital EP, and all proceeds raised will go directly to her care. We're asking a minimum of a four-dollar donation to download it, though you can pay as much as you'd like to give to help a young lady and her family in their time of need.

Alternately, if you'd like to help, but do not wish to download the EP? You can donate directly to her GoFundMe page, which will also tell you more about her battles: www.gofundme.com/3mnc7f5t.
And if for whatever reason that doesn't convince you, there's even a brand new Marc with a C track included as well. That's got to be worth a few bucks to get some great music that also helps out someone in need.