OK, this month I might actually have to split this list up into three parts, although the third part may get pushed to next month. There's just been a ton of stuff that's come out that I'd like to help promote. So let's get to it!
Insane Ian – "Dr. Who"
Insane Ian's latest parody is for They Might Be Giants' "Dr. Worm." He rather cleverly leaves certain lyrics the same, but they become recontextualized with The Doctor as the subject of the song. Very nicely done!
Insane Ian – Internet Famous Limited Edition 4-Disc Set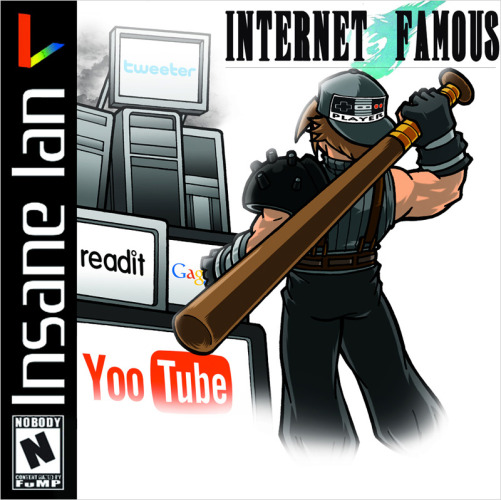 Speaking of Insane Ian, you may recall that when his Internet Famous album was released, there was supposed to be a deluxe edition as well. After several personal setbacks, Ian has finally released that version. I've already written about the main album (the tl;dr version: I love it!), but having heard the new material, I can say without doubt that the four disc set is well worth the extra cash. The extras that you get on the other two discs (the main album takes up the first two) include instrumental (Ianstrumental) versions of many of the tracks (weirdly, there's no instrumental version of "Shut Up, Ian!" Actually, though, now that I think about it, I guess the whole disc basically embodies that track. Hmm…) and unplugged versions (or IanPlugged versions, to be more precise). The obvious stand out on the IanPlugged disc would have to be the version of the Taylor Swift parody "Turn It Off" played on classroom instruments. Love it!
Baba Brinkman (feat. Aaron Nazrul) – "Veni Vidi Vici"
Mankind is responsible for quite a few extinctions of species. Maybe we can stop it, if we just invest a little money into it. Baba Brinkman urges us to do just that.
Rhiannon's Lark – "Killer Snails"
I really wish that I had more people to play board games with. This one sounds really great! This comes to us from relative newcomer (to me, at least) Rhiannon's Lark. Expect her podcast episode soon!
Smashy Claw – "Seamen Parade"
Yup, it's pretty much what you'd expect given the name and that it's by Smashy Claw. Rather ridiculous, but fun!
Marc With a C – "Epic Fail" (Explicit)
The video for Marc's latest single from Unicorns Get More Bacon takes an interesting look at why people fail. My interpretation is that it's our inner child taking over and messing with our words and actions, but maybe the video and song aren't even meant to be directly related. Either way, great stuff as always from Marc with a C and Tim Labonte.
Nerf Herder – "Buffy Theme"
Watch as a huge crowd "sings" the Buffy theme along with Nerd Herder's live performance at Dragon Con 2016. See if you don't end up singing along!
Meri Amber – "Sum of Us"
Sometimes love takes some strange and unexpected turns. One minute you're leading an ape into a trap, and the next… no, wait, maybe that's not that common after all. Ah, well, enjoy this great song and video from Meri Amber.
Dino-Mike – "The New Me"
I think there are many of us, especially us geeks, who have wished we could replace our human parts with cybernetic ones so we wouldn't have to feel those squishy human emotions. In this video, Dino-Mike succeeds, perhaps a bit more than he wanted to.
Mikey Mason – "Pumpkin Spicemas"
It's that time of year again: pumpkin spice is in everything! Actually, I discovered a couple of days ago while at Starbucks ordering a pumpkin spice latte (yeah, I know, I'm part of the problem!) that it was the thirteenth anniversary of the drink. So, happy birthday PSL!
Moka Only – "Food Truck" (Explicit)
And now we get into the "geek-adjacent" section of the list. From the Hand'Solo 20th anniversary compilation, Bassments of Badmen 3, comes this one from Moka Only. I love the vibe on this one; apparently he calls it #horsejazz, which I suppose makes a certain amount of odd sense. Good stuff!
Eternia f. Phoenix Pagliacci – "For This Life"
Another one from the same compilation (expect more details about it later this month!), this track with its mellow vibe and life affirming chorus features an "unofficial video [paying] homage to Toronto's Annual Manifesto Festival of Community Arts & Culture." Apparently it marks a different direction for Eternia, so it's got me curious to hear more from her.
baba brinkman
,
dino-mike
,
eternia
,
Insane Ian
,
Lists
,
marc with a c
,
meri amber
,
Mikey Mason
,
moka only
,
nerf herder
,
rhiannon's lark
,
smashy claw