Well, this is gonna be the final column here for quite a while so let's make it epic and long! As I mentioned last month, I'm not quite sure when or if I'll be back, but I'll honestly be surprised if I don't get pulled back in at some point. I'll still be listening to geek music, but it'll definitely be nice to be able to listen as a fan rather than listening in order to write about it. Let's get to it, shall we?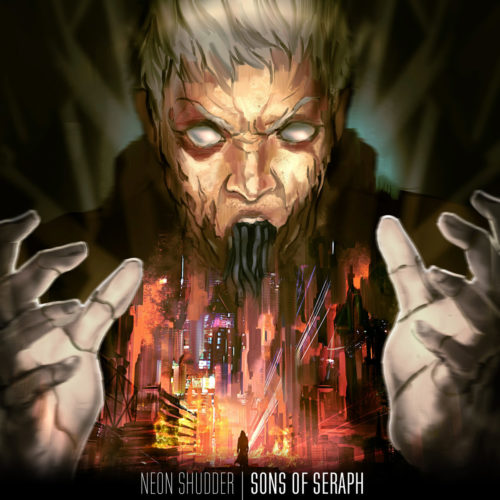 The sequel to neon shudder's Cadence continues five years after the events of that story. From the title, it should be clear that Seraph, the AI that disappeared at the end of Cadence, has returned. He and the Sons of Seraph commit a series of terrorist attacks, claiming to want to return Cadence to its origins. The Go! Group, joined by an old friend, are again called upon to help stop this threat.
Just like on the previous album, the soundtrack compliments the story in terms of the emotion and action of each chapter. A particularly good example of this is the track "Derailed." Its driving beat perfectly captures the opening lines of the chapter which features an "18-wheeler hurtl[ing] along Route 82 like a massive steel battering ram, causing cars to swerve out of its path." Plus I'd say the title pretty well sums up that image as well!
If you haven't yet checked out Cadence, go check it out first, then come back for this sequel. And if you have, what are you waiting for? Go grab your copy now!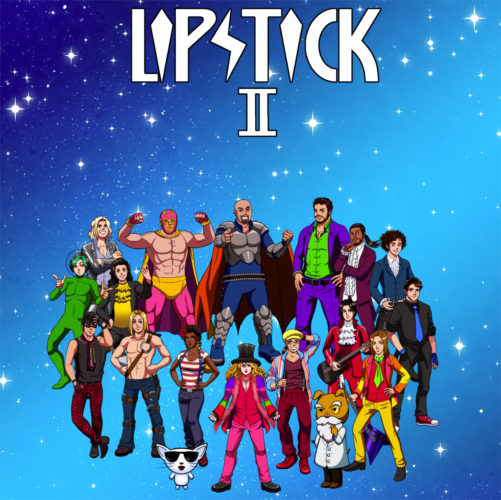 Since I last featured Lipstick, I've started listening to a lot more '70s glam rock. Man, they just totally embraced the magnificent madness of their outfits while playing some kick ass tunes, and I for one absolutely love it. I'm pretty sure that Greg and Steve were born in the wrong era, but I'm so glad they were. They've really managed to fuse glam and nerdiness together into an absolutely fantastic album, even more so than their debut!
Take their lead single, a cover of the Dragonball Z theme song, "Cha La Head Cha La." Or the geek love tracks, "Girl Dressed as a Sailor Moon" and "Rock 'n' Roll Anime Girls." They even weigh in on the whole "Fake Geek Girl" thing, clearly calling it out as the nonsense that it is in a rather satirical way (I particularly love the touch of the "I'm a nice guy, how come don't girls like me?" lyrics after being incredibly sexist).
There's a lot to love about this new album, so don your top hat, put on your most flamboyant shirt and pants, and rock out with Lipstick!
Atlas – "Till Now (G Gundam)"
The first track from the Deluxe Edition of Nerdcore Absolution Vol. 3 "is a tribute to G Gundam and the relationship between Domon and Rain." It's a cool, mellow track that you can totally just chill out to even if you don't know the show.
Smashy Claw – "The Last One"
OK, it's a bit late to celebrate the New Year, but let's do so anyway (especially since I forgot to include this on last month's list…).
Insane Ian and Bonecage – "Die Hard Christmas"
And as long as we're celebrating holidays out of season, how about this Christmas video from Insane Ian and Bonecage? Sure, why the heck not!
George Hrab – "The Misconception Song"
OK, I'll admit it: there are definitely a few artists who, if they approached me, would pull me back into the podcasting thing. Geo is one of them. I love hearing new stuff from him, especially when it combines the geeky and the skeptical into one track as this one does. As he says in the song, "You don't know what you think you know!"
Mikey Mason – "Steampunk Enough"
Oh, man, I hope I'm steampunk enough for my wife! Also: go check out the new Mikey Mason album, Detour, for heaven's sake (which, yeah, I know doesn't have this song since it's from Barbarian Jetpack, but still…)!
Sammus – "Nighttime" (ft. Izzy True)
I think all creative types can relate to this ode to how our brains is constantly judging whatever it is that we do. And how we distract ourselves from what we should be doing when we should be working. Actually, I think pretty much everyone can relate to that last one…
Mega Ran – "Space Defense Team" (feat. Kool Keith & Wordburglar)
I would love to actually be able to play this game! Side scrolling shooters are some of my faves! Love it!
Meri Amber – "When I Get My Superpowers"
Forget the superpowers — give me the Cat Ray! MOAR CATS! And superpowers, I guess… Awesome song and video!
Milk Carton Superstars – "The Artists Will Take Over"
This seems like a pretty good idea to me given our current administration.
Rock, Paper, Cynic – "The Internet Doesn't Make You an A**hole (A Musical PSA)"
The title pretty much sums it up right there, doesn't it?
Kraken Not Stirred:
"Let's Get Some Shawarma!"
"Don't Blink, Don't Panic, Don't Feed Them After Midnight"
"A Sea Monster Decided to Write a Song! What Happened Next Will Amaze You!"
Yeah, OK, I'm kinda cheating the list with this and a couple of other entries below, but I wanted to include all of these songs, and since this is my last chance to do so for a while, I figured I could get away with it. Just check 'em all out!
The Doubleclicks:
"Steven Universe Covers"
"Women Know Math"
Yup, check out all of these, too. And go support their Kickstarter for the new album (which will include the last of the three songs above) while you're at it!
Baba Brinkman:
"T.V.O.L. (This View of Life)"
"Erosion"
"Neighborhood Atheism" (ft. Greydon Square)
More awesomeness from the only peer-reviewed rapper, this time about evolution, climate change, and atheism. Be sure to visit his Patreon and / or Bandcamp subscription to help support his videos and music!
Steve Poltz – "Hey God I'll Trade You Donald Trump for Leonard Cohen"
And for the last track before going on hiatus, let's end on a decidedly political note. The title pretty much says it all: 2016 sucked! (Oh, and I also ran across this fantastic cover / reinterpretation by Cherry Ripes / Granny Green / I'm not quite sure of the artist name I should include but wow is it awesome!).
atlas
,
baba brinkman
,
Bonecage
,
George Hrab
,
Insane Ian
,
izzy true
,
kool keith
,
kraken not stirred
,
Lipstick
,
Mega Ran aka Random
,
meri amber
,
Mikey Mason
,
milk carton superstars
,
neon shudder
,
rock/paper/cynic
,
Sammus
,
smashy claw
,
steve poltz
,
the doubleclicks
,
wordburglar