Wow, I've hardly ever done three parts in one month before. That's a big reason why I'm not going to do a separate Halloween list (though I'm still including stuff over on the Facebook page). I'm pretty sure I won't be able to keep this up, though, so don't expect it to continue. In case you were thinking along those lines for some odd reason. Anyway…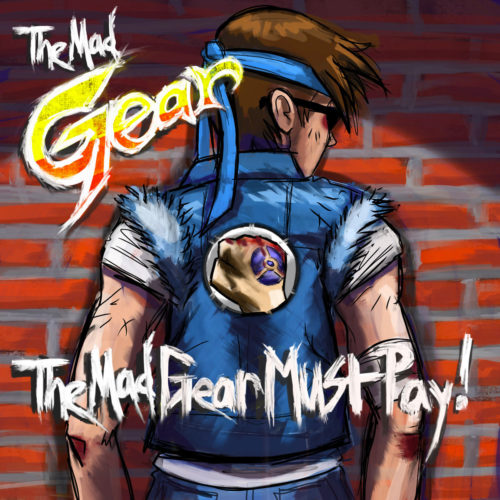 I'll admit that when I was contacted by The Mad Gear to check out their album of video game music, I was a little hesitant. I'm not the biggest fan of covers of video game themes, not because the music is bad necessarily, but mainly because instrumental music tends to be background music for me. Something clever that The Mad Gear have done on this album, however, is to include interstitial narration that weaves the tracks into a sort of loose story with many references to the video games themselves. Most tracks have more of an indie / jazzy sound that many other VGM bands don't have, giving The Mad Gear a different feel. I'm slightly ashamed to admit that I don't immediately recognize which soundtracks most of the music comes from (as I said, I don't listen to a lot of VGM), but a couple of stand-out tracks include "Black Omen" and "Stickerbrush Symphony."
Now, don't get me wrong — I have nothing against VGM per se, and I've seen some pretty great bands perform live (Powerglove, for example, blew me away both times I saw them), it's just not quite my thing. But I thoroughly enjoyed listening to The Mad Gear, and if you're a fan of VGM, I think you will as well. And even if you're not, I think you'll find it worth a listen anyway.
Ambush Vin – "Wonder Woman"
Ambush Vin has a very simple message: everyone is beautiful, no matter what. No one should feel ashamed for their body type. To drive the message home, the video features all kinds of women cosplaying as Wonder Woman. Awesome!
Bedford Level Experiment – "There's a World"
This video is a bit older, but since I only fairly recently discovered Bedford Level Experiment, I hadn't yet seen it. It's a nicely done "videosong" cover of a Neil Young track. How appropriate for these fellow Canadians.
Meri Amber – "Comment Me"
Meri Amber shows us a more serious side in this song about desperation and loneliness in an increasingly virtual world, although it's not so much a commentary on how terrible it's all becoming as it is simply dealing with that reality and how much it sucks to lose contact with someone. Very powerful!
Nerf Herder – "Doctor Who"
"Who is gonna save you, / When your time is running out?" Doctor Who, of course (yeah, I know he's just The Doctor. I'm pretty confident that Nerf Herder do, too, just go with it!). A great little catchy track with a cool lyric video from Nerf Herder's latest album, Rockingham.
Megathruster – "Chewbacca"
Yup, this is pretty much exactly the way that I pictured the video for this song (including the cameos, weirdly enough). I love that they went for the full Chewbacca costume rather than the "sexy" Chewbacca costume. So much funnier that way!
MC Lars – "The Top 10 Things to Never Say on a First Date"
Speaking of funny tracks, MC Lars's latest video was filmed at FuMPFeST (in one take by Insane Ian! Wow!). In it, we see many of the artists who were there demonstrating some pretty stupid things to say on a first date. Any date for most of them, actually…
Smashy Claw – "Haunted Guitar"
Continuing their songs based on Goosebumps stories (all four of which are include on an EP), Smashy Claw bring us "Haunted Guitar." And now because of it we all know the secret of Austin's guitar playing…
Kim Boekbinder – "Pussy Grabs Back"
It shouldn't be hard to figure out what this one is a reference to. Is the election over yet?
Open Mike Eagle – "Cow Town"
A very minimalistic cover of one of my favorite TMBG songs, performed in a hotel room. So cool!
Open Mike Eagle & Paul White – "Smiling (Quirky Race Doc)" (Explicit)
This is one of my favorite tracks from Hella Personal Film Festival. The lyrics are clever but pack a punch. It's honestly got me to rethink the way I interact with people on the street.
Teamheadkick (ft. Mega Ran and MC Lars) – "Suck It, Trebek"
I wasn't necessarily going to weigh in on the whole nerdcore / Jeopardy thing, but a couple of songs and videos changed my mind on that. Personally, I managed to avoid most of the teasing that nerds got back when I was in school, so being called a "loser" by association didn't sting much for me. But I can get upset on behalf of my fellow "losers," so: "Suck it, Trebek!"
Various Artists – "Who Is Alex Trebek?"
As if that previous track wasn't enough, practically all of nerdcore (well, not really, but hyperbole sounds better) contributed to this response to the controversy. So great to see so many great artists rallying around the same cause!
ambush vin
,
bedford level experiment
,
kim boekbinder
,
Lists
,
MC Lars
,
Mega Ran aka Random
,
megathruster
,
meri amber
,
nerf herder
,
open mike eagle
,
paul white
,
smashy claw
,
teamheadkick
,
the mad gear