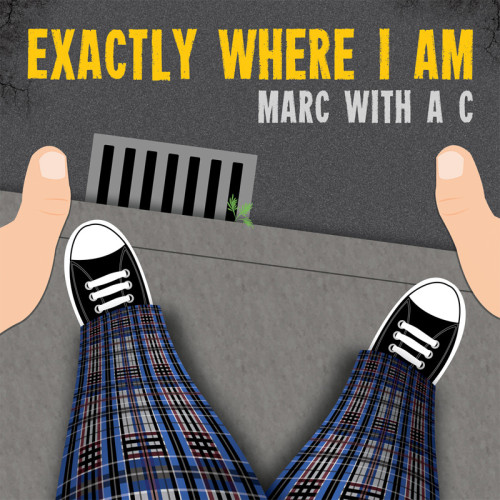 It's no secret that I'm a huge Marc With a C fan. It's pretty obvious why: he consistently puts out really great music. And I really like his attitude about indie / geek music in general. Plus he showed me how great music on vinyl can be. In fact, his newest album, Exactly Where I Am, particularly benefits from being listened to on vinyl. Actually, that format and CD are currently the only ways to buy the album — the digital version won't be released until next week. There's a method to Marc's madness, but I'll get to that a little later.
Side one of the album is made up of individual songs, all having something to do with information overload in some way. The opening title track sets up the theme immediately: "Information flows at the light of speed." And it leads directly into the next track, ending with the lyrics "I'm overwhelmed and now…" which immediately segues into the titular lyric of "I Can't Remember Your Name," the inevitable result of too many names to learn. And of course there's "Liana," a song "recycled" from the original aborted Bubblegum Romance sessions about the result of what happens when attempting to woo someone with a difficult to rhyme name while still making references to pop culture that they might actually enjoy (so, information overload in the service of hooking up).
Side two can be interpreted as five different tracks or just one with multiple parts (the "Bootwater Suite"), depending on your point of view. They form parts of a story, or rather they all relate different stories set in one small town in the middle of nowhere with its own secrets. In other words, it's the flip side not just physically but also thematically (again demonstrating why the vinyl version is the best way to experience the album). The suite sets the mood with "Americana," another "recycled" track from Marc's Unpopular Music CD (which was part of the Indiegogo campaign for Popular Music) about how the whole idea of "Americana" never really existed, except in movies. The other tracks put that lie to rest by highlighting various small town tales such as the closer, "The Right to Bear Arms," which tells the story of a guy who hunts down and shoots his wife (and her lover) for cheating on him.
Given the opposing themes of information overload and secrecy, it seems highly appropriate that the album has been secret since the beginning of the year. Marc played a game on Facebook by flooding us all with hints about lyrics and ideas from the songs (e.g., a link to an article about abandoned night clubs as a hint about "The Club Is Closed"), and he also performed a special "self-indulgent" birthday show which turned out to actually be a secret release party. He even sent press copies to a few of us, allowing us to be "keepers of the keys" to the secret. And that's another part of the reason behind the lack of the digital release: to get the album, you have to be in on the "secret." You can't just add to your information overload and grab it on Bandcamp, at least not right away. You have to really make an effort to get it and listen.
You can order the vinyl or CD now, and it will be shipped to you right away. The digital version, however, will not be released until Feb. 17. So get in on the secret and find out exactly where Marc is! Oh, and be sure to check back on Feb. 20th for my recent interview with Marc on my new Fandomania: Geek Music podcast.