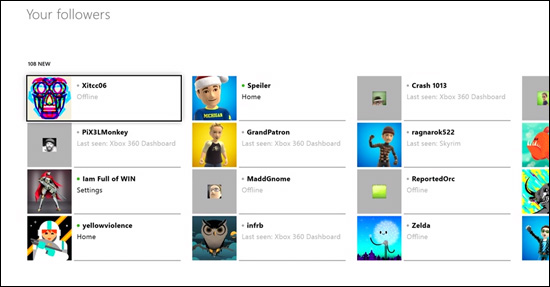 With the Xbox One hitting stores next month there's a lot of anticipation surrounding the games we'll be able to play on it. Just as important as the games, however, is the system's interface. Xbox's Larry Hryb, aka Major Nelson, posted a video today detailing a bit of the Xbox One's interface, specifically taking viewers through the new "Friends App." Among the interesting additions revealed in the video is the ability to follow someone else's Xbox account without actually being friends with them, in much the same way you can follow a celebrity on Twitter. There's also a function that will let gamers define a subset of their friends list as "Favorites," making it easy to locate people with whom you game frequently.


One notable point is that looking at your friends list on Xbox One no longer presents you with your friends' animated Xbox avatars. The avatars seem to still be in use, though, as many gamerpics in Major Nelson's friends list feature snapshots of his friends' avatars.
What do you think of this new app, as compared to the friends list functionality on the Xbox 360? And how does it compare to your expectations for how the PlayStation 4 will handle friend lists?