Ashlyne Huff is the latest singer/songwriter in a long line of talented and sought-after musicians and producers that includes her father, Dann Huff, who has worked with Keith Urban, Rascal Flatts, Michael Jackson, Madonna, and Faith Hill, and Ashlyne's grandfather, Ronn Huff, a well-known arranger from the Nashville contemporary Christian music scene. Although born in Los Angeles, Ashlyne cites country music and her family's ties to Nashville as major influences in her own compositions. This year, the talented singer/songwriter will release her debut album courtesy of Liquid Digital Media — a division of Anderson Companies — for which Ashlyne co-wrote every song.
Ashlyne's debut single, "Heart of Gold," was released on August 18, 2009 and the official music video for the track became available on February 2, 2010 (you can check out both on Ashlyne's official web site). "Heart of Gold" is available for purchase through iTunes or you can pick up a copy of Now That's What I Call Music! Vol. 33 (scheduled for release March 23rd, 2010), which features the single as one of five special bonus tracks on the disc.
Ashlyne's popularity has skyrocketed since the release of "Heart of Gold" last August, but despite the attention and success she continues to receive, Ashlyne remains a down-to-earth, friendly individual who is concerned about more than self-promotion and her own career — although she is incredibly thankful for both! Thanks to our friends at Cornerstone Promotion, I had the opportunity to ask Ashlyne some questions about her background, her future aspirations, and what it's like to be an up-and-coming female pop star. You might be surprised by some of her answers.
Paige MacGregor: Can you tell our readers a little bit about how you became involved with music to begin with? Did you always know that you wanted to be a singer/songwriter? Do you have any other aspirations?
Ashlyne Huff: I come from a very musical family so it was always in the back of my mind that I was headed somewhere in music, but instead of becoming a straight-forward musician, I started dancing after seeing Stephanie Tanner dance to "Motown Philly" on Full House. I learned Pro Tools at age twelve so that I could fix and edit songs for my dance team, and I sang a little here and there. But singing was second to dance until I decided that I liked to write and sing my own words. After that, it was obvious what part of the industry I wanted to be a part of. I would say my other aspirations are centered around what I already do. My college degree from Belmont University is in Music Business and I loved taking Copyright Law and Publishing and Artist Management. I hope, however, to remain a singer/songwriter from this point on!
PM: How did you end up where you are right now, recording and writing your own songs and about to release your debut album? Can you tell our readers how you became involved with Liquid Digital Media?
AH: I wrote my first song after my first big breakup when I was 19. I had always written journals (I have 21 now), but I guess because I was around the cream of the crop of musicians and songwriters all the time growing up, I didn't consider myself "talented enough." I told my dad I was sad and asked him to write a song with me to maybe make me feel better. It worked and after that, I was hooked on writing. I started writing more and more and then about a year before I graduated college, I met with some of the people from Liquid Digital Media at a Tennessee Titans game in their box. At that point, I wasn't aware that they were thinking of starting this label and looking for a developed artist to sign and neither were my parents. We were just family friends! Then I was asked by Moll Anderson what I had been doing lately, and I told her I had a new hobby (songwriting). She called me two weeks later and said that Liquid was interested in me, and the process started from there. It was crazy because I honestly thought she would call me and say "Keep it up, Ash. Love you" not "Do you want a record deal?" Nuts.
PM: Do you think that the fact that your father, Dann Huff, is an in-demand producer and session guitarist who has produced albums by Keith Urban and Rascal Flatts and performed on hits by Michael Jackson, Madonna, and Faith Hill and that your grandfather, Ronn Huff, was a sought-after arranger on Nashville's contemporary Christian music scene played a role in your ability to realize your dreams?
AH: My dad did not want me to be in this industry because he knows it is hard and not always as glamorous as it appears to be. But once I said I truly wanted it, he was nothing but supportive. My grandfather has been exactly the same way. I have learned everything I know from them (how to treat people and to always remember that I have never arrived — I am always a work in progress.) They definitely played a role in my becoming who I am in my career because of the example they set and the nearly flawless reputations they have left for me. But more than anything else, they taught me that music is not everything, family is. And that is what I hold most dear to my heart.
PM: If you were to go on a long trip, which artists and/or songs would you be most likely to listen to on your mp3 player of choice? Do you have any particular reason for your choices?
AH: Justin Nozuka, Adele, Kings of Leon, Paramore, Marc Broussard. Each of these artists are truly unique and have something very interesting to say I believe. The style of each is so different from each other but they all have something in common: brilliant voices and songs.
PM: Which artists have most influenced your music and why/how?
AH: Growing up dancing in a style called Lyrical, I was very tuned into what songs actually said. The singer/songwriters like Gavin DeGraw and Marc Broussard have a soulful sound about them that I always seemed to gravitate towards. They said what they meant and how they meant it. And then I loved Justin Timberlake's experimentation and fusion of genres.
PM: Did you set out to create a "pop" style album, or did the music develop more organically than that? Is genre something you take into consideration when writing and recording songs? Why or why not?
AH: I knew I wanted it to be in a pop/rock vein. I just didn't know the percentage of pop or rock. Each song I wrote, I experimented with the sounds and what sounded the best with my voice and what was the most natural.
PM: Can you describe for our readers what your particular style is when it comes to the song composition process?
AH: I have a couple notebooks: a journal that I write in every day and just get my thoughts down, an idea book that I write lines and concepts down in, and a legal pad that I experiment with. My ideas come in different ways every time. Observations, random thoughts, feelings, etc. I take all three pretty much everywhere I go to make sure I get them down on paper. I prefer to co-write songs because you have that many more ideas to bring to the table to make the song the best it can be. So I bring my idea book, my journal, and my legal pad with me to all co-writes and I have a lot to choose from when it comes to deciding what to write about!
PM: What is it like to have the opportunity to record songs that you've written for mass consumption by the public?
AH: That part is the most valuable to me. To fix someone's day or make someone feel better about something they have or are going through is why I sing in the first place. I feel so blessed to be able to share my thoughts and feelings, and I am more than grateful that Liquid Digital Media has allowed me to do so.
PM: What message, if any, do you want to convey to audiences with your music?
AH: There is a lot going on in everyone's lives at one given moment. Everyone has breakups and makeups and hard days and great days. Live it and enjoy it and know that you are in good company. If you need a friend, I'll gladly volunteer.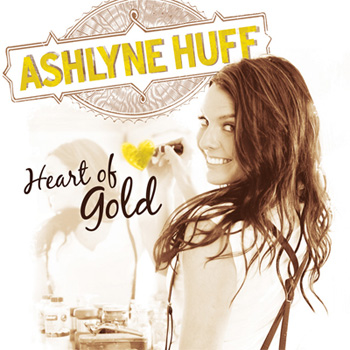 PM: As a female pop artist arguably you are on track to become an important icon for young girls. How do you feel about the way that women are treated by the media? What, if anything, would you tell young female fans about the way women are portrayed in the music industry?
AH: I think looks and body image are the most obvious media-related topics for women right now. I grew up with a gymnast/dancer body — not stick thin but not overweight. I think women like Katy Perry and Taylor Swift and Beyonce are a great representation of the one fact that we are all shaped differently with different hair and skin and heights. These women own who they are, and I intend to do the same. I know I am my own worst critic, and I'm betting that I'm not alone in that. So realize that people love you for exactly the way you are and be happy with it. You waste way too much time trying to be something else — especially when you are the only one who thinks you need to change!
PM: Do you feel like your gender and/or sexuality played a role in your ability to achieve your goals as a singer/songwriter? What has your experience been like as a woman in the music industry?
AH: I haven't felt it either way really. It's more my age that has played a role. You have to prove yourself as a true songwriter at some point! And it was nerve racking! For me, I have an extra boundary that most would consider a perk. I am the daughter of a great musician, and with that, I have the added pressure to live up to his incredible talent. It was more of an internal pressure I put on myself, and I feel like it pushed me beyond my comfort zone to be better than I thought I could be. So in the end, it worked out for the best I guess!
PM: What advice would you give to other aspiring singer/songwriters?
AH: WRITE IT ALL DOWN. Use paper and pen. Not a computer or pencil or Whiteout. If you constantly are able to delete and erase, you tend to talk yourself out of the best ideas. If you write it in pen on actual paper, you are able to go back and see what your gut instinct was — before your head tried to change your mind! :)
---
For more information on Ashlyne Huff, visit her official web site, where you can read a full bio, watch the "Heart of Gold" music video, view tour and interview photos, and even purchase tickets for Ashlyne's upcoming performances with Honor Society on their "Here Comes Trouble" U.S. tour along with teen pop sensation Just Kait. The 32-city tour kicks off March 19th in St. Petersburg, FL and will include stops in Los Angeles, New York, Chicago, Orlando, and Houston. Also, be sure to check back for our review of Ashlyne's promo disc, including "Heart of Gold" as well as five other currently unreleased original tracks!