Thanks to our friends at Cornerstone Promotions, I had the opportunity to ask Shiny Toy Guns keyboardist and bassist Jeremy Dawson a few questions about the electronica/indie/rock band and their latest album, Girls le disko, which was released this past December.
Paige MacGregor: Currently, you're a four-member synthpop/electroclash band — can you tell our readers a little bit about how the four of you came to be together in Shiny Toy Guns?
Jeremy Dawson: The band started back in 2002-ish, 2003 mostly. I started the band in Los Angeles around then, with Chad coming on board a few months later. It was the 20th or so band Chad and I had been together in since we were little kids. We wanted to make a project that was as much rock as it was dance, as intense as something you visualize in shock, though it's something you are simply listening to, and we wanted to be able to interpret lyrics from both sides of a story, so both sexes of humans are to be represented vocally with the group. So we started this journey.
PM: Girls le disko is the third album that you've released as a band, but your first remix album. What was the motivation behind creating this remix album?
JD: We had all of these remixes that people had done of our music and couldn't get our major label to come up with a legitimate organized way to get them on the street, so a dance label called Ultra Records raised their hand to take on the project. We wanted to do something curved into the dance floor again to sort of balance the sound of the band while we are in the studio making our third full-length studio album.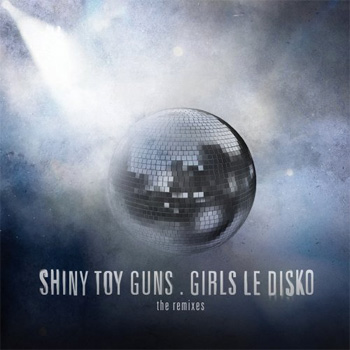 PM: One of the tracks from Girls le disko, "Major Tom (Coming Home)," is a cover of Peter Schilling's song from the album Error in the System (1983). This track was originally recorded for a 2009 commercial for the 2010 Lincoln MKZ — are there other tracks on Girls le disko that were originally created for other purposes as well?
JD: Not really, the remixes were made from people all over the world at various times in the career of the band. All are simply made for making a dance floor something beautiful.
PM: Has the response to Girls le disko been what you expected it to be? If so, what kind of expectations did you have for the album?
JD: The record is doing great; it debuted #1 in Canada and #5 in the USA on the dance charts digitally upon its release. It's really been a good transitional piece for us. And the tour we are doing later called HYBRIDIGITAL is going to be epic for sure.
PM: Would you consider releasing another remix album in the future?
JD: Absolutely. I think we should do one [between] every two albums. Once an album is a little overkill.
PM: What would you picture being included on that album?
JD: Next time I think we should really dive into some more eclectic versions and remixes of our songs, instead of just simply straight-up dance floor mixes of things.
PM: Girls le disko features contributions from hardstep drum and bass/IDM artists Evol Intent, DJ System F and electronica DJ Adam Freeland, among numerous other DJs, music producers, and artists. How did these artists come to be involved with Girls le disko?
JD: Every single remix has its own story of how it came about to be married to the producer that worked on the track. Sometimes the record company would have a suggestion for the song, a lot of times our management would choose the remixer. We hand picked some as well. The whole point is to make sure there was a wide variety of different types and sounds of remixes for all of the songs, not just similar house or electro re-ups of the tunes quickly produced. These remixes are from a span of work over three years long.
PM: It's sometimes said that you were "guinea pigs" for contemporary rock radio when dance/rock was first getting started, and that Shiny Toy Guns paved the way for other successful bands in the genre. How do you feel about such a characterization, and how do you view your role in the success and proliferation of dance/rock?
JD: Everything happens for a reason. The carving we did into mainstream radio was essential to get amazing artists like GaGa and MGMT an easy way to take very well written melodies and lyrics out of the dance clubs and out of venues and onto the airwaves once dominated by archaic tasteless programming. Unfortunately the rock side of radio is suffering with the same thing.
PM: It's rumored that you will have another album coming out in 2010.
JD: This is true :) Late fall before Christmas.
PM: Can you give our readers an idea of what to expect from your third studio album?
JD: I really can't reveal anything just yet… but you will fall in love with what we are just now starting to work with on this record :)
---
For more information on Shiny Toy Guns, head to the band's official web site, and be sure to check back for my review of Girls le disko soon!