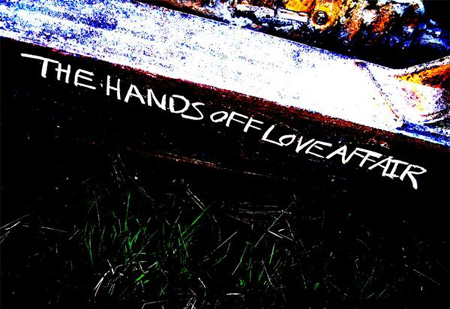 A local band that has captured my interest of late is an unsigned five-member rock ensemble called The Hands Off Love Affair. The band, which currently consists of drummer Dave Cantelli, guitarists Ross Charpentier and Matty Sherren, bassist Tony Coelho, and vocalist Kels Ferguson, has played shows in and around the greater Boston, MA area since 2006, initially joining together as a form of music therapy in the wake of a painful personal loss. Although the tracks that The Hands Off Love Affair's has released to date are characterized by a haunting, heart-wrenching sound, songs like "Guilty Pleasure" also display an underlying sense of hope and musical power that indicates more great things to come from this Boston-area ensemble.
Before The Hands Off Love Affair solidified into its current format, lead vocals were performed by a male singer. The band brought current lead singer Kelly "Kels" Ferguson into the picture once things became more serious, and as it turned out, Kelly's effortlessly seductive vocals were just what the band's compositions needed. Smoky and haunting, Kels's voice brings The Hands Off Love Affair's lyrics to life with power that belies her natural singing ability.
"I see the way that you look at me/ This started out so casually/ Can't figure how you got underneath my skin/ 'Cause now when I dream, I dream of you" Kels croons on the band's three-track single Guilty Pleasures. In addition to excellent vocals, Guilty Pleasures highlights a number of The Hands Off Love Affair's other qualities, including superb sound quality and an extremely professional presentation. The EP contains three songs from the band's current repertoire — "Guilty Pleasures," "Over," and "Ice Water Lifeguards" — but as The Hands Off Love Affair guitarist Ross Charpentier discusses in the interview below, the band is currently hard at work creating a number of new tracks for release in 2010.
Ross was nice enough not only to send me a copy of the band's last release (the "Guilty Pleasures" Maxi single) but also to take time out of his busy schedule to talk with me about The Hands Off Love Affair's formation, history, and future.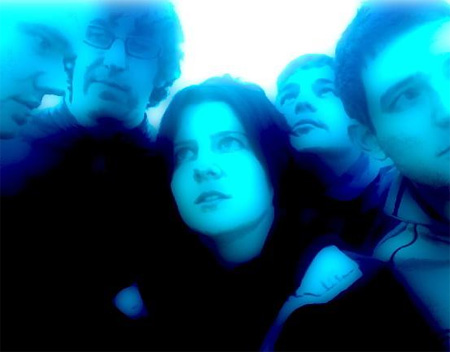 Paige MacGregor: According to your MySpace page, The Hands Off Love Affair came together as the result of some very emotional events. Can you describe briefly for our readers how the band came to include each of its current members?
Ross Charpentier: Matt, Dave, and I have been playing together off and on since we were 18 or 19 years old. We have remained very close friends and have been in various working bands over the years. Dave and Tony are childhood friends. They played music together as kids, but that was the extent of their collaborative efforts until The Hands Off Love Affair. Tony was always performing with other working bands, while the rest of us did our own thing.
In 2003, Dave's sister, Danielle, was diagnosed with Hodgkin's lymphoma. She battled cancer for the better part of two years. There is only so much one can say to express how they feel in a situation like this, and even then, to put it into words seems like a farce. It was during this time that Matt, Dave, and I thought it would be therapeutic to start playing again. It gave us a real opportunity to let out all the frustration and sadness we were feeling. Danielle was at the heart of bringing everyone together, and we all came to rely on one another for support during that time.
Danielle passed away on April 28, 2005, which is also Dave's birthday. After her funeral service, Dave said, "Knowing that my sister is now at peace is the best birthday present I could ever hope for." It was all so surreal. Matt, Dave, and I were talking to Tony that day about how Danielle was truly the inspiration for a new project we were working on, and that was that. He was in.
PM: How did the events that brought you together as a band influence your music?
RC: I think initially the stuff we were doing was pretty heart wrenching. Considering the circumstances I think it was appropriate. You can still hear some elements of those early sessions in songs like "Lilly's Lullaby" parts of "Over" and "Devil on a Horse." But, the thing about writing music is, that it REALLY makes you feel good. Thom Yorke once said the best feeling in the world is having those 8 or 16 bars that you know absolutely positively work together. I know I can speak for the entire band when I say that is the absolute truth. So, it was from these sad songs that we started to find comfort again. We started writing songs like "Guilty Pleasures" and "Ice Water Lifeguards" to express that. Now, the lyrical themes in these songs might not address these feelings explicitly, but I can tell you that we were feeling pretty high on life when the sketches of these songs first surfaced.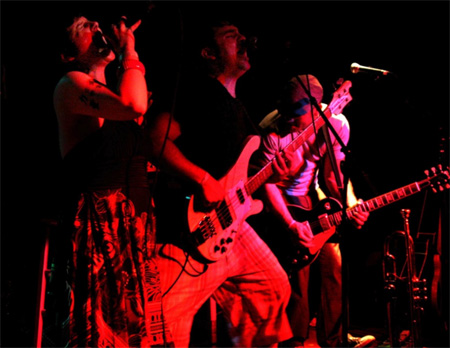 PM: If you had to describe your music to someone who never heard you play, how would you characterize it?
RC: I think that it's one of the hardest questions for a band to answer. When people ask me, I always tell them we are simply a rock band. However, it is a very conscious decision for us to be as diverse as possible when we begin the writing process. I mean you won't hear any Polka breakdowns or Salsa refrains in our music, but we wouldn't be true to our intentions if we did not attempt to draw from different influences and the total range of emotion we all feel as individuals.
PM: The band name, The Hands Off Love Affair, is very unique. How did you come up with this particular name?
RC: Thank you, the band name was influenced by one of my favorite films, Wong Kar-wai's In the Mood for Love. The Hands off Love Affair is a way to describe the relationship between the two main characters in the movie. I feel this term clearly illustrates the passion and pain simultaneously experienced by the film's characters. Since this range of emotion was — and still is — being captured in the music we're writing, we all found it very suiting.
PM: Your first live show was at Bill's Bar & Lounge in Boston, MA in 2006. Can you describe how it felt to play a sold-out live show for the first time?
RC: To be honest, playing for a sold out crowd feels the same as playing for 15 people right now. We really try to let everything out on stage every time we play. I think the best thing about sold out crowds is the volume of their applause. That definitely feeds into our energy while we are up there. But, I think some of our best performances have been to a more intimate crowd. The only difference about that first show was it really showed us that people were interested in what we were creating. But it isn't really in our best interest to focus so closely to the numbers. We have to really leave a piece of ourselves on stage every time we play regardless of how many people are in attendance.
PM: Originally the band had a male lead singer named Greg Higgins, but he left when you broke up temporarily in 2007. Can you describe how you found current lead singer Kels Ferguson?
RC: Sure, Tony was the first person in the band to meet Kelly. She was singing "America the Beautiful" at his graduation commencement at Massasoit Community College. It is almost funny now to look back on that night knowing that Matt, Dave, and I were discussing the somber future and possible end of this project at Dave's place, at the same time Tony was listening to Kelly sing just a few miles away. As I understand it by the time Kelly had finished her last note, Tony was standing in front of her holding a CD of instrumentals of what would become "Guilty Pleasures," "Over," "Ice Water Lifeguards" and "Lilly's Lullaby." It was pretty amazing that Kelly wasn't scared to death by this, and that she was singing nearly completed versions of "Over" and "Guilty Pleasures" in our rehearsal space inside of two weeks.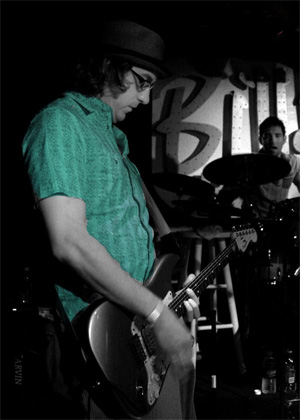 PM: What effect, if any, did switching from a male lead singer to a female one have on the band's sound? Do you still play songs that were written when Greg was on vocals, for example?
RC: I mean… that is really hard to say. I'm not sure we were ever really a whole band with Greg. The completed instrumentals during that transition stayed and became what you hear on the "Guilty Pleasures" Maxi single today. All of our other material was in its infancy, and we were able to tweak those compositions to better suit Kelly. Not necessarily because of her gender, but because of what works best for the song.
PM: Do you think that having a female lead singer affects your fan base at all? If so, how?
RC: I've never really thought of this before. But we do have a pretty diverse group of fans. I have to think of our fans as a group of music listeners who want to hear good music. I'm sure that Kelly's voice has really pulled some people in. I mean, it sure pulled me in. But, I tend to think that people are drawn to the combination of our collective ideas and sounds, rather then novelty of a female-fronted rock band.
PM: When it comes to creating new material, what is the band's process like? Does the same person always write the lyrics, or do entire songs come from different individuals, for example?
RC: The process is really varied. I think that's what helps us in our continued efforts for diversity in our songs. There are a couple songs on the up and coming record where I mapped out the structure, melody, and lyrics totally on my own. But, that only accounts for "Lilly's Lullaby" and "Devil on a Horse." The rest of the stuff is a total collaboration between all of us. A lot of our songs truly start as an improvisation. We can just mess around with a riff or two until someone stops and says, "We should take this, then add this, maybe put this part here." That's when we usually know that something will become a song. Then Kelly sits down with her notebook and starts working out melodies. Sometimes writing songs just happens; everything falls into place almost intuitively. I think this is the most rewarding way for all of us. We really get to work together as a collective, and some our best material came about this way. Kelly and I tend to split lyric duty. She wrote the lyrics for six of the songs on the record. I wrote lyrics for three. And she and I collaborated on the lyrics for "The Coma." Maybe in the future we'll see other band members' lyrics too. I know Matt has been working on some ideas for some new material that isn't recorded.
PM: Can you tell our readers anything about the new material you're working on right now? When can we expect it to be released?
RC: We have a record titled Flower Like Years coming out late summer early fall 2010. We have been working on it for the better part of a year with producer Adam Rourke. We really couldn't be happier with what has been finished so far. All of us are really excited for the release, and we hope our listeners enjoy what we have created with this album.
Thank you so much for giving us a platform to discuss all these things with your readers and our listeners!
---
For more information on The Hands Off Love Affair, visit the band's MySpace page and official web site. Have questions for members of The Hands Off Love Affair? Feel free to leave the band a comment on their MySpace page or forward your questions to Paige@Fandomania.com and I'll do my best to get them answered for you!