I recently had the chance to conduct an e-mail interview with Joseph LoDuca, the composer of the Leverage soundtrack (among many other soundtracks, including Evil Dead, Hercules, Xena, and Legend of the Seeker) about what it's like to score the hit TV show. Unfortunately, I was unable to listen to the soundtrack prior to asking the questions, but keep an eye out for my review of it here at Fandomania next week!
Chad Walker: How did you get involved with Leverage?
Joseph LoDuca: I have been fortunate to work with Dean Devlin, the show's producer, since he decided to go into the world of television after much success as a producer of blockbuster films. He brings his energy, passion, and experience from the big screen into the scope of TV, with no less of an eye for detail and quality. He is a man that just brings the best out of you.
CW: I notice that only part of the entire theme for Leverage (and other shows as well) is played in the show. Who determines what part gets played, and does that influence how you compose the themes?
JL: As the first season developed, we noticed that there were several "themes" within the show. The one that you refer to is derived from a bass line in 7/4 time, and is used when our band of thieves is "on the con." Other themes that appear repeatedly are when we are in the conference room learning who the villains are, or for recurrent situations of stealth or action. The reason for the repetition is not just economy. The familiarity created lets the viewer in on the scam, and reassures him/her that this is all in the name of fun.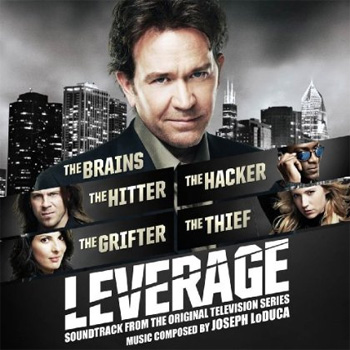 CW: Do you compose specific pieces for each episode? Do you get to see the episodes before you compose?
JL: During spotting we determine the distinct aspects or themes for each episode, and that is where the new music will be written. I also work closely with my talented music editor, Scott Francisco, to repurpose our existing library and tailoring it to fit each new use.
CW: Does each character and/or situation have a specific theme or composition (like the "Imperial March" or "Leia's Theme" from Star Wars)?
JL: Leverage is not an opera by any means. The reuse of material is derived from situations among the characters, rather than from the characters themselves.
CW: How does working on Leverage, a "realistic" show, compare to working on genre shows like Hercules and Xena?
JL: Realism has nothing to do with it. Hercules, Xena, and currently the Legend of the Seeker need traditional, narrative approaches with large orchestras to support the epic drama. They are more like operas. For the most part, Leverage is scored for an augmented jazz/funk rhythm section. The music is primarily used, in Mel Brooks's words, to keep it light, bright, and gay. That is not to say that we don't support other emotional moods, say of tension or sadness from time to time. It is refreshing for me to work on a show set in the present and more in the mainstream. I am not a heavy, dark person, although a lot of the music I am commissioned to write is.
CW: How closely do you work with the director, actors, and/or the crew of Leverage?
JL: I have never met the actors, which is not uncommon. I work most closely with the editors, Dean, and our post supervisor, Ben Ramondjack. Occasionally, our writers, John Rogers, Chris Downey, or Amy Berg have a wacky request for an on-camera prerecord.
CW: What do you feel is the importance of music in a TV show?
JL: A TV score is no less important than a feature film score or any other multimedia venture, though it is too often treated that way. I have been fortunate to work on TV shows where the music is tremendously important, and on series that use a lot of score.
CW: What are you a fan of?
JL: Great question. I think to be an engaged and engaging artist, you have to be a fan. It's a sign that you are truly alive. For example, I have met many directors who are fans of one of my favorite guitarists, Jeff Beck. We are not worthy.
I am a fan of any filmmaker who has the ambition to imagine entire worlds unto themselves and actually pull it off. Kubrick, Coppola, Scorsese, Lynch immediately come to mind, but there are so many others. Most of the people I work with, producers, directors, actors, agents are all at their core rabid fans, too.