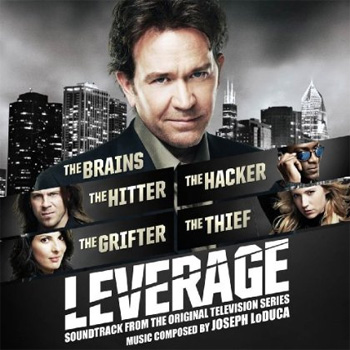 Soundtrack: Leverage
Composer: Joseph LoDuca
Label: La-La Land Records
Release Date: January 19, 2010
I really enjoyed listening to this soundtrack and would actually consider buying several of the tracks from it even if I hadn't received a free copy to review. I wasn't quite sure what to expect because I honestly haven't paid much attention to the music in the TV show. I was, therefore, pleasantly surprised to realize that I recognized more of the music than I thought I would. The music definitely evokes the show, and my wife even recognized what it was from as she walked by while I was listening.
The music itself runs the gamut from several types of jazz to pop to techno to orchestral, with a Pogues-inspired ditty thrown in for good measure ("Can't Go Home Again," which is without doubt a standout track). There are exciting, action-y songs (like "Rattlin' Pots and Pans," which has to come from Eliot's fight in "The Wedding Job" where he might have killed someone with an appetizer) as well as the expected "sneaky" music (appropriate for a show about con artists). "Inside Job," for example, definitely sounds like Parker is sneaking around getting herself into some sort of trouble, while "Honest Man" is clearly about Nate (and contains several recurring riffs that I recognized from the show). Tracks like "Nate Comes Clean" (probably to his ex-wife about their son) and "Magical Soil," the more orchestral pieces, generally fit well with the other tracks and serve to mix up the mood as well as the style, something this soundtrack does quite well. Even simply looking at track titles is fun: "Elevator Bomb" and "Losing Underpants" are a couple that make me giggle.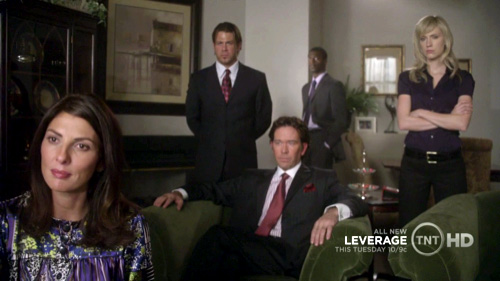 Joseph LoDuca, the composer, has quite the genre-based pedigree, having worked with Sam Raimi on a number of projects, both movie and TV. It's quite clear just from listening to this soundtrack why he has won several awards, including two Emmys (for Xena and Legend of the Seeker). Generally the soundtrack keeps the feel of the TV show, even when switching genres. Really, my only two criticisms are that some of the transitions are rather jarring (the switch from "Surprise," a rather short vibraphone-based piece, to "Can't Go Home Again" is a good example) and that it is a bit long for one sitting (35 tracks and over 70 minutes of mostly instrumental music). Other than that, I thoroughly enjoyed it, and I'm looking forward to paying more attention to the music on the show.
Rating: 4 / 5 Stars
Track Listing:
"Leverage Main Title" (1:33)
"The Team" (2:16)
"Inside Job" (3:46)
"What I Do" (2:03)
"Parking Lot Mischief" (:53)
"Viva Vegas" (2:07)
"Zagreb" (1:40)
"Surprise" (0:41)
"Can't Go Home Again" (2:24)
"Magical Soil" (0:57)
"On The Con" (1:51)
"An Honest Man" (5:24)
"Losing Underpants" (1:18)
"Mumbai International" (1:29)
"Rattlin' Pots And Pans" (1:26)
"Nate Comes Clean" (1:48)
"Nate Gives Himself Up" (2:53)
"Diversion" (1:55)
"Count To Three" (2:19)
"Emergency Landing" (1:24)
"Do You Remember?" (3:04)
"Tank Fight" (4:31)
"Lifting Files" (2:17)
"Out Of Tricks" (1:17)
"Courthouse Security" (0:55)
"Madame Administrator" (1:16)
"Father Daughter Dance" (2:08)
"Wanna Bet" (2:21)
"Metamora" (2:35)
"All My Decembers" (2:14)
"Gone Crazy" (1:45)
"Diamond Heist" (1:02)
"Bellbridge" (1:29)
"Elevator Bomb" (1:17)
Andy Lange – "Not Sure Yet" (3:46)