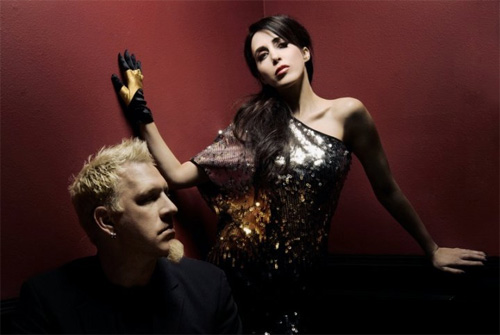 I wasn't aware of the Kidneythieves before being contacted for this interview, but I've become a fan of their music. The music is very much in the industrial electronic vein of Nine Inch Nails while the singing reminds me of the trip-hop of Massive Attack or Portishead. It's quite a unique combination of two different types of music that melds together seamlessly. The lyrics aren't at all geeky, but their music has been featured in several video games as well as TV shows and movies such as Warehouse 13 and Queen of the Damned.
Their new EP, The Invisible Plan, released on October 18. I had a chance to listen to a preview copy provided by Big Machine Media (it's quite good; I especially liked "Floating Angels" which brought to mind the weeping angels from Doctor Who, although that's definitely not the intention) and ask a few questions of the band's vocalist, Free Dominguez.
Chad Walker: How would you describe your music for those that have never heard you before?
Free Dominguez: Electronic dramatic rock, or whatever you wanna call it when you listen to it!
CW: Is there a story behind the name of the band?
FD: Bruce and I were talking about the "urban legend" and thought the name sounded cool. I came up with the logo (the meaning of it is here) and the rest is history.
CW: Your music has been featured in several games, TV shows, and movies. How did that come about?
FD: All of our placements have come from either management, label, relationships we have (such as Eddie McClintock from Warehouse 13 getting us placed). The Final Fantasy song came from the composer being a KT fan. Now we have different companies pushing Kidneythieves for television and film.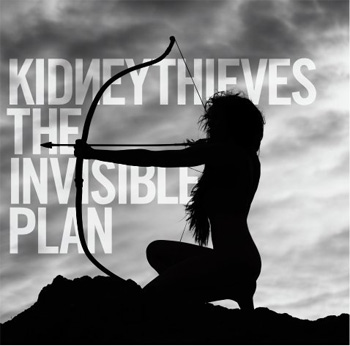 CW: Are you fans of the games, shows, or movies your songs have been in?
FD: Absolutely!! I'm a big fan of True Blood (hint).
CW: I read on your bio page that your albums are built around stories. What's the story of the new EP, The Invisible Plan? I'm particularly interested in "Floating Angel," which is probably my favorite track.
KT: The Invisible Plan picks up where Trypt0fanatic left off. Trypt0fanatic was about using the power of the dream in real life ("wake up"), and The Invisible Plan is taking that power, using it to gather like minded people to go into the world and effectuate change. Also — the seed of the Dream is an invisible power to use on living your life so that the right things find you. Once the Invisible Plan is in effect, it will lead to the story of the next full length record.
CW: I understand that The Invisible Plan was produced as a green CD. What motivated you to do that?
FD: We are motivated by doing the right thing for our planet, however we can. Instead of calling it "eco" or "green," we like to call it "common sense." If we are going to produce things and add things to the world, how can we do it without causing more harm to the environment? So we thought we would do it in every area we could with the record, and make it fun for people, too (such as planting the compostable CD cover and growing flowers from it).
CW: Is there anything else you'd like to mention or plug?
FD: Please support independent artists, as a friend of mine likes to say "so as not to render the musician extinct."
---
Back to me, now. And let me finish by echoing Free's sentiment to support independent artists by recommending that you go out and pick up the new Kidneythieves EP!