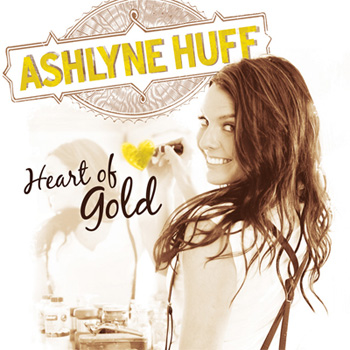 Recently I had the opportunity to interview singer/songwriter Ashlyne Huff, one of the latest female artists to hit the pop scene. Ashlyne's yet-untitled debut album is set for release early this year; however, I was lucky enough to receive a copy of the artist's promo disc from our friends at Cornerstone Promotion. The self-titled collection contains the first single, "Heart of Gold," from Ashlyne's upcoming album, along with four other tracks representative of the singer/songwriter's vocal and writing skills.
The daughter of in-demand producer and session guitarist Dann Huff, who has produced albums by Keith Urban and Rascal Flatts and performed on hits by Michael Jackson, Madonna, and Faith Hill, Ashlyne followed an interesting path to creating her first album. Although she spent a great deal of time playing with Pro Tools as a pre-teen, it wasn't until Ashlyne was in college that she began to take songwriting seriously. "At 19, I went through a bad breakup and I decided to write a song about it just to get my feelings out," Ashlyne says. "Then I thought, 'What if I could help someone going through the same thing? I'd feel better if I knew something I wrote helped someone else.' From then on, I was hooked."
In December 2006 Anderson Merchandisers — one of the nation's largest distributors of pre-recorded music, movies and books — approached Ashlyne. The company was launching its own record label, Liquid Digital Media, and wanted Huff to be the first artist to sign. Huff agreed to work with Liquid Digital Media on the condition that she could graduate from college the following year before she started working on an album. In early 2008, a song that Ashlyne co-wrote with American country music songwriter/record producer Tommy Lee James and singer/songwriter Stefanie Ridel (formerly of the band Wild Orchid) titled "I'm Done" appeared on the Pussycat Dolls' latest album, Doll Domination.
In 2009, Huff began collaborating with songwriter/producers Mike Busbee ("If We Ever Meet Again," Timbaland ft. Katy Perry) and Mathias Wollo (Love is Dead, Kerli) on the tracks that will appear on her debut album. In the meantime, Huff continues to attract fans with her powerhouse voice, upbeat personality, and relatable songs. "I really think there's something for everyone in my songs, no matter how old you are," Huff says. "I just can't wait for people to hear them."
1. "Heart of Gold"
The first single from Ashlyne's forthcoming album is a spunky, upbeat song that calls out a relationship-phobic guy to tell him what he's going to miss out on. The song is incredibly catchy with simple, yet poignant lyrics sure to strike a chord with anyone forced to walk away from a partner with commitment issues.

2. "Trippin' It Up"
The second track included in the collection inevitably will become a favorite on the dance floor of bars and clubs across the country. With a heavy beat and slight techno flare, "Trippin' It Up" is another catchy track off of Ashlyne's promotional collection that I wouldn't be surprised to see at the top of the pop charts shortly after it is released.
3. "Sweet Nothing"
While all of Ashlyne's tracks testify to her vocal prowess, "Sweet Nothing" exemplifies the true extent of her vocal range unlike any other song on her promo disc. "Sweet Nothing" can only be characterized as the ballad of the collection — slower, more melodic and a bit melancholy. Nevertheless, it's sure to become a fan favorite.
4. "Heartbeat"
Often the irony of releasing a debut single is that, although the track becomes incredibly popular, it fails to be the best song from its album. Likewise, "Heart of Gold" is an excellent song, but the slightly slower track "Heartbeat" may be the best of the bunch. "Don't let it bring you down/Don't let it beat you up/If you haven't found your one and only," Ashlyne sings in the bridge to "Heartbeat."
5. "Make It Rain"
It's probably repetitive to review each track on Ashlyne's collection, but the fact remains that each of the five songs included here are going to be incredibly popular once they are released. "Make It Rain" is no exception — the lyrics are well-written and complement the composition perfectly.
6. "Comeback"
The collection closes with "Comeback," another upbeat, catchy inclusion that will be right at home on the dance floor. Including this song last brings Ashlyne's album full-circle from the boisterous, chiding "Heart of Gold" through the more somber tracks like "Sweet Nothing" and "Heartbeat" back to the optimistic, celebratory "Comeback."
Based on the songs listed above, Ashlyne's album earns a solid rating. I highly recommend that you pick up a copy, even if it's a digital one, once her album is released.
Rating: 4 / 5 Stars