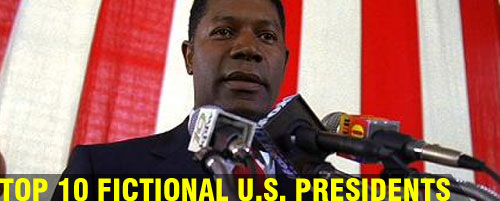 A new president, a new era, and a new reason to reflect. A new face at the helm of the United States fills us with a sense of tense anticipation. After all, in the past, there have been times where we wonder, "Why can't we have Presidents like the ones we see on TV and on film?" It's with that question in mind that we present here and now a list of ten fictitious Presidents who most assuredly will be the basis of comparison for our new leader and the many Presidents to come.
10) Jackson Evans in The Contender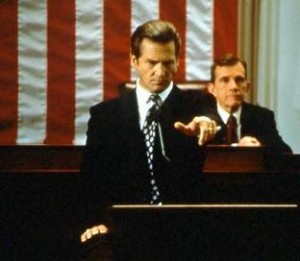 It's always hard to make the decision you know is right, especially if there is a scandal attached to it. President Jackson Evans wishes to nominate Laine Hanson as his new Vice President, a decision which doesn't sit well with the rest of the establishment who want an apparently heroic governor to take the job. Despite the objections, Evans sticks to his guns. Even moreso when Laine Hanson is accused of lewd sexual behavior during her college years. That never deters President Jackson Evans from making the decision he knows is right. It's not not because it would set a precedent but because Laine Hanson is a woman who is willing to fight just as hard as he is to get her into office.
9) James Dale in Mars Attacks!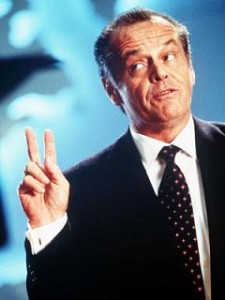 Granted, things didn't turn out too well for the late President James Dale when the martians came around, but one does have to admit he did put forth the effort to exercise all options available to him. When the martians arrive he wishes to offer the hand of peace, which should always be the course of action in a situation like this. Tread softly until the time comes to run. Well that time does come, and President Dale has absolutely no problem admitting his mistakes, and he is more than willing to make up for them by fighting back. All the while he attempts to keep the nation's morale high. Well, he may have gotten skewered by the martian leader, but at least he was able to hold them off long enough for us to find a way to destroy them.
8) Merkin Muffley in Dr. Strangelove or: How I Learned To Stop Worrying and Love The Bomb
The Cold War was a slippery patch of thin ice. It was a war fought with nukes in one hand, and words in the other. In times like that, it takes a President with the ability to sustain the balance. When one of our own military officers releases the go code for an unauthorized nuclear strike against Russia, President Merkin Miffley finds himself in an insanely sensitive position. He has to avert a major nuclear disaster, which could be tantamount to a nuclear apocalypse, while at the same time keeping diplomatic relations with Russia as solid as the Berlin Wall (in the 60's). In order to do this he has to put up with a lot of BS. On one side he has to deal with the psychotic General Ripper, the constant bickering between Gen. Buck Turgidson, and the Russian Premier. And on the other there's that nuclear holocaust to deal with. In all fairness, President Miffley has got more baggage than a full season of Arrested Development.
7) Dave Kovic in Dave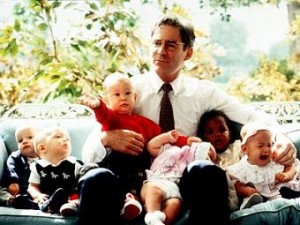 People always say they want a President who is one of us. Well now they've got their wish. You see, when President Bill Mitchell has a stroke during an intimate encounter, in comes Dave Kovic, a sweet natured temp agency operator who looks exactly like President Mitchell. In this case, looks are extremely deceptive, because Dave may look like the President but that doesn't mean Dave is like the President. President Mitchell is a bit on the corrupt side, and so is his Chief of Staff, while Dave is a guy who has no problem seeing what is important about the office he sets out to preserve. He opts to strike back against the corruption in the White House. Dave decides to take advantage of his rare opportunity and to make the kind of impact that the President should make in the short time he is in office. Dave understands that the title of President is more than just a title; it's a responsibility that cannot be abused.
6) John F. Kennedy in Thirteen Days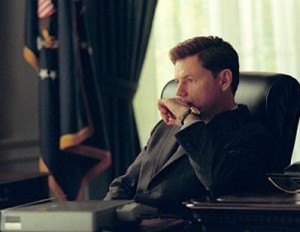 Okay, he was a real President, but it can't be denied that he was as close to a movie President as we have come, and the events depicted in the film Thirteen Days illuminate one of JFK's finest moments, the Cuban Missile Crisis. For almost two weeks the world was teeter-tottering on the brink of total chaos, and tempers were high. It took JFK's collaboration with his brother Robert and Kenny O'Donnell to never act impulsively or to make any bad moves that could launch the world into a nuclear war. This was not an easy feat, considering there were people even in Kennedy's own cabinet who were looking for any excuse to pull the trigger and strike first. Granted, there have been many other incidents that made Kennedy one of the most important political figures of the twentieth century, but when it comes to Presidents in cinema, Kennedy was one of the few who filled the gap between life and art.
5) James Marshall in Air Force One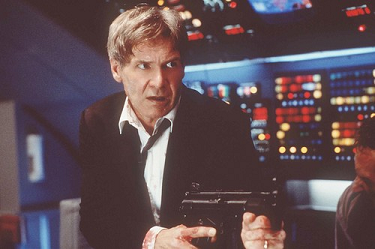 For those of us who get frustrated that some politicians hide behind words when action is the only answer, look no further. Here comes President James Marshall, a former soldier turned Commander In Chief who strives to keep his campaign promises. One night in Moscow, he delivers a stirring speech declaring that there will be no negotiations with terrorists. So when terrorists seize Air Force One and hold President Marshall's family hostage, the President gets the chance to keep his word. Instead of turning tail and running, President Marshall opts to remain on board Air Force One and pick off the terrorists one by one, all the way to the big boss who is extremely scary because it's Gary Oldman. I don't know about you, but if I were seized by a Russian terrorist who looks like Gary Oldman, I'd be dousing my drawers. I don't envy what President Marshall is up against.
4) Thomas J. Whitmore in Independence Day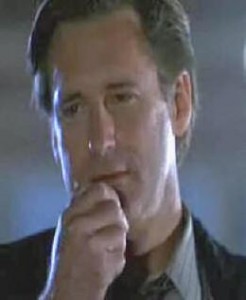 President Thomas Whitmore succeeds where President James Dale fails by kicking the crud out of the alien invaders. During the course of three days, President Whitmore goes through hell and back. He is forced to run while three major cities get demolished in a matter of minutes, he is mentally assaulted by an aggressive alien being, and to top it all off he has to watch his wife die. Even though he has every right to just collapse and give up, he still presses on to fight the good fight. President Whitmore takes the initiative to lead the last ditch attack, an assault which would unite the world to wage a battle against a common enemy. President Whitmore may have peace in mind, but he also knows when to stand and fight. You can expect President Whitmore to hop into the nearest jet and show Klaatu where we really stand.
3) Andrew Shepherd in The American President
It's tricky to be the leader of the free world, especially if you're a widower/single dad. It's even trickier to be the leader of the free world when you intend to meet a girlfriend. When all eyes are on you, it's not easy to have something for yourself. Fortunately that fact never deters President Andrew Shepherd. He strikes up a relationship with environmental lobbyist Sydney Ellen Wade, and though sparks fly high, soon the President's professional life intrudes. Andrew Shepherd manages deliver on his commitments to both the woman he loves and the country he represents. It may sound easy, but if you're not prepared for what the opposition can throw at you, then you'll go down fast and hard. President Shepherd stems the tide of public scrutiny and political conflict. All he has to do is deliver one powerful speech, killing multiple birds with one stone. Name for me any other fictitious President who accomplished this feat.
2) David Palmer in 24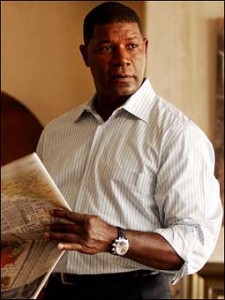 If you need a president who knows how to get you through a crisis and knows the right way to get it done, then President David Palmer deserves your vote. From the initial Presidential Primary, going all the way to the end of his term, Palmer has had to brave multiple assassination attempts, familial scandal, nuclear attacks, political espionage, viral attacks, and so much more. Palmer will always be solid in his abilities to protect America, even it if means having to make some incredibly risky decisions which have put him out on a limb with his cabinet, his family, and in some cases America itself. In the end it can't be denied that President Palmer is the most fearless President ever to appear on the small screen. With him in mind, let us hope that life imitates art.
1) Josiah "Jed" Bartlett in The West Wing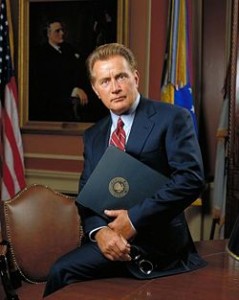 The most miraculous thing about President Bartlett is that he truly is the real deal. His abilities as a Commander In Chief are equally matched by his integrity as a human being. Bartlett is a man who governs a country, not by procedure, and not by instinct, but from his heart. He never makes a hard decision until he weighs the pros and cons in short terms and long terms. He is willing to step out of an important state dinner in order to give words of solace to an aircraft carrier crew that are caught in a hurricane. When it comes to foreign policy, President Bartlett is a man of incredible empathy. He knows how important it is to develop a good working relationship with other countries. The thing that makes President Bartlett so endearing as a President, and why he is at the top of this list, is his vulnerability. Underneath the title and the status, he is still a flawed human being who wants the same things that we all do. He understands that we all want a nation that can show to the world that everything we stand for is not just fancy window dressing. Bartlett wants that for America, and he always intends to deliver the goods. Oh, and he has a fantastic White House Staff.
Honorable Mention: John Adams in 1776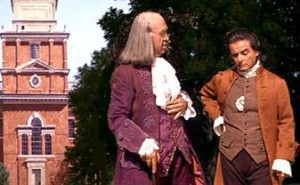 Adams is honorably mentioned primarily because all of the great things Adams accomplished were done before his actual term as President. In any case, it cannot be denied that were it not for Adams' unflinching stubborness, he and his colleagues never would have nudged a stagnant Continental Congress towards declaring a new nation… Oh, and yes. I checked, and I AM related to him.