We know we're supposed to hate them, we know we're supposed to abhor their dirty deeds. But after watching these duplicitous dudes in their elements, you just can't help but enjoy their monstrous compulsion for evilness. We shouldn't love them, and we know it. Here are ten villains we love despite their sickening actions.
10. Captain Spaulding (House of 1000 Corpses and The Devil's Rejects)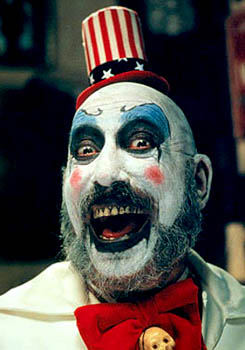 Why We Shouldn't Love Him: He lures unsuspecting victims into a den of crazed serial killers by telling them about the legend of a famous murderous doctor. Afterward, he will join those killers in their revelries.
Why We Do: 'Cause, dagnammit, the guy has got such a great sense of humor. He's raunchy, slovenly, disgusting, and foul-mouthed, but not in the unlikeable way — more in the sense that he just wants to mess around. If you're unlucky enough to find your way into his museum of serial killers, at least he'll give you a hell of a show before he sends you into the mouth of hell itself.
9. Mr. Blonde (Reservoir Dogs)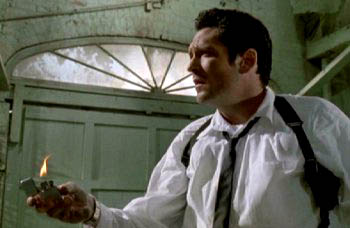 Why We Shouldn't Love Him: Mr. Blonde is a bona fide maniac when it comes to taking part in jewel heists. Give him a reason, and he'll shoot up a joint without remorse. With an ice-cold stare and a gun in his hands, this guy will make you hurt. If that's all he does to you, then feel fortunate. If he needs some information from you, he's not gonna stop at punching and kicking. Give him a barber's razor, and little bit of K-Billy's "Super Sounds of the 70s"; then Mr. Blonde will be asking you to lend him your ears.
Why We Do: There is this weird sensation we get when we see Mr. Blonde coast through this crisis with his unsettlingly level head. I think that sensation is, dare I say, admiration. If ever you saw a guy who was unwaveringly in love with what he does for a living, then Mr. Blonde is that guy. It's terrifying to admit, but when he's torturing a cop he looks like he's having the kind of fun that even Rockstar Games can't provide.
8. Don Logan (Sexy Beast)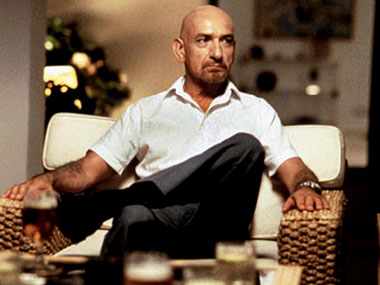 Why We Shouldn't Love Him: He is a mad dog British gangster whose very name is like poison. The mere mention of him in casual conversation could make even the toughest young malchick shudder in fear. You never want to be in this man's company, and you definitely don't want to be to one he comes to visit. If you are, then you'll find yourself bullied and coerced into doing things you would never want to do. You see, Don Logan is not the sort of man you say no to, even if you really want to. That, and he is definitely not the sort of man you ever want to be happy around. Because he will try to destroy everything you hold dear.
Why We Do: I'm sure you've heard the phrase "a bull in a China shop." Well, that's exactly what Don Logan is. When this man is unleashed he is unpredictable, to say the least. You find yourself intrigued to see what kind of carnage he can bring about in the lives of his business partners and, worse, his friends. It's safe for us to enjoy watching said carnage, in the same way it's safe for us to watch the bull trashing the shop from the security cameras. As long as you're not involved it's a load of fun to witness.
7. You-Know-Who (Harry Potter)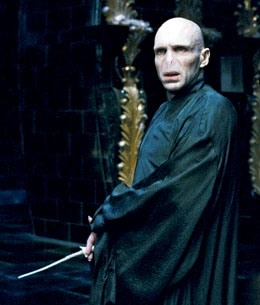 Why We Shouldn't Love Him: For all intents and purposes, he is the wizarding world's equivalent to Hitler. From his beginnings with a damaged home life, he goes on to start a bid to exterminate every Muggle-born wizard in the world. He has recruited legions of followers who shared in his philosophy, and has kept every witch and wizard in the world in a stranglehold of fear. If you aren't a pure-blooded wizard, then He-Who-Must-Not-Be Named will let loose with some curses of the unforgivable sort — the kind of curses that'll end your life with a blinding flash of green light.
Why We Do: It's not because of his shining personality. It's the natural inclination we all have to stare into the face of evil, and try not to blink. Well, You-Know-Who is the genuine article. He is that embodiment of pure evil that your parents always warn you about and try to keep you safe from. When confronted face to face with such malice, we can't help but be entranced by his presence. We find it intriguing to discover that in this world there is actually a physical manifestation of pure evil, and we want to know all about him.
6. Bill (Kill Bill)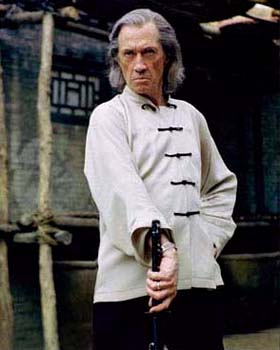 Why We Shouldn't Love Him: He's a stone-cold murdering monster. He has no delusions about what he does. He knows that he is an assassin, and he was always meant to be. So it seems logical to never cross him, and never betray him. When The Bride fakes her death and goes into hiding, Bill tracks her down. Upon finding her, Bill discovers that she is getting married, and she's very pregnant to boot. How does Bill react to this? He gathers his posse together to slaughter the friends of The Bride. Bill the proceeds to shoot The Bride in the head, and puts her in a coma. Bill simply chalks it up to overreacting.
Why We Do: Sure, he's a killer but the fact that he actually has the capacity for mercy says a lot for his character. He also goes beyond the call by making sure The Bride's child survives, and is there waiting for her. It shows that in spite of Bill's murderous tendencies, he still has it in him to love others. He actually has a heart to break. This takes us off guard. When The Bride and Bill are reunited we expect an epic clashing of Hattori Hanzō swords. Instead we are treated to ham sandwiches and an interesting discussion about superheroes. Were it not for the fact that he is a hardcore assassin, this would actually be a guy you'd want to hang with and get to know.
5. Satan (South Park)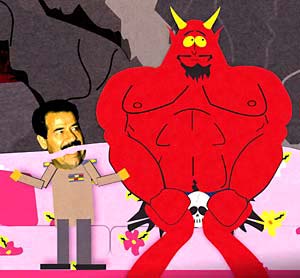 Why We Shouldn't Love Him: No reason really… except that he happens to be the Prince of Darkness, the Morning Star, the Lord of the Underworld, the Devastator of Souls, the guy downstairs. (I think that about covers it.) This guy runs Hell with an iron fist, and he can rig a boxing match better than anyone.
Why We Do: He's not so bad when you really get to know him. Actually, he becomes quite sympathetic. After all, we have all been in a bad relationship at one time or another. Well, Beelzebub here has definitely gotten the short end of the stick on that front. He found his self respect put at risk in his relationship with Saddam Hussein. Afterward he tried to enter a relationship with another man hoping to have a relationship based on understanding. That didn't work out either. Now Satan is single and ready to party like it's his sweet sixteen, and we're all invited.
4. Simon Phoenix (Demolition Man)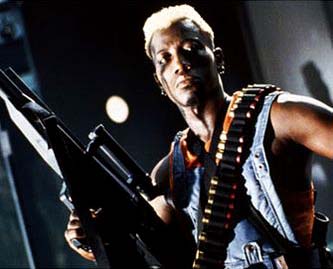 Why We Shouldn't Love Him: He's a true blue homicidal manic. The worst of his kind. He kills without motive. He'll spread pain and suffering all over town without any kind of remorse. He'll take innocent people hostage, and then kill them after he laughs at the negotiator's attempts to reason with him. He is every cop's worst nightmare, and a paragon of criminality in all its forms. When Simon Phoenix is frozen and revived three decades into the future, he makes it his mission to rock the world by bringing back the good ol' days — making the world extremely uncomfortable for the peace-loving citizens.
Why We Do: While Mr. Blonde makes being a bad guy look cool, Simon Phoenix really makes it look like fun. He's one of those movie maniacs that has us actually wishing we could abandon our worries about the authorities and join in on the fun. When we see him take on an entire squad of police he does so with a permanent grin on his face. Even when he dukes it out with his longtime nemesis John Spartan he never loses his exuberant personality. Simon Phoenix is the poster child for the maniac in all of us.
3. The Gruber Brothers (Die Hard and Die Hard With a Vengeance)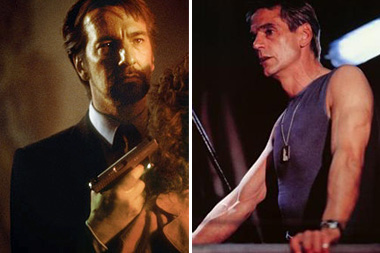 Why We Shouldn't Love Them: Hans and Simon Gruber are petty thieves who hide their true intentions behind a veil of political righteousness. Hans takes 30 to 40 hostages in Nakatomi Plaza and makes the media think that it was just a bid to release other terrorists. Simon causes panic on the streets of New York City, making us all think that it's just a plot for revenge against the cop who killed his brother. In reality, both of these duplicitous siblings are just brilliant thieves who put on a big show to commit heists of obscene magnitudes. Hans wishes to steal hundreds of millions from the safe in Nakatomi, while Simon uses an innovative new explosive to cover up a massive gold heist in the Federal Reserve.
Why We Do: Because they are brilliant, they are sophisticated, and they are not the kind who will sit idly by and let their lackeys do the job. One does have to respect the ingenuity that goes into the intricacies of their respective schemes. By using terrorism as a red herring, the brothers disguise their true intentions. Of course, they don't stop there. They also have brilliant exit strategies which involve the faking of their deaths by explosive. Simon even goes so far as to make the police think that the gold blows up with him. Their plans are indeed flawless, as long as they don't cross any Irish flatfoots named McClane.
2. The Joker (The Dark Knight)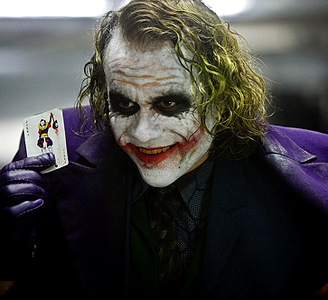 Why We Shouldn't Love Him: Aside from the fact that he embodies the essence of what we fear about clowns, The Joker is man who has absolutely no boundaries. He is not bound by rules or ethics; he's not even bound by his own principles. He claims to be a man driven by instinct for chaos, yet his schemes are horrific in their intricacy. The Joker has no loyalties, and he cannot be bargained with. He claims to be a protector of the mafia's interest, then he betrays them without even breaking a sweat — all because The Joker's twisted vision is far grander. He wishes to distort everyone's perception of the world to match his own. To make them all realize that the only reliable thing in this world is chaos. The Joker wants us to see that underneath our masks of virtue, we are all nothing more than caged animals waiting to tear each other apart.
Why We Do: We all can agree that we don't relish the idea of tragedy. Yet, we just can't stay away as we watch it happening. The same can be said about The Joker. It is clear from his very appearance that this is not the sort a man whose company is desired. Yet we just can't resist inviting him amongst us. The Joker is a depraved showman who takes it upon himself to put on a show for everyone concerned. Since we all love a good show we make it a point to always pay attention. Just pray that if The Joker intends to tell a joke, you're not part of the punchline.
1. Hannibal Lecter (Red Dragon, Silence of the Lambs, and Hannibal)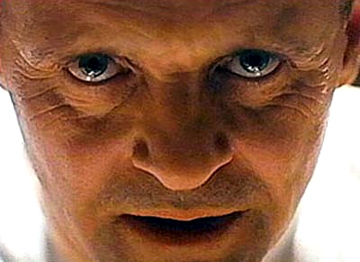 Why We Shouldn't Love Him: Hannibal Lecter is a monster in every sense of the word. He is truly the ultimate (and most realistic) personification of true evil. Hannibal is a man who takes it upon himself to deal out death to those he deems undeserving of it. If he is irked in the slightest, he will have no qualms about laying you on a slab and serving you to his dinner guests, with a rare champagne to wash you down. Lecter is an elegant killer who commits grisly murder and handles a knife as deftly as Rembrandt handles his paintbrush. When Hannibal kills there is terrifying poetry in the way he does it. He feels that he is entitled to have the authority to give life and to take it away, as if his consciousness is elevated to a level that places him amongst gods and demons.
Why We Do: We really can't help it. This man has incredible powers of persuasion and seduction. He has an ability to pierce into your soul simply by looking at you. After spending only minutes with him, he will be able to tell you your entire life story and whether or not you intrigue him or offend him. He will expose every weakness you could ever have. All he has to do is tell you the truth. It is almost impossible to resist his ability to dissect us with his brilliant intellect; we want to learn about the demons that haunt us. In Hannibal's case it takes one to know one. Lecter will see those demons immediately, and he will more than likely assault us with those demons. The most horrible part of all is that we will let him.