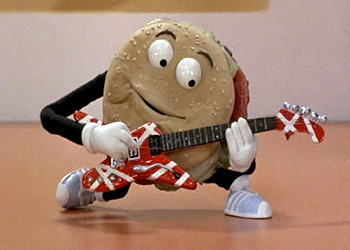 You ever notice how some of the most imaginative scenes in film occur when a character is under the influence? Whether it be drugs or psychoses, these moments stand out to all of us because of their portrayal of what happens when we let go of reality. Here are ten moments that will shatter your perception of the real world.
WARNING: Some of the video posts contain adult language and situations.
10) "I'm a %$#@ing Dancer" (Trainspotting)
What Causes It? Heroin combined with physical strain.
What Happens? Well, Renton is a bit of a crazy addict. So much so that he has a hard time staying regular. So he is forced to sacrifice his dignity by using suppositories. Do they work? They work way too well because soon Renton runs like hell into a dive pub to visit the necessaries. What transpires next can best be described as macabre on a disgusting scale. Realizing he may have lost something in the bowl, Renton has to do some deep diving, which in his eyes actually appears to be just that.
9) "It's like being in a buddy movie" (Sin City)
What Causes It? Stress and paranoia.
What Happens? Dwight McCarthy and the girls of Old Town get themselves caught in a bit of a pickle when they kill a celebrated police officer who got too rowdy with the ladies. Dwight opts to dump the bodies of Jackie Boy and his buddies in the Tar Pits. Unfortunately the only car with sufficient space is a beat up old hard top with only a quarter of a tank of gas. Dwight has never been a poster child of mental health and he is fully aware of this — particularly when his worries get the better of him, resulting in a conversation with a dead man. Sure, Dwight knows Jackie Boy is dead, but things are looking dire, and with a cop on Dwight's tail things are looking worse.
8) "Be-In" (Hair)
What Causes It? LSD.
What Happens? After a big dose of LSD at a protest rally, Claude Bukowski finds himself going all the way to the airport and back as he has a vision of his wedding to Sheila, which explodes into a Hare Krishna freakout complete with a pregnant Sheila flying through the air and Claude's friend Berger spinning the Virgin Mary. For Claude's first hallucinogenic trip, the guy has some weird stuff going on in his head. It's especially weird considering he's a good ol' boy from the heartland.
7) "Acid Queen" (The Who's Tommy)
What Causes It? A variety of psychoactive substances administered by the Acid Queen.
What Happens? Well, from Tommy's point of view, not much when you remember that he is deaf, dumb, and blind. You see, Tommy has been on this amazing journey since he saw his father murdered, and his mother and stepfather have been trying to find a cure. Tommy's stepfather (aka his father's murderer) decides to send Tommy to a junkie prostitute to see if her mixtures will make Tommy see. Instead we get a freaky montage of psychedelic symbolism involving an iron maiden that would scare Jim Morrison.
6) "Everybody Wants Some" (Better Off Dead)
What Causes It? Boredom joined with a hyperactive imagination.
What Happens? Lane Meyer is having a bad school year. His trouble starts when his longtime girlfriend dumps him. His misery is enhanced by the constant mockery by her new boyfriend. Then, to add insult to injury, Lane is forced to take a job at the local greasy spoon burger joint. Bored out of his mind, Lane pretends he making the ultimate burger… a burger that sounds a lot like Van Halen and romances other burgers, while hanging out by the deep-fryer pool with the fries. Of course, Lane's return to reality is brought about by a very rude awakening from the boss.
5) "Then I met Tyler Durden" (Fight Club)
What Causes It? A tedious life of hollow consumerism and a desire to make life more interesting.
What Happens? I am Jack's life story… I live my life through catalogs, through IKEA, and Wal-Mart. I have an apartment that reaches the standards that we all aspire to. Yet none of it is fulfilling. I can't sleep, and I go to support group meetings for afflictions I don't have, just so I can get a few hours of shuteye. My life is a hollow nothing… but then I met Tyler Durden, and he gave me some perspective. I realized that once I lost everything I was free to do anything, and after I realized that I came to the realization of something else… I was a lot closer to Tyler that you could possibly imagine. I not only was I free to do anything, I did do anything, and it all was leading towards "Project: Mayhem."
4) "Feed Me Sara" (Requiem For a Dream)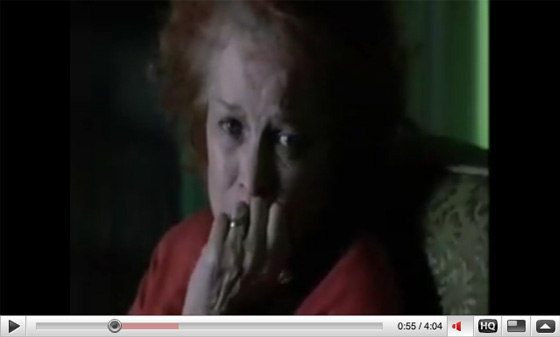 What Causes It? Excessive use of diet pills after being promised to be on television.
What Happens? Sara Goldfarb doesn't have much to live for. She's got a son she loves but she is totally oblivious to the fact that he, his girlfriend, and his best friend are crazy on heroin. All she really does is sit and watch TV. One day she sees that she's won a contest promising an appearance on her favorite variety show. Sara decides that she wants to go on the show wearing he favorite red dress — a dress she no longer fits into. Sara goes the get-thin-quick route and starts taking diet pills. Unfortunately, her desire for perfection gets the better of her, and soon she's taking more diet pills than she is eating. Inevitably, Sara hits the breaking point, and that's an understatement… she downright shatters. Soon she has a terrifying hallucination illustrating her inner demons and her fears of inadequacy. She is seeing her life gradually being broken down and removed while her distant desires mock her.
3) Gutterballs (The Big Lebowski)
What Causes It? A spiked White Russian.
What Happens? The Dude is dragged to a beach party in Malibu at the home of Porn King Jackie Treehorn. The Dude is treated to a White Russian by Jackie as they interrogate him as to the wherabouts of a substantial amount of cash borrowed from Jackie by The Big Lebowski's trophy wife. As far as The Dude knows, the money is in the possession of a dim-witted fifteen-year-old. This doesn't satisfy Mr. Treehorn, so he slips a mickey The Dude's next drink. Darkness washes over The Dude as he envisions himself to be in one of Treehorn's next films — a bowling-inspired film, with Maude Lebowski as a Viking Princess surrounded by Busby Berkley dancers with bowling pin head-dresses. Suddenly The Dude is being chased by the German Nihilists who wield large scissors. The hallucination subsides as we realize that The Dude is being chased, just not by the nihilists.
2) "Heh-Heh, It's Like a Music Video. Heh-Heh" (Beavis and Butt-Head Do America)
What Causes It? A peyote cactus found in the desert.
What Happens? Figures, the first time Beavis actually shows any kind of intelligence it blows up in his face. Through a bizarre set of circumstances, Beavis and Butt-Head find themselves trekking the desert on foot to get to Washington, DC. Of course, they fail to take into account that you need water to survive. Beavis remembers one survival tip involving water in cacti. Unfortunately, no one bothered to tell him the difference between a regular cactus and a peyote. Soon Beavis is assaulted by freaky imagery, highly reminiscent of the works of Rob Zombie!
1) "Someone was giving booze to these things!" (Fear and Loathing In Las Vegas)
What Causes It? Two bags of grass, seventy-five pellets of mescaline, five sheets of high-powered blotter acid, a salt shaker half-full of cocaine, and a whole galaxy of multi-colored uppers, downers, screamers, and laughers. Also, a quart of tequila, a quart of rum, a case of beer, a pint of raw ether, and two dozen amyls. Not all at once, naturally.
What Happens? Hunter S. Thompson (working under the alias Raoul Duke) is on his way to Vegas with his attorney Dr. Gonzo. The journey is fraught with peril as they approach the city stoned, ripped, and twisted. Upon their arrival to their hotel, Duke takes a hit of sunshine acid. It begins to take effect as he leaves his car with the valet. The worst of it happens when they arrive in the lounge. Soon Duke finds himself to be surrounded by giant bloodthirsty reptiles. Only golf shoes can save him now!