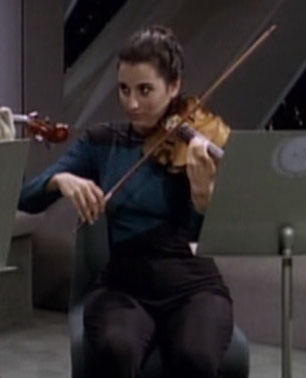 Thanks for joining us as we finish up our look at classical music in the world of Star Trek: The Next Generation. To guide us, we'll take a look at two more of YouTube user johannalaforge's Star Trek music montage videos.
First up is Star Trek Music 4:
The clips in the first minute and a half of this video come from the episode "Inheritance" from Season 7. I was unable to identify the piece being played by Data alone at the very beginning, but the next two clips, of Data and a woman playing together, are of a practice and performance of the same piece, the Passacaglia and Sarabande with Variations in G minor on a theme of Handel for Violin and Viola, written in 1897 by Norwegian composer Johan Halvorsen. Halvorsen was born in 1864 and died in 1935. He spent most of his working life as an orchestra conductor for opera and theatrical performances as well as symphony concerts, but he also composed a body of music that includes incidental music for plays (music played in the background or between scenes), three symphonies, and many other works for orchestra and chamber groups. A passacaglia is a musical form developed in the seventeenth century that has a repeating bass line over which melodic variations are played. The sarabande as a classical music form developed out of music written for a Renaissance dance of the same name. The Halvorsen passacaglia and sarabande are based on a suite, or set of pieces, for harpsichord by George Frideric Handel, better known for his oratorios like Messiah and its most famous piece, the Hallelujah Chorus.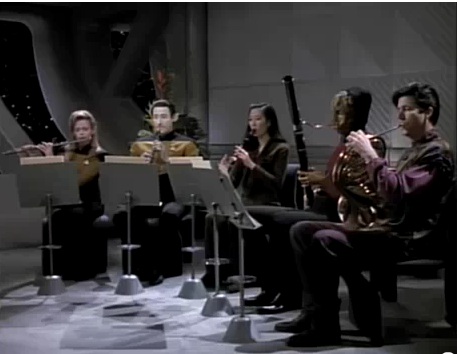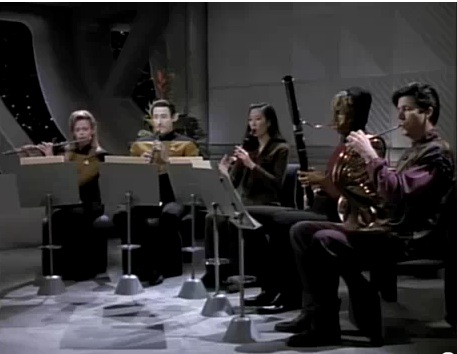 Beginning at around 1:39 in the video, we hear two pieces from the season four episode "In Theory." The first thing being played is a Wind Quintet, but unfortunately none of my sources specifically identified the piece. It does use the traditional combination of five instruments, however. From left to right in the picture above, and also in the same order that the camera pans across the group at the beginning of the clip, the instruments are flute, oboe, clarinet, bassoon, and horn. Sometimes this group is also known as a woodwind quintet, even though the horn (also commonly known as a French horn) is a brass instrument and not a woodwind.
The video ends with Data singing the aria "Che gelida manina" from Giacomo Puccini's 1896 opera La Boheme. Puccini (1858-1925) was an Italian composer of operas, many of which are still very popular — in addition to La Boheme, the operas Tosca, Turandot, and Madama Butterfly are performed often by modern opera companies. La Boheme is about Rodolfo, a young writer who shares an apartment in Paris with three other starving artist friends. In this aria, he sings to his neighbor, a girl named Mimi, about how cold her hands are. The story of La Boheme has also been adapted to modern times in the form of the 1990's Broadway musical Rent.
To end our look at classical music in Star Trek, I just wanted to point out the first portion of the above video, Star Trek Music 8. The piece being played by musicians in 18th century costume is one that you have probably heard many times before. It is known as Eine Kleine Nachtmusik, which translates as "A Little Night Music," by Wolfgang Amadeus Mozart, and it is probably his best-known work. Officially known as the Serenade No. 13 for Strings in G Major, it was written and first performed in Vienna in 1787. You can read more about Mozart in the first Star Trek Geek's Guide article.
Thank you for your attention, and don't forget to check out the First and Second parts in the series. Feel free to ask any questions that you have in the comments and I will do my best to answer them. Class dismissed!
Sources: