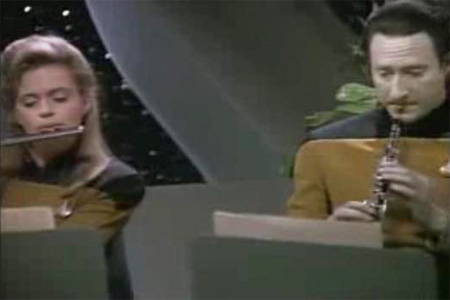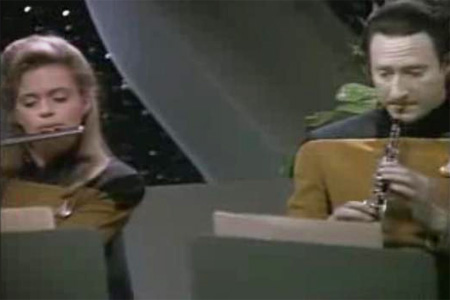 In the past year or so that I've been writing Geek's Guides for Fandomania, as I've researched various uses of classical music in science fiction TV and film, one particular show keeps appearing: Star Trek. While classical music appears occasionally in the original series and various spin-offs, it is in Star Trek: The Next Generation that examples of Western classical music appear most frequently. Today, we are going to begin a tour of Picard's Enterprise and examine several works featured in various episodes.
As I looked for examples of famous pieces used in ST:TNG, I came across a number of clip montages featuring music that were put together by YouTube user johannalaforge, and she has graciously given permission for me to use her video in this article. Please visit her YouTube channel and see the other music montages she has made, too!
Following the video, I will highlight the famous classical works that were shown and give a bit of background information on the pieces and composers represented.
This montage begins with a concert from the Season 6 episode "Lessons." The three musicians are playing the Trio for Violin, Piano, and Cello in G minor, Op. 8, by Frederic Chopin. Born in Poland in 1810, Chopin (pronounced "show-pan") is primarily known for his many piano works that are still popular in the instrument's repertoire today. Although he moved to Paris in 1831 and lived there for the rest of his life, eventually becoming a French citizen, Chopin always retained a sense of nationalism for his native country and even frequently wrote pieces that included Polish folk tunes or were inspired by folk dances like the Polonaise and the Mazurka. In addition to composing, Chopin was a noted pianist and piano teacher, although he rarely performed publicly. He preferred to play in the intimate atmosphere of the "salons" that were popular at the time, where small groups of people would gather in someone's living room to hear musicians and writers share their works. Chopin died in Paris in 1849 at the age of 39, finally succumbing to the tuberculosis that had plagued him for years. In addition to all of his piano pieces, he left behind works for piano and orchestra, a set of Polish songs for voice and piano, and several chamber works including the Trio heard here, which remains popular in the piano trio repertoire.
The next two pieces in this montage come from the episode "Sarek" from Season 3. The first, heard at 1:15, is from a string quartet by Wolfgang Amadeus Mozart, the Quartet No. 19 in C Major, KV 465. One of the best-known classical composers, Mozart was born in 1756 in Salzburg, Austria. He was a musical prodigy who had written his first composition by age 5 and as a child was dragged all over Europe by his musician father to play for kings, queens, princes, and other royalty. As an adult, he made a living as a composer in the Austrian capitol of Vienna, but he was also notorious for his wild behavior and tendency to waste most of what money he did earn. He died in 1791 at age 35 from a fever and, because he was destitute at the time, he was buried in an unmarked pauper's grave. Despite his short life, however, he left behind a huge body of work including many symphonies and other works for orchestra, chamber works such as the string quartet heard here, many well-known operas like The Marriage of Figaro, Don Giovanni, and The Magic Flute, and many piano works.
Before I continue, let me clarify some of the random music terms I'm throwing around so glibly. Many times, the titles of classical pieces contain a great deal of information for musicians but don't describe what you might expect to hear, like a book title might. In the case of the Mozart piece, from the title we learn that it is a string quartet, which means not only that it will be played by four instruments, but four specific instruments: two violins, a viola, and a cello. With all composers before sometime in the 20th century, there is no variation in types of instruments and in the 18th and 19th centuries the string quartet followed a specific structure as well. If a composer wrote more than one string quartet (or symphony, sonata, concerto, etc.), the number will be given next. This is the 19th string quartet that Mozart wrote (out of a total of 23). "C Major" is the musical key that the quartet was written in — knowing this piece of information, musicians can determine what notes will be used and the type of chord structure they are likely to find (which, in this era, tended to be fairly predictable and follow fairly standard outlines).
For many composers, this information is followed by the abbreviation "Op." and another number — this stands for "Opus," which means work. Opus numbers are a way of cataloging pieces and differentiating them from each other. The number usually comes from the chronological order of when the piece was either written or published. In some cases, a set of pieces will be grouped under the same opus number, in which case they will be assigned a number within the group, thus giving a title that might include something like "Op. 10 No. 3." In the case of Mozart, instead of Opus numbers you will see a K or KV number. The K stands for Kochel, the name of the person who numbered and cataloged all of Mozart's many compositions. This string quartet is the 465th piece in Kochel's catalog of Mozart's works.
OK, back to the music. The second piece from this episode, heard at 1:42, is the String Sextet #1 in B-flat Major, Op. 18 by Johannes Brahms. Brahms was a German composer who lived from 1833-1897 and was one of the major composers of the 19th century. He revered predecessors like Mozart and Beethoven and mostly composed within the traditional musical structures of pieces like symphonies and sonatas, but he made innovations in the way he composed his melodies and with the newer harmonic structures that he used. As a young composer, his works were praised and promoted by fellow German composer Robert Schumann, who, along with his wife Clara, became good friends of Brahms. In addition to four symphonies, Brahms wrote choral works (including his German Requiem, which set meaningful Biblical texts in German instead of the traditional Latin words from the Catholic Requiem mass), Lieder (the German word for "songs" — these works for solo voice and piano, often settings of poems by well-known German poets, were popular among the German-speaking composers of Brahms's time), piano pieces, and chamber works, including the sextet used in Star Trek. Interestingly, it is shown as being played by a string quartet even though it is written for two violins, two violas, and two cellos. This clip comes from the beginning of the second movement, or major section, of the piece, and it is unclear from the short excerpt here whether it has been adapted for only four instruments or whether we are hearing a recording of six instruments even though we only see four. Regardless, it is beautiful to listen to.
The video ends with two non-classical clips. The duet between Picard on the tinwhistle-like "Ressikan Flute" (as it is labeled on the show) and the pianist is of a song that crops up in other episodes and is titled "Inner Light." Following that, we get to see Riker show off on the trombone with a group playing a bit of Dixieland-style Jazz. He doesn't appear to be doing a very good trombone-playing impression, but I did read somewhere that Jonathan Frakes really does play trombone and did his own playing in at least some of the episodes where this type of music appears.
I think that's enough for today's lesson. If you want to hear more of the pieces that are excerpted here, you can find many versions on YouTube by searching for the titles of the pieces. Stay tuned for examinations of at least two or three more examinations of johannalaforge's Star Trek music montages in upcoming Geek's Guides!
Sources: