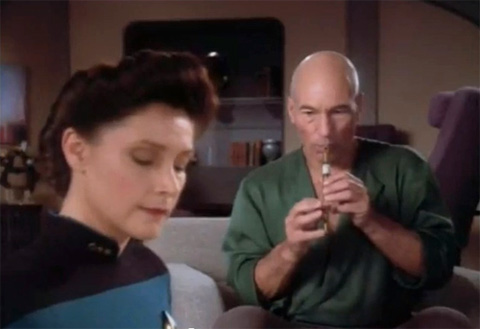 Welcome to the next installment in the Geek's Guide's look at examples of classical music as found in Star Trek: The Next Generation. Today we're going to look at another one of YouTube user johannalaforge's Star Trek music videos, followed by more information on the classical pieces represented and their composers.
The following video is the second in her series of montages highlighting the music that was frequently included throughout the show's run.
The first thing we hear comes from the season 5 episode "Disaster," as Lieutenant Commander Geordi La Forge attempts to sing a song. That song is "I Am the Very Model of a Modern Major General" from the 1879 operetta The Pirates of Penzance. Its creators were librettist William S. Gilbert (he wrote the words) and composer Arthur Sullivan (he wrote the music), two British men who were very famous for this and other operettas in the late Victorian era. An operetta is a form of opera in which the subject matter and music are light-hearted and comic, and they are much more like musical theater than traditional operas. In Pirates, pirate apprentice Frederic falls in love with Mabel, the daughter of Major-General Stanley (the singer of the song in question). Hilarity ensues when Frederic discovers that since his birthday is February 29th (Leap Day), he is not technically 21 years old and must be apprenticed to the pirates for many more years before he reaches his actual 21st birthday. Here is the song in its entirety, from a professional production of the show:
Evidently, Gilbert and Sullivan are quite popular with the likes of Data and Picard, as we see in the next scene, which comes from the 1998 movie Star Trek: Insurrection. Here they are singing "A British Tar" from the 1878 operetta H.M.S. Pinafore, in which a ship captain's daughter attempts to upset the established social order so that she can marry the lowly sailor she's in love with rather than the officer her father has chosen for her.
Getting back to the original video, after a bit of "Inner Light" from Picard on his Ressikan Flute (which was also featured in the video I analyzed in the first Star Trek music article) and some Old West saloon piano music, we get to several interesting scenes involving Picard's flute playing and interaction with a pianist. These scenes, beginning at 1:05, are all from the episode "Lessons" from season 6. The light, bouncy, classical-sounding piece at 1:25 is a snippet of the first movement of the Brandenburg Concerto No. 3 in G Major by Johann Sebastian Bach. Here is a video of the entire first movement that includes a good biographical summary of the composer:
Bach wrote six concerti for a nobleman, Christian Ludwig of Brandenburg-Schwedt, from which the set gets its name. In the early 18th century, a concerto was a piece of music for a string orchestra which would have also included a harpsichord in addition to violins, violas, and cellos (with a much smaller number of instruments than a modern orchestra). This orchestra would be divided into two groups, a small ensemble or solo instrument (known by the Italian term Concertino) and the main orchestra group (the Ripieno). The two groups alternate, and the ripieno sometimes accompanies the concertino and sometimes responds to what has just been played. Although this concerto is for strings, the other Brandenburg concerti include a variety of other instruments such as trumpets, flutes, recorders, and oboes.
After Picard's attempt to play a bit of Bach, he and his pianist companion engage in a little bit of improvisation. Together they develop a variation on the melody to the familiar folk song "Frère Jacques." I'm not including a link here, but the entire scene can be found on YouTube, if you're interested in the whole process they go through as they create something new and interesting.
Finally, to end this montage, we have a boy giving a piano recital in the episode "The Masterpiece Society" from season 5. The piece he is playing is by Chopin, whom we encountered in the previous Geek's Guide to Star Trek Music. This piece is the Prelude in E Minor, Op. 28 No. 4. It is considered by some to be one of Chopin's most famous pieces and it has been featured in a number of movies and TV episodes. It is also one of the pieces that Chopin requested be played at his funeral.
Thank you once again for your kind attention. Tune in next time as we wrap up our examination of classical music as found in the world of Star Trek: The Next Generation.
Sources:

Ann Wells is an elementary music teacher by day and a nerd all the time. Her fandoms include Star Wars (the original three, thank-you-very-much), Doctor Who (10 is her doctor), and great authors like J.R.R. Tolkien, Isaac Asimov, and Neil Gaiman, among others. She can usually be found with her nose in a book, playing an instrument, singing show tunes, being crafty with yarn, or doing the bidding of her cat.