This month, we get two part ones from two returning artists as well as a brand new artist. We're also celebrating twenty years of Hand'Solo Records with a monster compilation. Suck it, Trebek, nerdcore is awesome!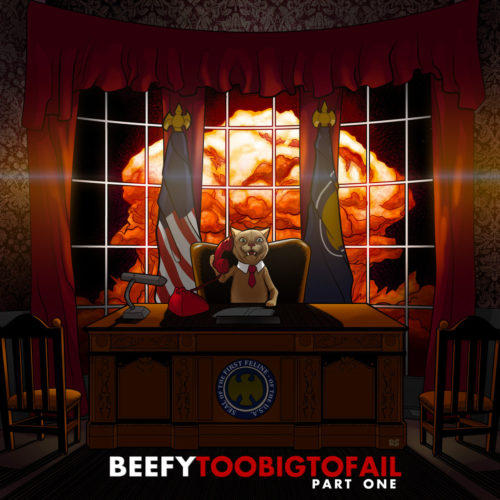 Up first, we have the return of Beefy! It's been far too long since his last release, and I know I'm not the only one who's missed his voice. What a fantastic album it is, too. It's been worth the wait.
Right off the bat, Beefy hits us with his brand of braggadocio backed up by beats from his partner-in-rhyme, Tanner4105. "The Recipe" outlines their plan for creating dope tracks while "Never Enough" uses the idea of eating too much (Beefy has never shied away from referring to his weight; heck, his rap name is itself a reference to it, as it the title of the album) as a metaphor for taking over the world. It's a hard hitting intro that lets us know we're in for another great album.
Of course, Beefy also shows off his nerdiness. Despite problems that I have with the author, I love the Ender's Game series (well, the first few at least), and Beefy has a track (based mostly on the movie) called "Dear Valentine." There's also "Man Without Fear," a song about the Netflix show Daredevil. And after a brief "interlude" in which Beefy takes Tanner to task for not working on the album, we get a very short rap about Rick and Morty. Awesomeness!
There are some great features on the album as well. Professor Shyguy joins Beefy on "Three Initials," a song at least partially about using the video game high scores board to make curse words. Doctor Awkward shows up on "Don't Make Me Go." It's basically a dance track about not wanting to go to work. Fellow Pacific Northwesterners Shubzilla and Death*Star contribute to "Trying to Pretend," a clever song about learning to love new things that uses the bridge from "That's All" by Genesis. And finally, fellow Grammar Club member Shael Riley sings the chorus on "Long Con" (they're also joined by JPHONIC), a track about a totally real convention that's totally definitely happening sometime in the future…
I know this one just came out, and I'll be listening to it a bunch in the future, but I'm already looking forward to Part Two! Oh, and be sure to check out Beefy's recent podcast episode as well.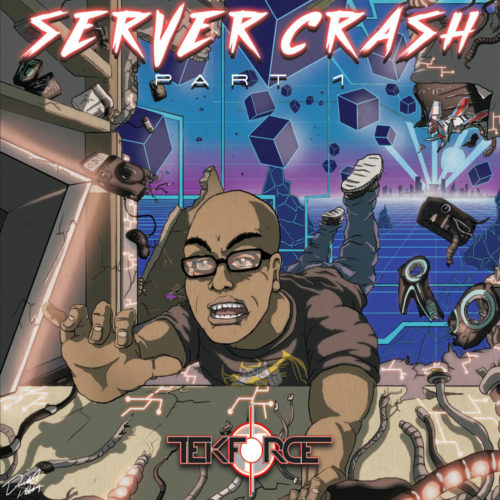 TekForce's sophomore album once again demonstrates his smooth flows and hard hitting beats. While keeping the nerdy and retro references, Tek also shows us a bit more of his personal side. It's a strong follow up to last year's Tek Support.
On the nerdy / retro side, we have tracks like "RETRODREAMING," "Ode 2," "011," and "2164." I already mentioned "011," a track about Stranger Things, so there's not much to add now. The story behind "2164" reminds me a bit of Rush's "2112." Music has been outlawed in the future (which is the similarity) and an underground movement rises up to challenge the law. And of course it wouldn't be a TekForce album without reference to the retro, shown in both "RETRODREAMING," the title of which sums it up nicely, and "Ode 2," a follow-up to "Ode to the Retro" from Tek Support.
The opening track, "WarHorn," shows more of Tek's personal side. It's about his struggles with alcohol and its influence on his life. Does it make him more creative? Or is it simply destroying his relationships? It's a surprisingly candid look into this problem that many artists have. There's also "Confessions of a Black Nerd" (which combines both the personal and nerdy sides, obviously, and features EyeQ). Growing up as a nerd wasn't easy when Tek and I grew up, but add to that being black must have made it even harder.
I love watching artists grow and get better. TekForce is for sure one to keep an eye on in the future, but meanwhile just check out Server Crash pt. 1 and enjoy!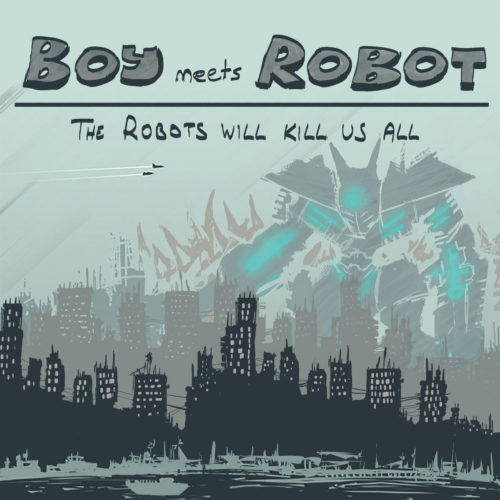 When I was first sent this, I took one look at the track list and knew I was going to be able to find something to enjoy on this album. Clearly this was someone skeptical and geeky with a good sense of humor. As it turns out, the music is great, too.
The title track leads off the album, and it's a perfect introduction to the album: energetic, bouncy chiptunes-style music about the destruction of the human race. That energy continues throughout the album, though not all of the tracks are about destruction. "Side-Scrolling Hero," for example, is about, well, a side-scrolling hero who keeps on running to the right. Rather appropriately, Mega Ran even provides a verse, making it just that much cooler than it already was. And there's "My Baby's in Love with Benedict Cumberbatch," a not-quite-but-almost parody of "Weird Al's" "My Baby's in Love with Eddie Vedder" that also incorporates a ton of silly names for Bumbershoot Underpants.
I mentioned the skeptical side of Boy Meets Robot. A couple of tracks demonstrate this: "Invisible Pink Unicorn" and "Social Justice Warrior," which is also about the online nerd community (Scalzi and Sarkeesian, for example). I first ran across the "Invisible Pink Unicorn" in Carl Sagan's Demon-Haunted World. The idea is that you can replace "God" with "Invisible Pink Unicorn" to demonstrate the moving the goalposts fallacy that many religious people make. Yeah, I even have an IPU lapel pin… I admit I was a bit trepidatious when I saw the latter title, because it's often used as a derogatory term, but the song celebrates it as something to aspire to. The song even mentions a pretty specific event in the skeptical community: Elevatorgate with Rebecca Watson and Richard Dawkins. Look it up if you're curious; it's a few years old, but it wouldn't surprise me if it's still making the rounds (I've kinda moved away from the online communities where it's likely to come up).
The Robots Will Kill Us All is an extremely solid debut. My only "criticism" of it is that it's just too darn short at only seven tracks. I'm very much looking forward to more from Boy Meets Robot! He was also a guest on the podcast on November 4.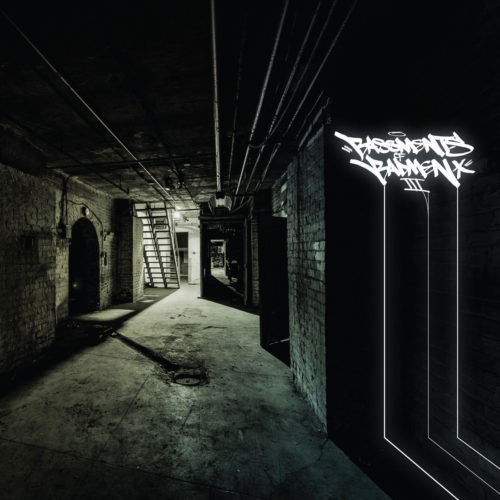 Hand'Solo has given us tons of amazing artists over the years that I've been writing this column, but they've been around for a lot longer than that. Twenty years, in fact. This compilation includes forty tracks, some remixes of previously released songs, some new, by various Hand'Solo artists, many of whom will be familiar to most readers.
The opener, "Burn It Down," for example, is by the Backburner crew. The track serves as an introduction to the compilation with members bragging about their rap prowess. There's also a More Or Les and Recordface track, "Drugs," which was previously featured on the "Heads Down" DJ Pack as a radio edit. Swamp Thing bring us "Old & Dirty (ft. Rift)," a track about getting old but remaining relevant and "dirty" (and probably a reference to a movie that I'm missing given that it's Swamp Thing). Rap legend Jesse Dangerously treats us to "A Sincere Offer of Assistance." It's quite probably the only rap track that samples the theme from the BBC show Are You Being Served?. Finally, the compilation proves the mantra of starting strong and ending strong with Primordial Emcee's "The End Is Nigh" from his recently released (and long waited and anticipated) X-Faction 2: Reanimated.
Of course, one of the best parts of a compilation is introducing the listener to new artists. A few stood out to me on this one, though there are no bad tracks on here at all (a testament to the quality of Hand'Solo records). The Sargeant & Comrade's "Searching (Real Hip Hop) (ft. Touch & DJ WeezL)" features really great jazzy beats complete with "vinyl crackle" at times that give it a really vintage feel that I just love. There's also Touch and The Dirty Sample with "Swordsman," a track in which I'm pretty sure "sword" has a double meaning. Speaking of puns, Birdapres has one of the best punny rap names I've ever seen, and his "Stabcabinmanitoba" (which is also a great name), has an almost Middle Eastern feel that you don't typically hear in hip-hop. Thesis Sahib isn't exactly new since he's part of the Backburner crew, but I'm pretty sure "Punk Rock Soccer Mom (Fresh Kils Remix)" is the first solo track by him that I've heard. It's one of the tracks that immediately grabbed me upon first listen, with its staccato delivery and get-in-get-out punk rock song length (it's only a bit over a minute and a half long). Plus, how can you not love that title?
Do I really even need to tell you to pick this up now? You probably just saw that it was from Hand'Solo and were already on it. But, just in case — go pick it up now! I've barely scratched the surface of the awesomeness of this compilation.