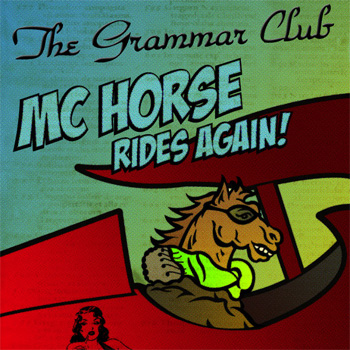 The Grammar Club is a nerdy supergroup consisting primarily of bitpop artist Shael Riley and nerdcore rapper Beefy. This is their second release, and, like their last one, it is available for free from the Grammar Club web site. They say you get what you pay for, but in this case the price does not reflect the quality of the music; free does not mean terrible. In fact, Shael's singing and Beefy's rapping make for a highly enjoyable collaboration with catchy, danceable music and lyrics that make the listener think (warning, however: there's quite a few songs on the album that could not be played on the radio due to language!).
On the danceable music side, the standout track has to be "Super Girls and Ghosts." After hearing it, I find myself singing it in my head for days. Beefy raps about his frustration with club girls who don't care about lyrics ("That s*** is for nerds"), just the beat of the music. And then he encounters a ghost girl — but she doesn't care about the lyrics, either. Bamboozled again, Beefy! Another track with a great beat is "Unemployment," a surprisingly complex look at the state of the unemployment system. Neither Beefy nor Shael seems too concerned about being fired from their jobs because they can live on unemployment, but they do feel at least somewhat guilty about it. I certainly wouldn't expect such a political statement in such a danceable song!
Actually, the lyrics in several of the tracks get a bit more political than is typical in the geek music scene. The opening track (which features Scrub Club records' Kabuto the Python), "Suck My Wallet," for example, is a satirical look at the douchey attitude of a certain type of rich person. He buys his clothes at Hot Topic because it's supposed to be hip, and he looks down on those who care about the environment (although it's not stated, I bet he drives a Hummer). Similarly, there's "Normal," which on the surface is about a robot who wants to be a normal human, but could also be interpreted to be a criticism of those who are content to conform to societal norms rather than be individuals. The complexity of the lyrics is one aspect of this album that I particularly enjoy.
(NSFW)
That said, I want to digress slightly in this review to address something that I (and plenty of others) have noticed about a lot of hip-hop: misogyny and homophobia. I never thought it was in nerdcore, but I have to admit that when I first heard the chorus of "Super Girls and Ghosts," I thought perhaps there might be a bit of misogyny going on: it seems to say that all girls ignore lyrics, not just certain types. Similarly, the title and chorus for "No Homo," taken out of context, do smack of homophobia. It actually bothered me enough that I felt it necessary to contact Shael Riley to see if maybe I was somehow being duped into liking music that espoused ideas with which I do not agree (yeah, I know — I'm probably being an overly sensitive liberal male…). Thankfully, he didn't respond by saying something like, "Oh, yeah, I hate women and gays — deal with it!" Instead, he assured me he harbored no such hatred and reminded me that narrators' viewpoints are not always identical to singers' (a point which, admittedly, I should know given that I'm an English teacher). So how to resolve the lyrics? The chorus of "Super Girls and Ghosts" is only about the girls mentioned in the song, not all of them, and "No Homo" is basically an old middle school attitude that gets in the way of a perfectly good adult friendship. I know this whole thing probably has no place in a review, but for some reason it bothered me enough that I felt compelled to mention it. I really like the music of the album so much that I'd hate to have to abandon it because of the lyrical content (unlike the club girls, I do care what the song's about). Fortunately, I don't have to!
Now that I've completely made a fool out of myself with my weird naïvete, I'd like to get back to the music. There are a couple of other tracks that I'd like to mention specifically (though there's not a single track that I dislike on the album). First off is "Breaking up with Bret." This one feels very much like a Ben Folds style song about a guy who can't quite seem to leave a girl who is clearly bad for him. In fact, if someone had told me that this was a cover of a Ben Folds song, I would have believed it (except that, being a huge Ben Folds fan, I'm pretty sure I would have heard it before). I also want to mention "A Team by Myself" since it's probably the geekiest song on the album, although only in its references. Beefy compares his size to Godzilla and says that he is big enough to fill up the entirety of three bands: Grammar Club, Dual Core, and Wu Tang Clan. He also wants to be lord of the elves. Admittedly, it's not a terribly geeky song, but it's really the only one on the album that features any kind of specifically geeky themes.
To sum up, then, the Grammar Club have released a great addition to the world of geek music. I highly recommend that you go out and download it now. It's free, for heaven's sake, so how can you go wrong?
Rating: 4.5 / 5 Stars