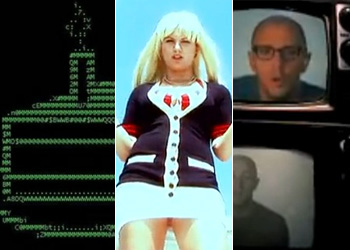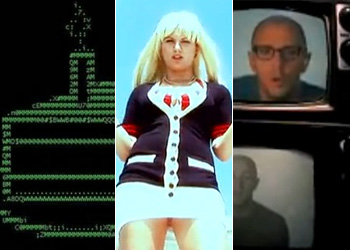 I've been a fan of the podcast Coverville (as well as a Coverville citizen) for a long time and have been compiling lists of geek music related covers. First up is a list of covers of songs that were originally performed by geeky artists. I've also tried to stick to covers by geeky artists as much as possible, though there are exceptions. Jonathan Coulton, "Weird Al," and They Might Be Giants figure prominently on this list, of course, and I haven't even begun to exhaust the numerous covers of their music out there. I did, however, manage to find quite a few other artists as well, including a few more obscure covers.
1. The Aquabats! – "Love Without Anger" (originally by Devo)
Let's start off the list with one that Brian Ibbot has played on Coverville before. One of the themed shows that Brian puts together is a cover story in which he plays various covers of and by a certain artist. This one comes from the Devo cover story.
2. Jonathan Coulton (with Paul and Storm) – "Birdhouse in Your Soul" (originally by They Might Be Giants)
I actually first heard JoCo perform this at the Coverville 500th episode concert (well, I wasn't there, but Brian played it on the podcast). This version adds Paul and Storm on backup vocals and shaker, making it even better.
3. The Grammar Club – "Code Monkey" (originally by Jonathan Coulton)
The Grammar Club gives us a rockin' version of Jonathan Coulton's programmer anthem. Shael Riley sings the main verses and chorus while Beefy provides a new rap verse not in the original. There are tons of covers of this song, but this is probably my favorite.
4. mc chris – "Dare to Be Stupid" (originally by "Weird Al" Yankovic)
Say what you will about mc chris's attitude towards nerdcore, he's definitely a great rapper / singer. And he's covering one of "Weird Al's" most iconic songs. Pretty cool!
5. Tetrastar – "I'm on a Boat" (originally by The Lonely Island)
I'm not really sure if The Lonely Island quite fully counts as geeky, but comedy music always seems to fall under that category so I'm going to say it fits. Tetrastar covers not only the song (transforming it into a more bitpop version) but also the video. I don't think I've ever heard more adorable cursing than Jaylyn Coffin's vocals on this track.
6. Chiptots – "Still Alive" (originally by Jonathan Coulton)
Bitska? Skatunes? Chiptots' cover of the end credit theme from Portal has a very third wave ska feel to it, but instead of horns it incorporates the electronic instruments of chiptunes music.
7. Marc with a C – "Good Enough for Now" (originally by "Weird Al" Yankovic)
Florida's own Marc with a C has three albums worth of covers up on Bandcamp. I chose to go with this track for the list because it's one of my favorite "Weird Al" songs, and it's not one you hear a lot of covers of. How can you not love "Weird Al's" almost-but-not-quite love songs?
8. Steve Burns – "Dead" (originally by They Might Be Giants)
Yup, it's a cover by the guy who used to host Blue's Clues. It's from the tribute album Hello Radio. There's a lot of really great stuff on that album, but something about the host of Blue's Clues singing They Might Be Giants really appeals to me.
9. songsfrompaul – "Blink" (originally by Chameleon Circuit)
A cover of a trock tune? Yes, please! The title should give you a pretty good idea what the song is about: one of the best episodes of the modern incarnation of Doctor Who, "Blink." It's part of songsfrompaul's The A – Z of Covers project on YouTube in which he covers a different song roughly every fortnight with votes from fans.
10. For Orchestra – "Ikea" (originally by Jonathan Coulton)
For Orchestra performs full orchestral covers of tons of songs. Given that this one is number 42, and that it's by Jonathan Coulton, it really needs to go on this list.
11. Bedlam Bards – "Hero of Canton" (originally from Firefly)
Unfortunately, there doesn't exist an official copy of "Hero of Canton" from the Firefly episode, "Jaynestown." This Bedlam Bards cover comes awfully close; they sure look like they could have been in that mudder's bar singing about their hero, Jayne Cobb.
12. Dr. Noise (with Monica) – "On the Rise / My Eyes" (originally from Dr. Horrible's Sing-Along Blog)
I first encountered Dr. Noise as a trock artist, but he's done a lot more than just songs about Doctor Who. He and Monica (I can't find a last name for her) cover this duet by Billy and Penny from Dr. Horrible. Despite the recording being just the two of them with an acoustic guitar and a video camera, it's a really great cover that's almost as good as the original.
13. Molly Lewis – "Tom Cruise Crazy" (originally by Jonathan Coulton)
Anyone who knows Jonathan Coulton almost certainly knows Molly Lewis. Her ukulele covers of pop songs are great, and she even got a chance to sing to Stephen Fry about having his baby. This is one of the first JoCo tunes I heard her cover.
14. Molly Lewis / Dr. Noise – "Istanbul (Not Constantinople)" (originally by The Four Lads, but made popular by They Might Be Giants)
If Dr. Noise is on the list, and Molly Lewis is on the list, then a collaboration between them just has to go on the list. And you couldn't do much better than this Four Lads / TMBG tune. They obviously had a lot of fun putting this together.
15. Emerald Rose – "The Ballad of Serenity" (originally from Firefly)
When I first heard the opening theme to Firefly, I didn't really care for it all that much. As I grew to love the show (which didn't take long), I came to love the song, too. Emerald Rose perform a Celtic-flavored version of the track on the soundtrack for Done the Impossible, the documentary about the Browncoats. This version is live at MegaCon from 2006, which is before I actually found out about MegaCon. Perhaps I'll get to catch them at Dragon*Con.
16. Jennifer E. Jordan – "It Is Pitch Dark" (originally by MC Frontalot)
Zork was one of my favorite text adventure games when I was a kid so this song is one of my favorite MC Frontalot tracks. Make it into a solo acoustic guitar covered by a Brit, and I love it even more!
17. Common Rotation – "Don't Let's Start" (originally by They Might Be Giants)
It's been a while since I've watched Buffy so I can't remember if there's a reason Warren wasn't in the musical episode. This may seem like a random thought, but Adam Busch is the singer for Common Rotation. This is a really nice acoustic version of the TMBG classic.
18. dot.darkness – "The Future Soon" (originally by Jonathan Coulton)
"The Future Soon" has to be my favorite JoCo song. I really identify with the narrator in it, having felt similarly while growing up. Perhaps my fantasies didn't go so far as to building a robot army, but I did dream of (and still do dream of) the day when "the things that make me weak and strange get engineered away." This cover is a really cool, mellow electronic version.
19. Meghan Tonjes – "Don't Unplug Me" (originally by ALL CAPS)
I've mentioned ALL CAPS in this column before; actually, this song is on my robots list. DFTBA Records has put out a cover album with covers of and by their own artists. Based on this track, I'm going to have to check out some more songs by Meghan Tonjes, which I imagine is part of the point of putting out a covers album.
20. Galen Brown – "Nicola (sic) Tesla" (originally by 8in8)
It didn't take long for covers of 8in8 tracks to appear. There are more listed on the official web page for the project, including versions in other languages, but I particularly like that this one because the gender of the singer changed, but he kept the lyrics exactly the same.
bedlam bards
,
chameleon circuit
,
common rotation
,
Devo
,
dr. noise
,
emerald rose
,
jonathan coulton
,
mc chris
,
MC Frontalot
,
molly lewis
,
music-
,
Paul and Storm
,
Shael Riley
,
the grammar club
,
They Might Be Giants
,
Weird Al