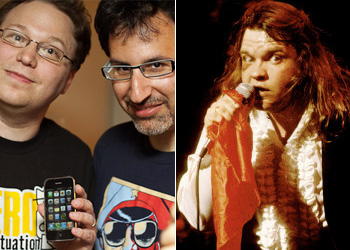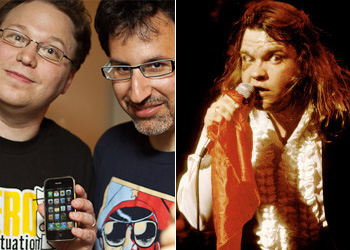 I've featured a couple of different lists of cover songs by geeky artists here (and plan on writing about more), but my wife gave me an idea for another column that fits right in with the "dream cast" articles here on the site. What would be some interesting, but sometimes unexpected, covers for different geeky artists to perform? So for my April Fools' edition, I will attempt to answer the question: wouldn't it be awesome if this artist performed this song? (I have to make sure to give plenty of credit to my wife who came up with just as many ideas as I did).
Jonathan Coulton – "Greatest American Hero Theme Song" (originally by Joey Scarbury)
This is the one that started the idea. I recently tried to watch Greatest American Hero on Netflix, but just couldn't do it. It doesn't hold up well at all. But the theme song is great. And JoCo could totally pull it off.
Molly Lewis – "Total Eclipse of the Heart" (originally by Bonnie Tyler)
For some reason, I picture Molly singing both parts in this song. Probably because she often does videos with several different "roles" in them. Anyway, I just think this song would sound great on ukulele, and Molly's one of the finest ukulelists I know.
Marian Call – "Steamroller" (originally by James Taylor)
Just watch a live recording of Marian Call singing "The Avocado Song," and you'll see why I chose this one. I'll bet she'd even add her own, probably geeky, metaphors.
Paul and Storm – "Paradise by the Dashboard Light" (originally by Meat Loaf)
I know there's a female part in this one, but I can't resist my desire to hear Paul performing it. Ridiculous? Sure, but isn't that part of the fun of Paul and Storm? Oh, and as an added bonus, John Hodgman needs to perform Phil Rizzuto's part, the section that's clearly not actually about baseball.
MC Frontalot – "Dear Prudence" (originally by The Beatles)
After hearing Front on two different tribute albums singing, it's clear he has a great voice. This Beatles song about Mia Farrow's sister fits in his range quite nicely, and it would be an interesting, perhaps unorthodox, choice.
Marc With a C – "21st Century Schizoid Man" (originally by King Crimson)
Marc with a C has proven that he can take several different types of songs and strip them down to their core. What better type of song to strip down than a prog rock one? I'd love to hear him perform this with just an acoustic guitar; man, now I wish that I'd been able to afford $300 for his Kickstarter…
The Grammar Club – "Rapture" (originally by Blondie)
Shael Riley on vocals with Beefy performing the rap part. Awwww, yeah!
Schäffer the Darklord – "Wuthering Heights" (originally by Kate Bush)
Because if there's any geeky male musician who'd have the balls to cover Kate Bush, it'd be StD. And Epic Win could perform a literary burlesque. Um, wow, that actually got more awesome as I typed it…
The Doubleclicks – "Take the Skinheads Bowling" (originally by Camper Van Beethoven)
I've long loved Camper Van Beethoven. Their use of violin is what got me thinking about The Doubleclicks performing this one. I know cello and violin are not the same instrument, but I still think this would be a good track for them.
Kevin Pollak as William Shatner – "Pleasant Valley Sunday" (originally performed by The Monkees)
Why not William Shatner himself? Well, he's already released tons of covers, and K-Po does a really great impression, so it just seemed like such an odd idea that it fit the list beautifully. Plus, most of The Monkees weren't "real" musicians, so having someone do an impression of someone else for the song makes a certain amount of sense.
John Hodgman – "Goodnight, Irene" (originally by Huddie "Lead Belly" Ledbetter)
Yeah, OK, Hodgman isn't exactly a musician. But somehow I can just hear him singing this one. And the thought of this actually happening makes me feel all warm in the tummy.
---
So, artists, be sure to get right on it! I'm sure you all read this column and will do anything I say, right? And if you hate my choices, then I'll just have to quote Shakespeare at you:
"If we shadows have offended,
Think but this, and all is mended,
That you have but slumber'd here
While these visions did appear."
john hodgman
,
jonathan coulton
,
kevin pollak
,
marc with a c
,
marian call
,
MC Frontalot
,
molly lewis
,
music-
,
Paul and Storm
,
Schäffer the Darklord
,
the doubleclicks
,
the grammar club