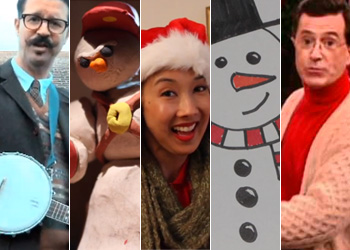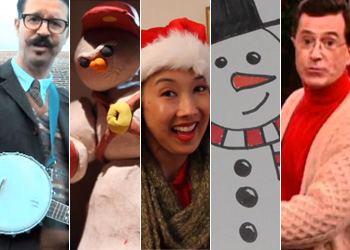 Christmas time is here… And it's time for another list of geeky music! Many of them from this year's list were actually released last year just after I published my list. That's why I decided to delay the list as long as possible this year, but I have a feeling it'll still happen again. Oh, and this also means that there are 25 songs on this list.
Before we get into the Christmas music, though, I think it's only fair to have a Hanukkah song, too (even if it is actually over for this year), so first up is…
"The Star Wars Hanukkah Song" – the great Luke Ski
There are an awful lot of Star Wars actors who are Jewish, and the great Luke Ski takes us through them in this parody of Adam Sandler's "Hanukkah Song."
And now, on to the Christmas list…
1. "White Christmas" – John Barrowman
A traditional Christmas song sung by Captain Jack, er, uh, I mean John Barrowman. Very nicely done, as you'd expect.
2. "Oh, Santa" – Mr. B the Gentleman Rhymer (NSFW)
This starts off as a nice little ditty about waiting for Santa, but Santa does something rather naughty with Mr. B's offerings. Oh, Santa, indeed!
3. "Grandma's Christmas Dinner" – Paul and Storm
Apparently Grandma got a bit confused this Christmas. That's not turkey you're eating…
4. "Jingle Man, Christmas Boy" – Stephen Colbert
This may be the geekiest song on A Colbert Christmas: The Greatest Gift of All; it's definitely reminiscent of the whole "Batman Smells" parody of "Jingle Bells." The full version is from the video advent calendar that comes on the DVD.
5. "Christmas Dub" – Kabuto the Python (NSFW)
Kabuto wishes everyone Happy Holidays as only he can. It's a very happy song.
6. "Santa Claus Is Coming to Town" – Jed Whedon and Maurissa Tancharoen
I'm choosing to believe that these are the actual original lyrics to the song because it just makes it that much more fun. And adorable.
7. "Please Bring Firefly Back (for Christmas)" – Mikey Mason
What an amazing gift that would be! Man, I wish Santa was actually real…
8. "12 Ultimate Days of Geek Christmas" – Whitless & Errol
Errol of Debs & Errol is joined by Whitless (aka Amanda Whitney), who, unfortunately for Errol, doesn't actually sing. But he somehow ropes her into the song anyway. In order to fit everything into the song, there is no repetition like the original, which also makes it more entertaining.
9. "99 Problems, Santa's List Ain't One" – Rappy the Elf (aka Rappy McRapperson)
Someone had to do a Christmas parody using the whole "99 Problems" thing. Rappy McRapperson does it as only he can.
10. "Rudolph the Red-Nosed Reindeer" – Kirby Krackle
Kirby Krackle rock out to this Christmas classic. Awesome!
11. "What Can You Get a Wookiee for Christmas (When He Already Owns a Comb)?" – Marc with a C
If you've never listened to Christmas in the Stars, the Star Wars Christmas album, I'm not quite sure I can actually recommend it, but if you enjoy Marc with a C's cover of this song, then you'll probably like it.
12. "Mr. Frosty Man" – Sufjan Stevens
Normally you wouldn't think of Sufjan Stevens as being at all geeky (except, perhaps, in a Childish Gambino song), but the video certainly is: Claymation zombie attack on Christmas. And Frosty the Snowman is armed and ready!
13. "It's Christmas (Mother F***er)" – The ThoughtCriminals (NSFW)
Vocals by Mikal kHill and Sulfur plus samples from Vince Guaraldi? Yeah, I think this might be a new favorite. Besides, Christmas music totally needs more cursing.
14. "Pumped Up Kicks Rudolph the Reindeer Remix" – Mr. Gee
This one's a parody of Foster the People's "Pumped Up Kicks" with lyrics about poor Rudolph. I can totally see Rudolph going postal on the other reindeer, and given that the original song is about a school shooting, it fits quite nicely.
15. "Frosty the Flow Man" – MC Lars
Lars has an entire EP of Christmas music. Remember, kids, don't let your success go to your head! Oh, and don't do cocaine!
16. "Jingle Bell Geekrock" – Hello, the Future!
Skeptics need more Christmas songs. So here's one inspired by Mad Art Lab.
17. "Ebenezer's Carol" – The Men That Will Not Be Blamed for Nothing
Christmas already has plenty of association with the Victorian era, so it makes perfect sense to create steampunk Christmas music. The title pretty much tells you what this one's about.
18. "Let It Snow" – Abney Park
Speaking of steampunk Christmas, Abney Park just released their own Christmas album, Through Your Eyes on Christmas Eve. I could only find a promo video for it, but they have put out a few other tracks over the years. I may not live where it's likely to snow any time soon, but I still enjoy this particular song.
19. "Christmas in Jail" – Jonathan Coulton & John Roderick
JoCo already had several Christmas songs, so it makes sense to release a full album of them. This video is actually from before Halloween, making it a "Way-Too-Early Christmas Song," but it does feature JoCo wearing a bow tie (plus watch for another John in the background).
20. "Last Christmas" – Superpowerless
Yup, it's an 8-bit cover of quite possibly one of the worst Christmas songs ever. And yet for some inexplicable reason I love it anyway, especially this cover.
21. "God Rest Ye Merry Gentlemen" – ComputeHer & 8-Bit Weapon
This one starts off a little slow, but picks up to make it surprisingly cool. It's one of two tracks from It's a Chiptune Holiday which features vocals, this one with a computer voice. The others are worth checking out as well.
22. "Baby It's Cold Outside (Hoth Version)" – Kirby Krackle and The Doubleclicks
Kyle and Angela take this holiday duet and transform it from a song with some rather sinister overtones (why doesn't he want her to leave? What are his intentions?) to a song about Leia and Han on Hoth, wondering if Luke will be OK (at least at first). Absolutely brilliant and hysterical!
23. "Christmas 1994" – Helen Arney & Paul Richards
Helen Arney gives us a song about her memories of Christmas 1994. Or maybe 1993. Or maybe 1995. Whatever, those didn't fit the song. This comes from her Christmas album, It's Going to be an Awkward Christmas, Darling, which is also well worth checking out.
24. "Wherever You Are" – The Doubleclicks
This live version of the song from Dammit Liz's Holiday Special, also happens to feature Kyle Stevens. It's from The Doubleclicks new Christmas / December / End of the World EP, Christmas Ain't About Me. See, it's not just Christmas that happens this time of year.
25. "Santa Claus Is Coming" – Jonah Knight
It's amazing how the changing just a few words can make this song so much creepier. Actually, all of the songs on Jonah Knight's new Christmas album are quite creepy. And so good!
Honorable Mention
"A Very Carson Christmas" – from Friday Night with Jonathan Ross
I'm not quite sure if Downton Abbey qualifies as geeky, but it certainly has a pretty big fandom. My wife and I watched this for months after Christmas last year; I wish this was a real album.
8-bit weapon
,
Abney Park
,
christmas
,
computeher
,
Debs & Errol
,
Downton Abbey
,
helen arney
,
hello the future
,
jed whedon
,
John Barrowman
,
john roderick
,
jonah knight
,
jonathan coulton
,
jonathan ross
,
kabuto the python
,
Kirby Krackle
,
marc with a c
,
maurissa tancharoen
,
MC Lars
,
Mikey Mason
,
Mr. B
,
mr. gee
,
music-
,
Paul and Storm
,
rappy mcrapperson
,
stephen colbert
,
sufjan stevens
,
superpowerless
,
the doubleclicks
,
the men that will not be blamed for nothing
,
The ThoughtCriminals
,
whitless