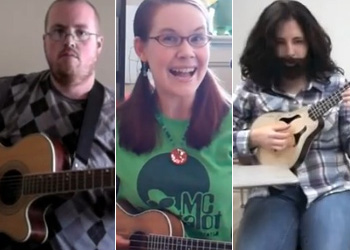 After last week's dream covers list, I thought I'd return to some actual real covers performed by various geeky artists. Some have been featured before, others are new, but they're all good covers. And there seem to be an awful lot of JoCo and Frontalot tracks this time (and one that sort of combines them both!). Hope nobody minds!
The Doubleclicks – "I'm Going to Go Back There Someday" (originally from The Muppet Movie)
Angela's wistful voice really works well for this Muppets cover. And it has one of my favorite lyrics from a Muppets song, "There's not a word yet for old friends who just met." I'm not sure there needs to be a word for it, but it's certainly a feeling I've had before.
Shael Riley – "Karma Chameleon" (originally by Culture Club)
I always love a good Shael Riley cover (and I haven't heard any bad ones!). I particularly like the a cappella part in this one. Very nicely done!
Marian Call – "Hovering Sombrero"
Part of the Mink Car Cover album that commemorated the tenth anniversary of the TMBG release, this is one of my favorites both on the original and this tribute. I've pretty well established how much I love Marian Call's voice so I won't go on and on about it here, but trust me, it's just as good as you'd expect it to be.
Mike Lombardo – "Good Morning Tucson" (originally by Jonathan Coulton)
This one features MC Frontalot on harmonies and Sturgis (Front's drummer) on suitcase bass drum. And be sure to check out Lombardo's other covers on his channel. "Effington" by Ben Folds is particularly good.
Brian Mazzaferri – "Down Today" (originally by Jonathan Coulton)
The lead singer from I Fight Dragons sings a solo version of this great track from Artificial Heart. It's just him and a Game Boy, but it's so good.
Packy Lundholm – "Bertha" (originally by The Grateful Dead)
And while we're talking about I Fight Dragons, here's one by their other singer. Lundholm plays all the instruments and sings as well. Even my wife likes this one; freaks and geeks can finally unite over a song!
Service Lab – "Wonderwall" (originally by Oasis)
Perhaps the world doesn't really need another cover of this Oasis tune, but Service Lab's unique take on it certainly deserves a listen.
Hello, the Future! – "Captains of Industry" (originally by MC Frontalot and MC Lars)
ZOMG ADORABLE! Is it sexist to say it's adorable? I hope not. I don't just mean looks; I mean the whole package: the deliberate background placement of the Mink Car tribute album (which Blue, the only member of Hello, the Future!, put together and on which she covers "Working Undercover for the Man"), the plush Android, and Timmy from ThinkGeek add to the whole effect. Plus ukulele. And singing both Frontalot's and Lars's parts. Adorkable? Is that OK?
MC Diabeats and Miltonius Prime – "Goth Girls" (originally by MC Frontalot)
I always love it when nerdcore artists perform with actual bands behind them. MC Diabeats does just that in this live cover of MC Frontalot's crowd favorite, "Goth Girls" featuring relatively new nerdcore artist Miltonius Prime.
Marc with a C – "Mr. Roboto" (originally by Styx)
Wow, man, I didn't think there could be anything cooler than John Anealio's cover of this song, but Marc with a C knocks it out of the park with this cover (which is not to say Anealio's isn't awesome!). Just acoustic guitar and cymbal played with drum sticks, performed live. Amazing!
Zack Anderson – "Want You Gone" (originally by Jonathan Coulton)
Nice, straightforward acoustic cover of JoCo's Portal 2 end credits song. Stick around after the song for the "Superbonus Blooper Reeeeeeel!!!!"
Molly Lewis – "Moustaches" (mash-up of "Taken at All" and "Dear Prudence" originally by Crosby and Nash / The Beatles)
I'm not always a huge fan of mash-ups, but when they're covered by someone else I'm more inclined to give them a chance. And when it's Molly Lewis who's doing it, it's no surprise that it's so good. Plus the costume changes in the video are truly inspired (not to mention funny)!
Kirby Krackle – "Bed Intruder" (originally by Auto-Tune the News)
Yeah, it's really a cover of the autotuned version of Antoine Dodson's news interview. Silly? Sure, but it's Kirby Krackle so give it a listen!
Abney Park – "Creep" (originally by Radiohead) (NSFW)
Another song that has tons of covers. This one's exactly what you'd expect from Abney Park covering this song. The audio's a little low, but it's otherwise well done.
Kaotik4266 – "Up Up Down Down" (originally by Kirby Krackle)
An a cappella cover of one of my favorite Kirby Krackle songs? Yes, please! Very nicely done!
William Shatner – "F**k You" (originally by Cee-Lo Green)
I don't even think I need to say anything about this one, except to note that it's too bad it's bleeped out.
Abney Park
,
hello the future
,
I Fight Dragons
,
kaotik4266
,
Kirby Krackle
,
marc with a c
,
marian call
,
mc diabeats
,
MC Frontalot
,
mike lombardo
,
miltonius prime
,
molly lewis
,
music-
,
Service Lab
,
Shael Riley
,
the doubleclicks
,
william shatner
,
zack anderson