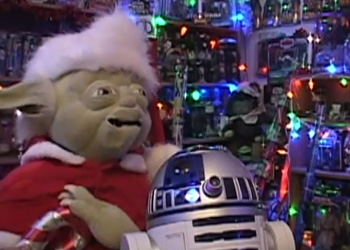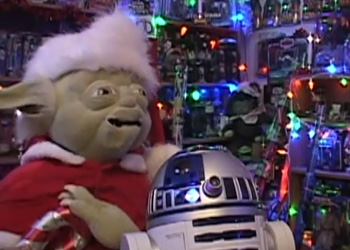 Whether you celebrate Christmas, Newtonmas, Noodlemas, Festivus, or any other holiday — or even none at all — if you're a geek, you certainly need to have some music for the season. There are tons of songs to choose from, but I've decided to limit myself to just 12 for, I think, rather obvious reasons. Some are new, some are old, some are more "traditional" some rather odd, but all are great in their own way. So, without further ado, here's the list:
1. "Chiron Beta Prime" by Jonathan Coulton
One of three JoCo Christmas songs, I chose this one because it's my favorite musically as well as lyrically. It's a song about aliens celebrating Christmas despite being oppressed by their robot overlords… I mean protectors. Good stuff!
2. "All I Want for Christmas (Is to Rock)" by Sniper (NSFW)
Chris Hardwick and the crew from G4TV put together a faux '80s hair band and perform a rather suggestive song about Santa. The lyrics and videos are absolutely hilarious, and the Nerdist pulls off the front man so well it took me a minute to realize it was really him.
3. "Vigilante Christmas" by Kirby Krackle
A Christmas song for the Punisher (or any other vigilante, really) set to the tune of "Have Yourself a Merry Little Christmas." And it's by Kirby Krackle. How can you possibly go wrong?
4. "Star Wars Christmas" by Sci-Fried and Marc with a C
"A long time ago… Star Wars Christmas." Two Florida geek rockers team up for this track about Christmas in the Star Wars universe. No Life Day references here. The video really sells the song on this one.
5. "A Pirate Christmas" by Captain Dan and the Scurvy Crew
Captain Dan and his crew try to steal Santa's bag but end up with nothing but coal. What did they expect — they're on the naughty list!
6. "Feliz Navidad" by North Point's iBand
Thanks go to Nathan Fillion's tweet about this one (although that version has three songs included). This one is just part of it: "Feliz Navidad" performed on iPhones and iPads. Live. Awesome!
7. "Happy Xmas (War Is Over)" by Shael Riley and the Double Ice Backfire
I'm not really a huge fan of chiptunes, but this one incorporates real instruments to make it bitpop. Shael Riley's vocals are really good, too, and this is certainly a great cover of a great Christmas tune. It's also part of a 5-song geeky Christmas compilation that can be downloaded here.
8. "Santa's Beard" by They Might Be Giants
It's funny, I never really thought of this as a Christmas song until I heard it on a Christmas compilation. My favorite line: "Lately she's been humming cheatin' songs." Because adultery and Christmas go so well together. Okay, maybe not, but this song is still great!
9. "Christmas Eve Eve" by Paul and Storm
Last year, Paul and Storm released a compilation of They Might Be Giants-inspired Christmas songs. This one is reminiscent of "Dead" from Flood and celebrates December 23rd ("The day that is the day before the day before the day that is the best day in the world"), because if they don't do it nobody ever will. The entire album can (and should) be listened to here.
10. "Jingle Bell" by Douyou Pops
"Jingle Bells" in Japanese. Just check it out.
11. "Christmas at Ground Zero" by "Weird Al" Yankovic
A Christmas classic. Well, at least it is at my house…
12. "Carol of the Old Ones" by The H.P. Lovecraft Historical Society
Who would've guessed that the Old Ones celebrate Christmas? Of course, they celebrate by driving mankind insane, which, I suppose, makes it like any other day for them. Perhaps it's a special sort of insanity.
Honorable Mentions
Yeah, yeah, so this makes the list more than 12 songs. These aren't really quite songs proper, though, so they don't quite count. They do, however, deserve to be mentioned since they are Christmas-y.
"Holiday Greetings from Jabba the Hutt" by Paul and Storm
A somewhat disturbing animated video of Jabba the Hutt singing "Silent Night" in Huttese (with English subtitles apparently translated from English to Huttese and back). Listen for the Wilhelm scream!
"Doctor Who cast sing a Christmas carol"
This one I found out about from Chris Hardwick on Twitter. It's exactly what's on the tin — Matt Smith, Karen Gillan, and Arthur Darvill sing "Have Yourself a Merry Little Christmas." Adorable!
"Merry Something to You" by Devo
Not quite a Christmas song, but certainly a holiday tune. "Believe in what you want to, none of it is true!" Agreed!
christmas
,
Devo
,
doctor who
,
jonathan coulton
,
Kirby Krackle
,
music-
,
Paul and Storm
,
Sci-Fried
,
Shael Riley
,
They Might Be Giants
,
videos
,
Weird Al