Up this month we have two very different releases, both released within the last week. Not much else to say, except that it's possible that there might be a part two this month depending on whether or not I get to a couple of others. Before that, I plan the promised covers and parodies list that I mentioned last month. So stay tuned for more good stuff!
Chokeules – Stay Up (NSFW)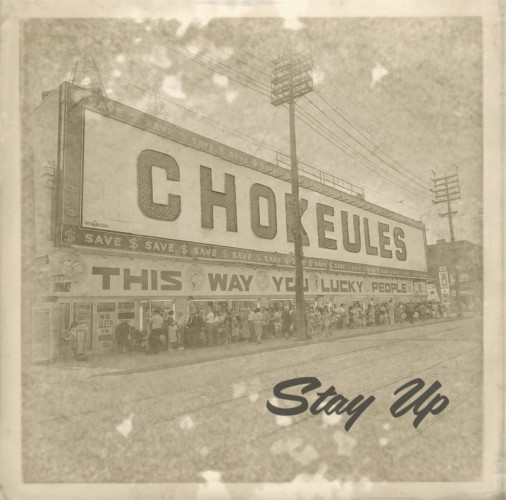 When I first heard that Chokeules was releasing a new album, I immediately went to check out the first three tracks on Bandcamp. After listening, I knew I needed to review the album, and luckily for me, I received a copy of the whole thing the next day from Thomas of Hand'Solo records. And now you can check out the whole thing on Bandcamp as well.
On this album, in addition to the usual pop culture references you'd expect from a member of Swamp Thing (like "Electric Jesus," a song about Nikola Tesla, named after a Drunk History sketch), Chokeules includes topics not typically seen in music such as introversion, veganism, and being left-handed. Add in spectacular production and cuts by fellow Swamp Thing members Timbuktu and Savillion, DJiRATE, and Uncle Fester (among others), plus guest vocals by Wordburglar, More or Les, and The Might Rhino, and you've got a really solid sophomore album.
Before we get into the less common topics, let's start off with a fairly typical topic for rap: using words as weapons. Chokeules has two songs about this: "Verbatim" ("Word to the wise, choose your words wisely") and "Man of Letters" ("Listen to me now, but hear me later on," which is a slightly modified version of Hans and Franz's quote from Saturday Night Live). And both have their share of pop culture references, including Teenage Mutant Ninja Turtles ("Sistine Chapel or a turtle with nunchucks; on the Michelangelo live quick" [I should not that I'm not 100% certain of all lyrics so forgive me if I get some wrong]) and Star Wars ("Yoda said there was no try, only do"). Oh, and "Verbatim" has one of my favorite lines from the album, too: "Booyah — that's atheist for Hallelujah!" Nice!
OK, now on to the more unusual topics. Something near and dear to me is introversion. I am very introverted, so it's cool to get a song ("Sole People") about "Not [being] anti-social, just pro being alone." Plus it co-opts a line from LL Cool J's "I Need Love" ("When I'm alone in my room, sometimes I stare at the wall") and casts it in a new light. Then there's "40-Year-Old Vegan." Choke deals with all of the usual stupid questions people ask vegans (and vegetarians, and even pescatarians like me) — "What do you eat? What about meat? What about protein?" But then he turns it around by listing all of the great food he does eat, like pizza, but without the pepperoni and cheese ("I know what you're thinkin', that's bruschetta. Naw, we got the soy cheese, counterfeit cheddar"). And there's also probably my favorite track on the album, "Leftorium (feat. Wordburglar, More or Les, The Might Rhino)", about being left handed, with puns / wordplay flying faster than I can write them down. I'm not left-handed, but my mom is, so I can totally understand. Plus there's something kind of appealing about Southpaws from the Great White North.
Overall I continue to be impressed by everything that comes out of Hand'Solo records, and this is no exception. Go grab it now!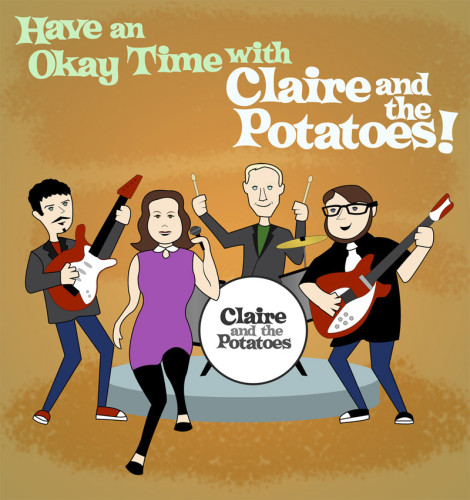 Imagine if a woman in her 20s living today were suddenly transported to the 1950s, or maybe if a young woman from the 1950s were transported to today. Or maybe it's just some weird not-quite-logical combination of the two; I'm not quite sure. That's Claire, the fictional lead singer of Claire and the Potatoes (played / sung by Leslie Rising, with the Potatoes consisting of Marc with a C on guitar and vocals, Guy Larmay on bass, and Jim Myers on drums, percussion, and vocals). Stylistically, the music captures the girl group pop music of the 1950s, but the lyrics and Claire's attitude are quite modern. Well, sort of… There's also a definite trying-to-please-a-man vibe that seems more at home in the '50s than today. It's complicated. Which is, of course, the entire point.
As a case in point, let's look at "I Wanna Be Your Shadow." The idea of a woman being nothing except what her man wants her to be clearly harkens back to a different era, but that's exactly what Claire claims she wants ("I'm tired of expectations and thinking for myself. Sometimes we all want to be a part of somebody else"). But Leslie's vocals have a definite tinge of sarcasm that takes the song in a different direction. And then again, maybe there is something sincere about not wanting to have to worry about anything and just letting someone else take over your life. But then you watch the video, and it takes on a different meaning altogether. Like I said… complicated.
There's also the juxtaposition of "A Shot at Love" in amongst the other tracks. Claire's dates aren't complete unless she gets a chance to shoot the guy. Not exactly hiding your personality behind someone else. Or her "Different Take on Faith": "Do you want me to believe in God just to be with you? I'll pretend that I believe in God just to be with you. It make no difference to the time that I'll rot in my grave, 'cause now I've got a different take on faith." So she's definitely an atheist, but perfectly willing to fake having faith. Claire is even willing to be flexible about her relationships, allowing another woman in ("Olivia Rules Everything Around Me"), although that gets old pretty quickly. And, besides, maybe Olivia is better after all…
Unfortunately, you can't expect Claire and the Potatoes to come to your town any time soon. They're not quite ready for that yet, and besides the Potatoes would miss their wives ("Tour Announcement"). Thankfully, though, you can catch them at Nerd Fest in August, or just check out their music on Bandcamp.