Lately the new releases have been piling up way faster than I can keep up with. It's back to school time, so between teaching and going to Orlando Nerd Fest, I haven't had much time to sit down and write about them. Fortunately, things are starting to slow down so I should be able to get caught up in the coming weeks. I'll start off with a couple of albums that I have a feeling will end up on my list of favorites for the year. So let's get to those now!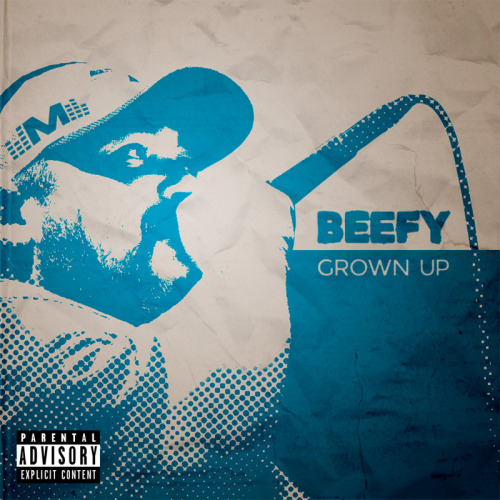 Beefy's latest release is probably his strongest to date. There's an obvious sense of maturity here, evidenced most clearly on the title track. Beefy draws on his own experience of becoming a father to write about how much it sucks to become a grown-up — but it's all outweighed by the benefits. I think even those of us who don't have kids can relate to the pull of being forced to become a grown-up even though we don't want to.
Even the songs about geekier topics have a sense of seriousness about them. "Hear Me Roar" is about various characters from Game of Thrones expressing whatever it is about them that makes them strong. I don't like Game of Thrones, but I really like this track (it even makes me want to give the show another chance). There's also "Girl Meets Doctor" (feat. Tylr DeShae), a song about Doctor Who. Specifically, it outlines the story arc of Amy Pond from fish fingers and custard all the way to the Pandorica, with Rory waiting patiently for her. It really captures the feel of the relationship between the Ponds and the Doctor quite well.
But not everything is completely serious, of course. It is, after all, still Beefy. "Holiday" gives us a humorous insight into Beefy's attempt to have a vacation with his "goofy family." He paints a pretty vivid picture of the inevitable problems that arise on vacation but also captures the fun. Also on the less serious side is "Million Feet High [an interlude]," a skit / song in the middle of the album. Beefy gets a call from Mustin, the producer of the album, but doesn't want to take it. He then gets "permission" to make whatever kind of songs he wants and so proceeds to perform a short song about Bioshock Infinite. It's pretty amusing, and illustrates nicely the balance the album has between the serious and the not so serious, sandwiched as it is in the middle of the album.
The album also features plenty of guest artists, including Mega Ran and MC Lars on the opening track, "HAX," a song about real life cheat codes and hacks. "Rock Em Sock Em" features Wheelie Cyberman and Former Fat Boys rapping about being rap robots, while "Monster" is a track about chimeras from Full Metal Alchemist with Mikal kHill and Adam WarRock (and, yes, I admit I had to look that up since I've never actually seen Full Metal Alchemist).
It's been a few years since Beefy released a full album, and this one is well worth the wait. You really ought to go pick it up now.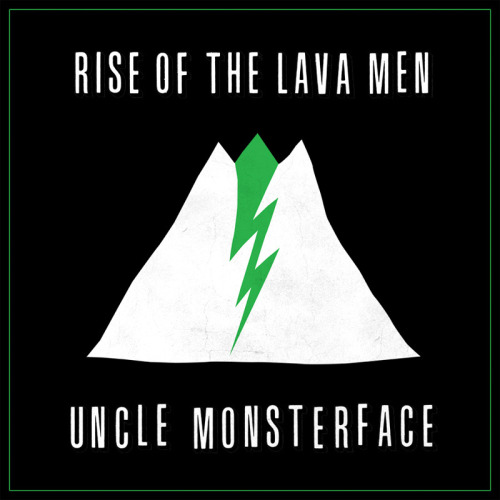 I remember having seen the name Uncle Monsterface before, but I somehow had never checked out their music. Recently, Paradise Dan sent me a copy of their latest album, and I immediately fell in love with it. It's a concept album about an ancient group of rather unlikely superheroes (the titular Lava Men) with clear influences of Devo, Oingo Boingo, and a touch of ska. Each song is about one of the Lava Men, the former protectors of Dino-Skeleton Island, who were discovered by Uncle Monsterface when they explored their (fictional) home.
None of the Lava Men is quite your typical superhero, however, with such oddities as "The Accountant," "The Chef," "The Taker," and "The S.C.U.B.A Diver." Even some who at first glance may seem to make good candidates aren't quite what they seem. "The Cowboy," for example, is actually a boy made out of cows. There's a robot, but he's actually "The Sports Robot" who plays baseball and other sports, and the scientist is "The Brainrocket Scientist" who builds rockets with brains to ensure that they hit their targets. They even have a cat, "Meow Meow," although I'm not sure I'd like to mess with him and his claws.
There's something delightfully dysfunctional about the Lava Men, and they are clearly a parody of "real" superhero groups like the Justice League ("The Magician Detective" — Zatanna and Batman, perhaps?). And there's also quite a few nods to G.I. Joe ("The Ninja," for example), especially with the character cards for each of them that can be found by clicking on individual tracks on Bandcamp.
If you like silly, fun, highly danceable songs in the vein of Devo, Oingo Boingo, and the Aquabats, you'll really enjoy this album. I'm so glad I got a chance to discover Uncle Monsterface!