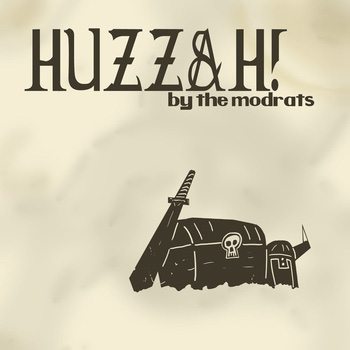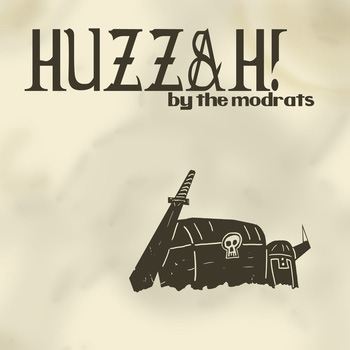 I first became aware of the modrats when Z from Hipster, Please! played "My Ninja" on the podcast. I made a note of the album it was on but didn't get a chance to listen to it. Shortly thereafter, Ryan from the band contacted me about their new album, Huzzah! Of course I had to check it out. I'm glad I did; it's right up my alley in terms of the type of music I've been listening to since high school.
Stylistically the modrats have a pop punk feel that grabs you right away. I even hear some third wave ska (sans horns) on some tracks (e.g., "This Sword," which is one of my faves from the album). Keeping with the punk ethos, the songs are all short; most are under three minutes, and a few are under one minute. They're short, but they pack a nice punch.
Lyrically the album is quite humorous, but it doesn't fall into the "funny music" category. It's more like the modrats don't take themselves too seriously, a characteristic I truly appreciate in music. The lead track is about building a "Cardboard Robot" (which also features an NSFW chorus), for example, and there's also a song called "She's Afraid of Robot Cats." Then there's "Last Taco" about, well, the narrator's search for the last taco in the world after the apocalypse. Clearly not the most serious topics out there.
Geekily there are the aforementioned robot songs, but plenty of others. "Adventure Forever" reminds me of any number of RPGs, both video game and paper and dice. There's also "Onyx Unicorn" which expresses the desire to go exploring on a most unusual horse from another dimension. I previously mentioned "This Sword" above which is a track about a special sword that kills evil things. So it seems that punk and geek can go together quite nicely.
If you're a fan of pop punk that doesn't take itself too seriously, and you enjoy robots, you really owe it to yourself to check out the modrats. And make sure to send some money their way, too; all of their albums are "name your price" on Bandcamp.
Track Listing:
Cardboard Robot" (03:32
"This Sword" (02:25
"Onyx Unicorn" (01:36
"E minor Battle" (00:30
"Daredevil Girl" (02:24
"Polybius" (02:27
"Lonliest Mouse" (00:43
"Luigi's Lament" (04:57
"I Breathe Fire" (02:17
"Henchman" (02:19
"She's Afraid of Robot Cats" (01:39
"Last Taco" (03:12
"Adventure Forever" (03:30
"This World" (03:19
"Princesses and Rupees" (00:15