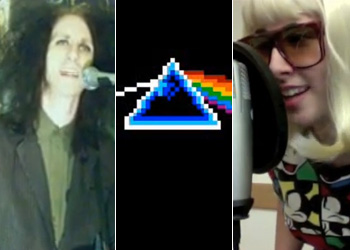 A couple of weeks ago, I featured covers of geeky songs. This time I'm featuring non-geeky songs covered by geeky artists. There are some repeat artists on this list, but there are several new ones as well. The list is arranged somewhat loosely by genre and / or type of artist. Enjoy! (Warning: strong language ahead!)
1. Shael Riley and the Double Ice Backfire – "Creep" (originally by Radiohead)
There's a reason Shael Riley keeps popping up on my lists. He's a great singer and makes great music. This cover of the oft-covered "Creep" by Radiohead is one of many covers he's done. They're all worth checking out, of course.
2. I Fight Dragons – "The Power of Love" (originally by Huey Lewis and the News)
I Fight Dragons recreate this Huey Lewis and the News track into rockin' bitpop. How can you not love this?
3. sadnes – "Bittersweet Symphony" (originally by The Verve)
I'm not sure why I like the original so much, but it just really appeals to me. This cover by sadnes captures the symphonic feel of this song. It's really nicely done.
4. Tetrastar – "Such Great Heights" (originally by The Postal Service)
Another song where I love the original. There are tons of covers of this that are great, too, and Tetrastar doesn't disappoint.
5. Brad Smith – MOON8 (8-bit Dark Side of the Moon) (originally by Pink Floyd)
I'm completely amazed that I actually enjoy this. Chiptunes with no vocals usually annoy me. No doubt it has something to do with the original source material, but it must also be the time and effort Brad Smith put into making it. The video above consists of the first three tracks from the album. The rest can be found on YouTube as well as on Brad Smith's web site.
6. Mesu Kasumai – "Dizzy Chip (You Spin Me Right Round)" (originally by Dead or Alive)
Another completely chiptunes track that I actually enjoy. I might have to reexamine this genre at some point; perhaps the reason I haven't liked it is because what I've heard hasn't been any good.
I actually had no idea this was a cover until I heard it on Coverville during the Sinead O'Connor cover story. Apparently it's a translation of an Irish poem set to music in the late 1970s. Clearly Abney Park have made it their own, and lyrically it fits well with their goth / steampunk style.
8. Vernian Process – "Start Wearing Purple" (originally by Gogol Bordello)
Gogol Bordello's gypsy punk is already close to steampunk so it makes perfect sense for steampunk band Vernian Process to cover them. Add in an appearance by Cthulhu ("All your sanity and wits, they will all vanish") and you have a really great, fun track. This live version also begins with a little bit of Scott Joplin's "Maple Leaf Rag," a cover I almost included here (actually, I guess that link means that I did include it).
9. Unwoman – "Careless Whisper" (originally by Wham!)
Cellist Unwoman performs a hauntingly beautiful cover of one of the only tracks by Wham! that I actually enjoy completely without reservation. I only wish that whoever was filming this panned out a bit to get the dancer whose hands (and sometimes face) can be seen occasionally.
10. Navi (feat. Kurt Canfield) – "F**k You" (originally by Cee-Lo Green)
Navi has added lyrics to this instant classic by Cee-Lo Green. It's particularly interesting since the changes actually made it less geeky than the original (with its references to Xbox, Atari, and Mr. T ["I pity the fool"]). Regardless, it's darn good stuff.
11. Dr. Noise – "Just Like Heaven" (originally by The Cure)
Here's another track that has tons of covers. Dr. Noise brings his own multi-guitar version. In the video, he even makes himself look like Robert Smith.
12. Marc with a C – "God's Away on Business" (originally by Tom Waits)
Rather than try to capture the deep vocals and rhythmic intensity of Tom Waits (which is probably impossible), Marc with a C creates a minimalistic version that captures the spirit of the track while still making it his own. I'm really impressed with what he's done considering I've heard some terrible covers of Tom Waits tunes.
13. Molly Lewis – "Poker Face" (originally by Lady Gaga)
The always delightful Molly Lewis regales us with her Halloween cover of Lady Gaga. And she dresses the part as well.
14. Kirby Krackle – "500 Miles" (originally by The Proclaimers)
I almost thought I wasn't going to be able to get any of my traditional Kirby Krackle on this list. Then I discovered a solo acoustic cover of "500 Miles." w00t!
15. They Might Be Giants – "The Long Grift" (originally from Hedwig and the Angry Inch)
I fell in love with Hedwig and the Angry Inch from the moment I saw it. It's such a beautiful, heartbreaking love story, and the music is great, too. When I heard that They Might Be Giants covered "The Long Grift" on the cover album Wig in a Box, I knew I had to pick it up. The rest of that album turned out to be great, too.
16. Devo – "Head Like a Hole" (originally by Nine Inch Nails)
This is exactly what you'd expect from a cover of Nine Inch Nails by Devo: awesome! 'nuff said!
17. Anthony Stewart Head & George Sarah (feat. Holly Palmer) – "We Can Work it Out" (originally by The Beatles)
And now we get into the section of covers by actors who appeared in genre TV shows. I'm sure everyone knows that Anthony Stewart Head's brother is Murray Head (of Chess / "One Night in Bangkok" fame) and that he actually wanted to be a rock star. He certainly can sing as evidenced by this track as well as the Buffy musical.
18. Brent Spiner (and Chita Rivera) – "An English Teacher / Rosie" (originally from Bye Bye Birdie)
Brent Spiner actually performed on Broadway before appearing as Data on Star Trek: The Next Generation. He released an album of pop standards called Ol' Yellow Eyes Is Back while still playing Data. I tried to find a track from that for this list, but found something even better instead: Spiner singing with Chita Rivera. As an aside, I once snuck in to a performance of Kiss of the Spider Woman with Chita Rivera on Broadway during the intermission. I'm not usually one to do something quite so questionable (although it even has a name — "second acting"), but it was so worth it!
19. Leonard Nimoy – "Ruby Don't Take Your Love to Town" (originally by Mel Tillis)
I remember when I was younger that I went through a brief country music phase. Kenny Rogers and the First Edition's version of this song was one of my favorites. Actually, it still is. Whoever thought it would be a good idea to publish a version sung by Leonard Nimoy should have his head examined. On the other hand, it certainly falls into the "so bad it's good" category.
20. William Shatner – "Rocket Man" (originally by Elton John)
I saved the best for last. I don't even think I need to say much beyond that.