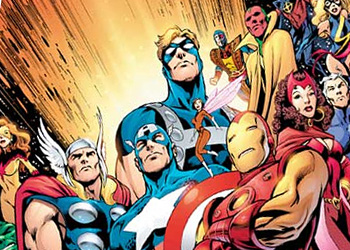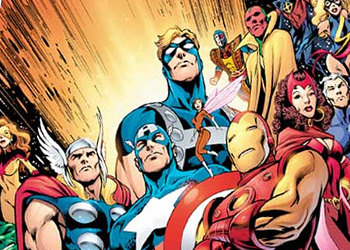 With the highly anticipated Avengers movie being released on May 4, it just seemed like an obvious choice to put together a list of songs about The Avengers. Some of the tracks are actually about the characters themselves, others simply share names with the characters, and some are about the "original" versions of the characters (i.e., Thor and Loki). I also decided to include some of the other Avengers teams like the West Coast and Great Lakes versions since they have some great songs about them, too.
"Never Fall" (preview) by Sci-Fried
This is just a brief preview of Sci-Fried's Avengers song from their upcoming album, Co-Op Mode. The full version will feature Kirby Krackle. So, I'm guessing this album will be another "Best Of" for 2012.
"Tony Stark"by Kirby Krackle
From their premiere album, Kirby Krackle's "Tony Stark" is about Marvel's Civil War. This live version features Joe Quesada on guitar and vocals. Cool!
"Thor (The Powerhead)" by Manowar
Here's a surprise: many of the songs about the Norse gods on whom several Marvel characters are based are heavy metal songs. Who would've guessed?
"Asgard" by Wizard
I don't know if Asgard is going to be featured in the movie (I've tried to avoid spoilers as much as possible), but it's where Thor and Loki are from, so it seemed appropriate regardless.
"Midgard" by Therion
Asgard may or may not be in the movie, but Midgard certainly will be.
Captain America by Will Kouf
Will Kouf created an entire rock opera based on Captain America. You can download it for free from Archive.org.
"Captain" by MU330
This one is a ska song about Captain America and the Red Skull. Too bad I couldn't find a video for it, but it's still worth checking out.
"They Told Me (S.H.I.E.L.D. Remix)" by Nick Fury HD
There don't seem to be any songs about Nick Fury himself, but I did find a rapper from Staten Island (where my wife was born) who goes by Nick Fury. And there's the remix above for ¡Mayday!'s "They Told Me" by Nick Fury HD that he calls a "S.H.I.E.L.D." remix. So I'll take it!
"Black Widow" by Lita Ford
I couldn't find any songs specifically about the character of Black Widow, either, so I figure this song by Lita Ford at least sort of fits.
"Hawkeye" by Alan Parsons Project
Another one that I had to stretch a bit to find. At least this one is an instrumental, so we can pretend it's about the character. One bright spot, however: there's a song about Hawkeye on the West Coast Avengers Mixtape that I describe below.
"Nobody Loves The Hulk" by The Traits
Poor Hulk. Nobody loves him because he gets too angry. I found this one on this site, along with The Brunettes' "Hulk Is Hulk," which can be found on Spotify.
"Loki" by Rancid
Of course you need a song about the villain of the movie. Rancid's song may be short, but it captures Loki's character nicely. Or, if you prefer longer tracks, there's also Justin Eiler's "Loki's Song" on Last.fm.
"The Ballad of Henry Pym" by The Boffo Yux Dudes
I know Henry Pym isn't going to be in the movie, but he's one of the founding members of The Avengers, so I didn't feel like he should be ignored. Besides, it's a fun song.
West Coast Avengers Mixtape by Adam Warrock
One of Warrock's earlier mixtapes features songs about each of the West Coast Avengers. There are songs about Iron Man (which is actually Rhodey in the suit in the WCA, but still) and Hawkeye, too. It's Adam Warrock, so you know it's good.
"Great Lakes Avengers" by Kirby Krackle
And rounding out the list, we have a song about the lesser known, and less well-respected, branch of the Avengers, the Great Lakes ones. I think the fact that they accept someone whose power is firing tuna melts says something about their selectivity.