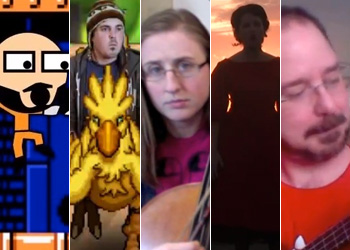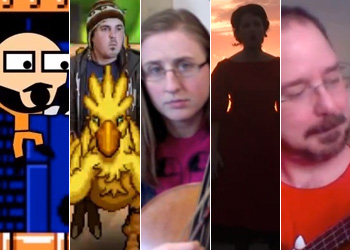 It's time once again to present several geeky covers of songs. There's some really old stuff as well as some very new stuff in this set. As always, it's all good stuff (although some may be NSFW)!
"Still Alive" – Professor Shyguy (originally by Jonathan Coulton)
Yeah, I know I mentioned this when I promoted his Kickstarter, but it's so worth mentioning again. If you missed it before, go check it out now!
"Redshirt" – John Scalzi (originally by Jonathan Coulton)
Yup, the author of the book on which the song is based covers the song. On a ukulele. Too bad he couldn't find a red one. Be sure to stick around till the end.
"The Jeep Song" – The Doubleclicks (originally by The Dresden Dolls)
This cover works well on many levels: the use of ukulele, the amusing but sad lyrics, the simplicity. It's a highly appropriate choice for The Doubleclicks.
"You're My Princess" – Benjamin Bear (originally by Marc with a C)
B. Bear synths up Marc with a C's Ambien-induced song about his precious princess while drunk on absinthe. Yup, makes perfect sense to me.
"Macarthur Park" – Richard Harris (originally by Jimmy Webb)
I was recently listening to an episode of Coverville which had a different cover of this song (the equally famous Donna Summer cover). Brian mentioned that Richard Harris had a famous cover of it. I immediately knew I had to hear a young Dumbledore sing this (let's be honest, kind of ridiculous) song. I also discovered that he was actually in several musicals. I had no idea how well known he was before Harry Potter. Too bad he didn't sing in the movies. (I'd be remiss if I didn't also mention Dave Thomas's parody of Harris's version of the song on SCTV. Hilarious!)
"Chocobo Theme" – Geekapella (originally by Nobuo Uematsu, from Final Fantasy VII)
I'm highly disappointed that I missed Geekapella at Nerdapalooza 2012, but at least they have some really fun videos up. I'm hoping for some sort of official release of music from them soon.
"Hurt" – Unwoman (originally by Nine Inch Nails)
No, it's not actually a Johnny Cash song (yes, people seriously said that in the comments…). Unwoman brings her trademark cello to this NIN classic. So good!
"Nemeses" – Mark Blasco (originally by Jonathan Coulton)
Yeah, OK, so there are an awful lot of JoCo covers out there. I'm sure a lot of that is because he loves for people to make covers of his songs. This one is Broadway musical style. So, given how much I love musicals, how could I not include this one? Plus, it can be downloaded for free (at least for now) from Mark Blasco's website.
"NES Me An Angel" – Inverse Phase (originally by Real Life – "Send Me an Angel")
Inverse Phase has an entire album of 8-bit '80s and '90s covers. I know how cheesy the original is, but I can't help but love it. As usual, Inverse Phase has created a spectacular cover.
"Take on Me" – Kirby Krackle (originally by a-ha)
This one's from their Live in Seattle album which just came out recently. I definitely recommend the album. This version of "Take on Me" alone is worth the price.
benjamin bear
,
geekapella
,
inverse phase
,
jonathan coulton
,
Kirby Krackle
,
Lists
,
music-
,
professor shyguy
,
richard harris
,
the doubleclicks
,
Unwoman