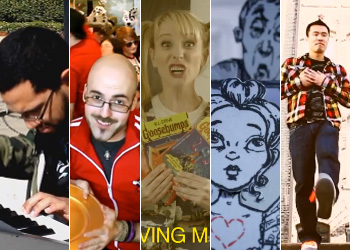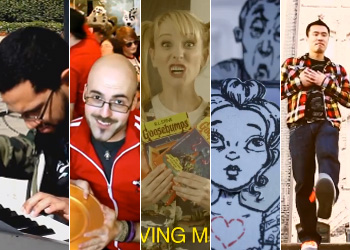 It's time yet again for a list of cool and fun videos that I've been accumulating since the last list. This list features several artists from the past, and adds in some new, sometimes unexpected, ones as well. Look for more next week!
Professor Shyguy – "Guilded Love (A Song About The Guild)"
The always awesome Professor Shyguy brings us a tribute to the greatest web series, The Guild. "It's the greatest love story… ish… Or at least the greatest we could wish for." Love the "Obligatory Pop Video Dance Scenes"!
Brandon Patton – "Freckle"
This one comes from the bassist for MC Frontalot, Brandon Patton. The video is shot with stop action and plenty of velcroed dots. It's way cool!
Kim Boekbinder – "I Have Your Heart"
Speaking of stop-action videos, the video for Kim Boekbinder's "I Have Your Heart" is now available, and it's really cool. I mentioned this song way back in 2011 in a quasi-Valentine's Day edition. With illustrations by Molly Crabapple and animation by Jim Batt (who also produced Amanda Palmer's "Want It Back" video [which is decidedly NSFW; seriously, there's nudity]), the video tells a slightly different story than what I'd originally pictured, but it fits nicely nonetheless.
Kirby Krackle – "One More Episode"
I think it's been well established that I'm a Kirby Krackle fanboy so I won't repeat that here (wait…). My wife and I have watched "one more episode" together plenty of times to find out what happens next, some of them even represented in this video. See how many TV credit styles you can recognize!
Professor Elemental – "I'm British"
If you're proud of your stiff upper lip, if you love your tea, then raise your hands in the air. Or don't; the good professor wouldn't want to make too much of a fuss about it.
Doug Funnie – "Peanuts"
Using a riff from the song "Linus and Lucy," and incorporating the names of several characters from the Peanuts cartoon, Doug Funnie weaves together a metaphor about music and life. I discovered this on Nerdcorenow, and I'm definitely going to have to check out more from Doug Funnie.
Hard 'n' Phirm – "Gersberms (Yer Gervin Mah)"
Maybe a bit late to the table with this meme, but it took some time to put together Hayley Williams from Paramore and the Muppets with Hard 'n' Phirm. Putting the Swedish Chef with the Gersberms girl was an inspired choice, and the song is pretty great, too!
Adam WarRock – "City Beautiful"
WarRock's latest EP is much more personal than most of his other music. This video illustrates that quite nicely, showing us his return to his hometown of Memphis. And, as usual, the song is amazing, too.
melodysheep – "The Face of Creation"
The creator of the Symphony of Science videos brings us a new one about the Higgs boson and the Large Hadron Collider. It's short, but Brian Cox summarizes the importance of the Higgs quite nicely.
Eric Idle – Wonders of Life trailer
Speaking of Brian Cox, he is currently hosting a show about biology on BBC Two called Wonders of Life. And he asked Eric Idle to rewrite "The Galaxy Song" from The Meaning of Life so that it would be about biology. Quite successfully, too.