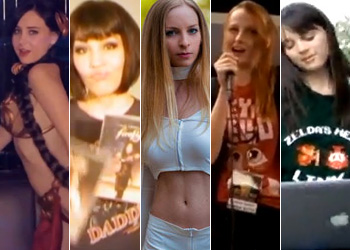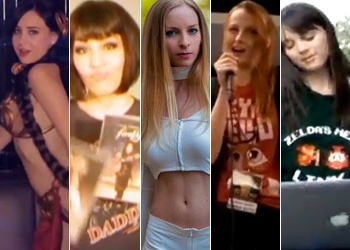 Quite a while ago, I featured a list of songs about nerd girls. And recently the Nerdist TV Special aired an episode about nerd girls (if you haven't seen any of the BBC America Nerdist TV Specials, you really should. Even my wife likes them, and she's not a nerd!). It seems appropriate to revisit the topic, even though I've sort of come to realize that it could potentially be a sexist idea. This list does feature more specific types of geek girl than the previous list, but like the last there's a wide variety of music and lyrical content.
1. Death*Star – "Mashiara"
I almost didn't include this one because they use "bitch" to refer to women, but then I decided I'd use it as an example of what not to do. It's actually an otherwise good song, with references to tons of geeky stuff, including Wheel of Time ("mashiara" means beloved), and good vocals, that's definitely marred by the sexist term. I realize it's a "convention" of the genre, but I don't see how it fits in this song at all.
2. Dr. Awkward – "Otaku Girl"
Doc Awk brings his mellow vocals to this track about a true nerd girl. He's a gamer, she's an otaku, but he knows the references to capture her heart.
3. Dale Chase – "Coder Girl"
Speaking of mellow, Dale Chase brings us this track about his coder girl. He uses code references to express their love for each other. Very nice!
4. Beefy – "Game Store Girl"
Beefy has a crush on the girl in the game store. Despite the fact that she doesn't know how hot she is, he can't quite work up the nerve to talk to her.
5. Insane Ian (feat. the great Luke Ski) – "CosPlaying FanGurls"
Since the last list had a parody of Katy Perry's "California Girls," this list needs one, too. I'm still pretty sure I've never actually heard the original song.
6. Warp 11 – "Trekkie Girl"
I recently wrote up a "Fandomania Recommends" column about Warp 11. Since then I've been listening to them regularly. I mentioned this track in the column, but it deserves a place on this list, too. I'm just a little bummed that I could only find this track as lyrics, not the song itself. You should just go buy it.
7. meekakitty – "Star Trek Girl"
Two songs about girls who like Star Trek. This one is quite different stylistically from Warp 11's hard rock song, but it's also quite good.
8. "Tonight I'm Frakking You" (A Break Original)
In addition to tons of geeky actors, this video has Alessandra Torressani in a slave Leia outfit. I tried very hard not to say something so sexist, but I am male. I promise I'll donate to Equality Now every time I watch it.
9. Ginny McQueen – "Costume Play"
Jason featured this one here on Fandomania a while ago, but I thought it was worth adding again on this list. And, yes, Ginny's cosplay is pretty awesome!
10. Mikey Mason – "She Don't Like Firefly"
She's definitely a nerd girl, but I can totally see kicking her out if she didn't even cry when Wash died.
11. Kirby Krackle – "Booty Do Math"
Math is sexy! Just ask Danica McKellar (who was on the Nerdist TV Special about science that aired the week after the one that inspired this column).
12. Tripod – "Hot Girl in the Comic Shop"
There was a hot girl in the comic shop, but he missed his chance because he got caught up debating who would win in a fight, Spider-Man or The Hulk. Yeah, I can see how that might happen.
13. Marc with a C – "Nerdy Girls"
This one got mentioned in the comments last time, and I have no idea how I missed it. I love Marc with a C so I'm happy to include it now.
14. Richie Branson – "Cosplay Girl"
Yes, the video is only an incredibly short preview. And, yes, there are an awful lot of cosplay songs on this list. But you should go grab Richie's N.E.R.D. EP (which includes this track) anyway, so go do it now if you haven't already!
Beefy
,
Dale Chase
,
Death*Star
,
Dr. Awkward
,
ginny mcqueen
,
Insane Ian
,
Kirby Krackle
,
Lists
,
marc with a c
,
meekakitty
,
Mikey Mason
,
music-
,
Richie Branson
,
the great Luke Ski
,
tripod
,
warp 11