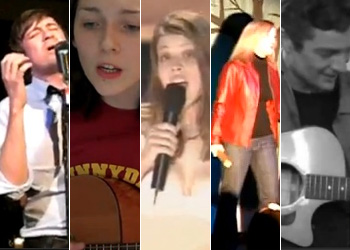 I was putting together my last list of geeky cover songs when I ran across some covers by actors from Buffy the Vampire Slayer. Curious to know how long it had been since the show first aired (I watched it well after the fact), I did a little digging and realized that it just had its fifteenth anniversary back on March 10. Although I'm a little late to the party, I decided this would be a good occasion for a musical tribute to one of my favorite TV shows. The list contains covers and originals by actors from the show, covers of songs from the musical episode, and even a song about the show.
I'm sure I missed plenty of "obvious" choices since I did the research a little more quickly than I usually do in order to get this list up in a (nearly) timely manner. Also, there seems to be tons of filk out there, but not much that's actually recorded (at least not that I could find). Forgive me for my honest mistakes, and feel free to make suggestions in the comments section.
Tom Lenk – "Gimme More"
I don't even like Britney Spears, but seeing Andrew from Buffy perform this cover is just epic! Love it! Plus, bonus "Gethsemane (I Only Want to Say)" from Jesus Christ Superstar thrown in for good measure.
Amber Benson – "Touch-a, Touch-a, Touch-a, Touch Me"
What is there to say about this? It's pretty much exactly what you'd expect: great! I think, however, that I actually saw this Rocky Horror VH-1 special (which also features Anthony Stewart Head) before I ever even saw Buffy.
Anthony Stewart Head and George Sarah – "Owning My Mistakes"
I have to admit that picking one song by Anthony Stewart Head was the most difficult of the bunch. I mean, do I trust that this audio really is him performing "One Night in Bangkok" (he did perform the role originated by his older brother, but the YouTube video has very few views. Is it just the poor audio quality?), or do I got with "Sweet Transvestite," or maybe something from Repo! the Genetic Opera? In the end, I went with an original, probably my favorite from the album Music for Elevators (and, I suppose, I managed to include the others anyway).
Common Rotation – "Paper Planes"
Adam Busch's band performs M.I.A.'s already classic song with John "Bender" DiMaggio on human beat box. Yup, it's as awesome as it sounds!
James Marsters – "All that She Wanted" and "Poor Robyn"
Two for the price of one! Both are nice acoustic songs, but it's always jarring to hear Marsters sing (or talk) with his actual California accent instead of Spike's English one. Regardless, I like both, and the video even features a very brief snippet of Marsters singing Springsteen.
Hinton Battle (and Paula Kelly) – "Don't Get Around Much Anymore" / "I Let a Song Go Out of My Heart"
The two Broadway stars perform a medley / duet of these songs from Duke Ellington's Sophisticated Ladies. Not a huge amount of dancing on Battle's part, but it does have a great ending.
g.i.johazelwoods – "Under Your Spell"
I'm a little unsure what to put as the actual singer's name on this one, but I liked this version enough that I wanted to include it. She does mess up once or twice near the end, but she has a good voice that works well for the song.
Reno – "Rest in Peace"
A simple acoustic guitar cover of Spike's not quite rejection song. The video is a little odd, but the song itself is nicely done.
Chaine de Roms63 – "Standing"
Another acoustic guitar cover, this time of Giles's '80s training montage song. It's one of my favorite songs from the episode, and this cover captures it well.
Noella Choi – "I'll Be Missus"
This is a piano cover of Anya's song that ended up in a flashback in "Selfless." I really like this song, and this cover of it is just absolutely beautiful.
The whole episode of "Once More With Feeling," performed live on stage by Portland's Arabella Cooperative
The audio quality on this isn't consistent due to the mics on stage, but it's well worth checking out. The performances are good, and it's clear that they are fans of the original.
The Brobdingnagian Bards – "Angel's Lament"
I know there has to be more Buffy filk out there somewhere. I mean, really. There are plenty of lyrics out there. Where are the actual songs? As one of my students said, if it's not on the first page of Google, it doesn't exist. The Bards, however, come to the rescue with their own take on Angel (a parody of Third Eye Blind's "How's It Gonna Be").
---
So, I know I missed stuff. And, of course, this also represents my own musical tastes. What are some of your favorites? Let me know in the comments!