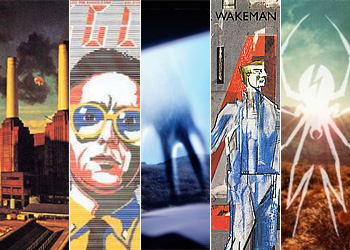 I've been wanting to write a list of concept albums for some time, but haven't really come up with a good excuse to do so. Most of the bands who write concept albums are not exactly "geek bands," although they often play with sci-fi concepts. With this month's theme of dystopias, I've found my excuse. There have been quite a few bands over the years who have created albums set in a future dystopian world. Although there were earlier examples that could be considered concept albums, the idea took off in the late 1960s and 1970s with various prog-rock bands really running with the idea. Over the years, bands in other genres have created concept albums, from new wave to heavy metal to punk. This list features 10 concept albums (full albums, which means that Rush's 2112, for example, does not appear here since the "second side" of the album has nothing to do with the concept of the "first side") that have dystopian themes in chronological order by release date. (Some videos may be NSFW)
1. Animals by Pink Floyd (1977)
Based loosely on Animal Farm, Pink Floyd's Animals isn't about a future dystopia. It's more of a commentary on the political system at the time; a contemporary dystopia set in the "real" world as opposed to a fictional world. Interestingly, unlike the novel on which is it based, Animals is a critique of rampant capitalism. It uses dogs, pigs, and sheep as relatively obvious metaphors for classes of people. Again splitting with its predecessor, the album ends with the sheep overthrowing the rulers. Despite being over 30 years old, its musical style and lyrical themes still resonate today.
2. Replicas by Tubeway Army (1979)
Replicas could have fit into last month's theme just as easily as this month's (as will be the case with later albums on this list): the "replicas" are robots. Although the album is mostly inspired by Philip K. Dick, the title is not. The novella Do Androids Dream of Electric Sheep? does not use the term "replicant," although the movie Blade Runner does. The story is pretty typical of dystopias: the "Grey Men" are a shadowy group who control society using the android "Machmen." Stylistically, it's what you would expect of a band lead by Gary Numan, even if all you've ever heard by him is the song "Cars" (I confess that I am one of those people): new wave electronic, heavy on the synthesizers. This style fits nicely with the overall concept, making this a highly enjoyable first foray into Numan's music. I have a feeling I'll be checking out more.
3. Joe's Garage by Frank Zappa (1979)
Critical of both religion and censorship, Joe's Garage tells the story of Joe, a musician who gets caught up in all sorts of weirdness. Along the way, he meets Mary, the "Catholic Girl" of the song with the same name. She goes off the deep end, somehow ending up entering a wet t-shirt contest to get money to get home. Joe has his own encounters with religion and sex in the form of the "First Church of Appliantology" (an obvious jab at Scientology, complete with a founder called "L. Ron Hoover" to whom Joe pays lots of money). I won't go into details here, but suffice it to say that it's a rather strange religion. In fact, the entire album is pretty weird, which is no surprise from Zappa. After listening to it, I feel sort of dirty and a little squicked out. And then I feel the urge to listen to it again.
4. The Age of Plastic by The Buggles (1980)
The first track of this album sets up a future in which nothing is really real (the "plastic age"). Robots and clones take care of our every need. All of which puts "Video Killed the Radio Star" in a bit of a different context than simply an ironic choice for MTV's first video. Admittedly, it's still a commentary on what's happening to our society, but knowing the context makes it part of a broader critique than it might be on its own.
5. 1984 by Rick Wakeman (1981)
The title of the album is a pretty obvious clue as to what this album is about. Tim Rice's evocative lyrics and Wakeman's stellar compositions come together to create an intriguing album about George Orwell's 1984. I say intriguing because, despite being inspired by 1984, it is really the instrumentals that stand out on this album. I suppose that's no surprise since I'm such a fan of Yes, but I also love Jesus Christ Superstar. I have to admit that the singing on this doesn't quite work for me, even though the singers are themselves acclaimed in their own right (Chaka Khan and Jon Anderson are both featured). That's not to say that the singing isn't good, it just doesn't quite fit the rest of the music. I feel like it should be better than it is. Regardless, it's worth a listen, and I would have loved to have seen it performed on stage as is described in the video above.
6. Operation: Mindcrime by Queensryche (1988)
Nikki, a drug addict, is manipulated into working as a political assassin by the mysterious Dr. X. He tries to break free, and ultimately does, but at great cost to himself and those he comes to love and trust. This album was one of the reasons why I'd wanted to put together this list before. I find it interesting to see how many heavy metal bands are into sci-fi and fantasy. It's something I'd like to explore in a future column if I get a chance.
7. Deltron 3030 by Deltron 3030 (2000)
Set in the year 3030, this album creates a pretty typical dystopia: a government that represses freedom while corporations basically rule people's lives. I rather enjoy this album, and I had forgotten how good it is. Listening to this again after several years, I was struck by how much it reminded me of nerdcore. Over the course of the album, there are references to Ghost in the Shell, Neo-Tokyo, The Matrix, and War of the Worlds. There's even a mention of fanboys in the geek sense. I've seen many mentions of Deltron 3030 as "proto-nerdcore", but I wonder if Dan the Automator, Del tha Funkee Homosapien, or DJ Kid Koala have ever commented on the label.
8. The Body, the Blood, the Machine by The Thermals (2006)
The Thermals have a decidedly indie sound; they reminded me at times of The Mountain Goats. This album tells the story of a couple trying to escape from a "faux-Christian" (to use the term the band themselves use) fascistic theocracy. Interestingly, however, and unlike other religious dystopias, the band doesn't seem to be criticizing religion per se. Indeed, the two main protagonists of the story seem to be faithful people who just want to practice their own religion (the line from "Pillar of Salt" — "We don't want to die / Or apologize / For our dirty god / Our dirty bodies" — for example, seems to indicate a belief in god, just not the god of the theocrats). It's a testament to the musical talent of the band that even an atheist such as myself can enjoy this album.
9. Year Zero by Nine Inch Nails (2007)
It's almost surprising that it took Nine Inch Nails so long to create a concept album. It seems to me that Trent Reznor's style really lends itself to the idea. It seems that it took President Bush's administration to spark the idea. Year Zero (both the album and the ARG) is a criticism of that administration. Set in 2022 (Year Zero, the year America was "reborn"), the album paints a picture of what might happen if certain policies of the government are allowed to continue and are carried to their logical conclusions. Like many dystopias, it's almost scary how prescient some of the ideas on the album are. I've long been a fan of Nine Inch Nails, and Year Zero only cements that fandom.
10. Danger Days: The True Lives of the Fabulous Killjoys by My Chemical Romance (2010)
Musically, I was not terribly familiar with My Chemical Romance. I had sort of assumed that they were an emo band, which doesn't really fit with what I've heard on this album. Gerard Way's writing, however, is something I have enjoyed in the form of The Umbrella Academy comics. The album doesn't so much feature one continuous story as it does a series of songs / stories set in a common world with a narrator (Dr. Death Defying) drawing them all together. The world itself has elements of cyberpunk, with a group of rebels (the band members) rebelling against an evil corporation (Better Living Industries aka BL/ind). Honestly, it's a bit on the obvious side, feeling almost cartoonish in a way. That's not to say I don't enjoy the album, it's just I would have expected more subtlety and depth from the writer of The Umbrella Academy.