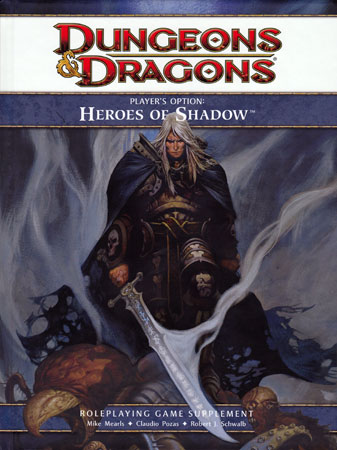 After releasing their Dungeons & Dragons Essentials line, Wizards of the Coast has been great about supporting their flagship RPG franchise with lots of new and accessible material for players and dungeon masters alike. The newest addition to the series is Heroes of Shadow, an optional supplement that opens new possibilities for player character development.
Heroes of Shadow is intended for use with the Rules Compendium and the two previous optional books, Heroes of the Fallen Lands and Heroes of the Forgotten Kingdoms. Where those volumes provide guidance and details on creating standard Dungeons & Dragons characters in the usual archetypes, races, and classes, Heroes of Shadow deviates into a specific thematic realm. Antiheroes and heroic characters that exist in morally gray or dark areas can be enthralling, and now Wizards has created a supplement specifically about creating and playing those darker choices.
The book opens with a description of the Shadowfell, a dark reflection of the living world. It is the realm that harbors shades, ghosts, and spirits, and most importantly it is the home to a brand of dark power and shadow magic. This introductory section details the existence of such a plane, as well as the various and nefarious ways through which mortals can access it. Full of temptation and ultimate power, the Shadowfell will offer its secrets in exchange for grave sacrifices from those who wish to harness it.
Players whose characters who do embrace the powers of the Shadowfell and shadow magic will have a new range of class options open to them, and that is what the second section of the book covers. The new classes or variations on existing classes covered here include:
Assassin – The assassin is an outcast stalker who uses their newfound power to hunt their prey in stealth. The Executioner archetype is included with specific abilities and leveling details.
Paladin – Unlike the shining beacons of goodness that paladins usually represent, the Blackguard archetype is a divine warriors who gains power through a vice that ushers in the shadow.
Vampire – Many options, levels, and race combinations are offered for this familiar but new brand of the undead. Details about bloodlines and special abilities are included.
Warlock – Shadow magic offers the option of the Binder archetype to warlocks. New ways of using arcane magic and descriptions of special shadow pacts are described.
In addition to the new class types, new options are offered for existing classes from the core Dungeons & Dragons rule set. Clerics gain a new set of spells, as well as new Warpriest and Death domains. The preexisting warlock class also gains new spells and pacts aside from the Binder-specific ones mentioned above. Finally, wizards also gain new dark spells and abilities, as well as access to new powers in the Necromancy and Nethermancy Schools.
If having shadow classes isn't quite enough, Heroes of Shadow also offers three new character races to represent being inherently infused with the essence of the Shadowfell. The new races include:
Revenant – Characters who previously lived and died but now have returned from death with new powers and dark responsibilities.
Shade – Shades are still living characters who trade their souls in exchange for power from the Shadowfell.
Vryloka – Appearing to ordinary mortals as mere aristocrats, the Vryloka are part of an ancient line of living vampires who draw upon shadow powers.
Heroes of Shadow also gives new takes on old races by outlining ways to play Dwarves, Eladrin, Elves, Halflings, and Humans in the context of the Shadowfell and its dark allure.
The final section of the book gives more options for roleplaying and character advancement within the new parameters of shadow magic and its mysterious powers. This book truly is a great guide for anyone interested in creating and playing darker characters. It has all the essential details about new spells, classes, feats, and even races, and it distills everything into a manageable 160 page hardback.