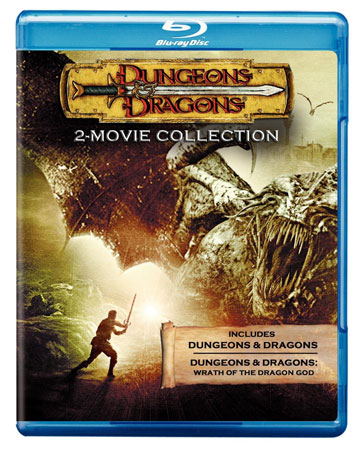 Last week Warner Bros brought 2000's Dungeons & Dragons movie and its 2005 sequel to Blu-ray with their Dungeons & Dragons 2-Movie Collection. Having never seen either movie, I checked both out and also took a look at the special features packed into this new set.
Dungeons & Dragons
Director Courtney Solomon, who would go on to produce a number of horror movies including 2007's Captivity, cut his teeth with the 2000 Dungeons & Dragons movie. As the landmark title in the world of fantasy roleplaying games, Dungeons & Dragons has been ripe for an official movie adaptation practically since its creation in the '70s. And, indeed, it took Solomon around a decade of pre-production, planning, and negotiating to get his eventual movie into theaters. After seeing the movie fare poorly at the box office and bear the brunt of bad reviews, the first time director chalked up Dungeons & Dragons's failure to a number of factors, studio meddling and his own inexperience among them. I had heard all the negative buzz and anti-hype before seeing the movie in this Blu-ray set, so my expectations were pretty low going into it. Were they founded?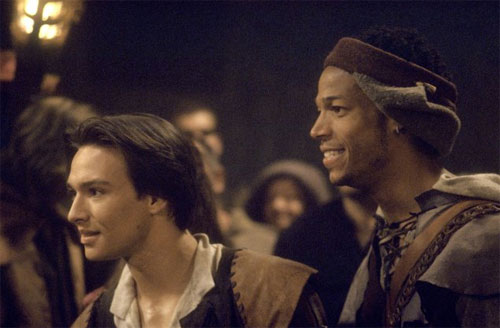 Yes and no. Nobody will claim that Dungeons & Dragons is an outstanding movie in any way. It actually bears little resemblance to its source material from the roleplaying game, aside from being a fantasy story full of elves and dwarves and dragons. The writing is haphazard, there are some weird plot holes and casting decisions (Marlon Wayans as a thief named Snails?), and the pacing feels strange throughout. Still, the movie provides some campy fun, an angle that is not entirely unintentional.
The movie opens in Izmer, a fantasy empire where mages hold all the power. The young empress Savina (Thora Birch) has designs on reforming her empire to bring justice and equality. Profion (Jeremy Irons) is a mage who likes things as they are and, if anything, wants to shift the balance of power even more to the magic users' side. Powerful dragons populate the land and can tip that balance toward whomever controls them. Savina manages to hold sway over the Golden Dragons through possessing a magical scepter that Profion covets. To fight Profion and his growing power base, Savina realizes that she must gain control of the even more powerful Red Dragons, a group that can be controlled by an artifact called the Rod of Savrille.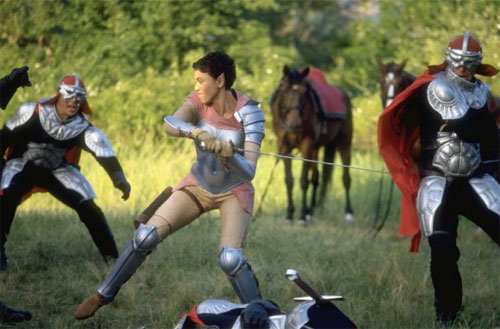 Profion and Savina each dispatch search parties to recover the Rod of Saville on competing quests that become the focus of the movie. On Savina's side are our heroes, made up of the usual tropes of fantasy roleplaying: two good-natured thieves (Justin Whalin and Marlon Wayans), a young wizard (Zoe McLellan), an Elven tracker (Kristen Wilson), and a stout Dwarf (Lee Arenberg). Profion sends his henchman Damodar (Bruce Payne) to oppose them as the two sides vie for control of the Rod and ultimately the fate of Izmer.
It's a standard setup for a fantasy story inspired by the likes of Lord of the Rings, and Dungeons & Dragons actually draws just as much from Star Wars in its execution. The end result is an uneven and often goofy film that can make for a fun viewing, but not for the reasons Courtney Solomon might have intended.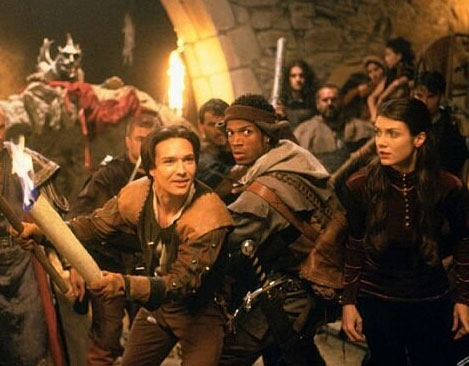 Dungeons & Dragons includes a number of special features on its disc:
11 additional scenes, including an alternate ending
Audio commentary from director Courtney Solomon, actor Justin Whalin, and Dungeons & Dragons game co-creator Dave Arneson
Audio commentary from director Courtney Solomon, cinematographer Doug Milsome, and Dungeons & Dragons game co-creator Dave Arneson
Let the Games Begin featurette
Making-Of featurette
Special Effects Deconstruction
Theatrical trailer
Dungeons & Dragons: Wrath of the Dragon God
After the poor reception Dungeons & Dragons received, it's a little shocking that a sequel was produced, but here it is. Wrath of the Dragon God had a significantly smaller budget than the first movie ($12 million, compared to Dungeons & Dragons's $35 million), and it was released as a Sci-Fi Original Movie on TV instead of in theaters. It's somewhat surprising, then, that this sequel is better than the original in most areas. Wrath of the Dragon God stays much closer to the game source material and eschews the goofy humor from the first movie to provide a straightforward and earnest fantasy adventure.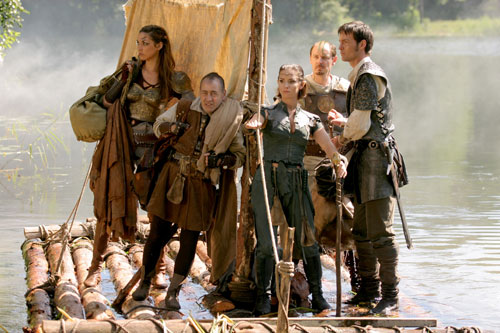 Wrath of the Dragon God begins a hundred years or so after the conclusion of the first film, and the only actor who returns is Bruce Payne as the evil Damodar, no longer sporting the weird and random blue lipstick he wears in the first movie. Damodar, cursed into an undead existence, has been searching for a black sphere that would give him control over Faluzure, a dragon god of destruction. Damodar wants to unleash Faluzure to ravage the land in order to exact vengeance on the descendants of the heroes from Dungeons & Dragons. The King learns of Damodar's plan and commissions Berek (Mark Diamond), the former captain of the King's guard, to assemble a team to recover the black orb and stop the plot. Berek accepts the quest and rolls up his adventuring party before setting out for Damodar's sanctum.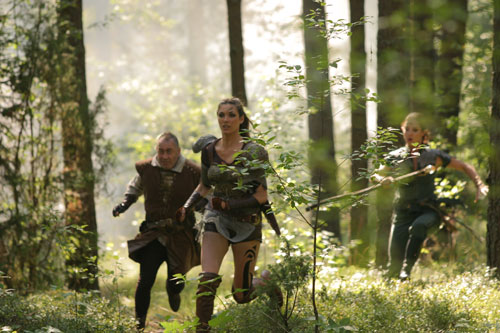 This second movie still is not a remarkably adept film, but it is a great shout out to longtime fans and players of Dungeons & Dragons. Unlike the first movie, Wrath of the Dragon God makes heavy use of the lore and denizens of the original RPG. The movie's creatures and monsters come straight out of the D&D bestiary, and you'll see magic users slinging spells that are accurate in their casting and effects to their descriptions in the game's rulebooks. Familiar weapons and artifacts also populate the movie, making it something of a Where's Waldo? experience for fans in the know. Despite its lower budget and flaws, this sequel is a much more enjoyable film than the first one and might even fall into the must-see category for D&D players.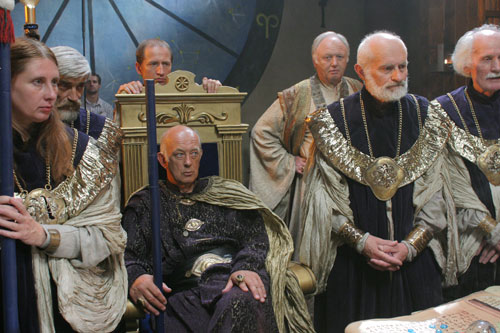 Wrath of the Dragon God includes the following special features:
Audio commentary from Wizards of the Coast's Ed Stark and players Dawn Akemi and John Frank Rosenblum, in character as Dungeons & Dragons characters
Rolling the Dice – making-of featurette
The Arc: A Conversation with Gary Gygax
The Dungeons & Dragons 2-Movie Collection released on Blu-ray on February 15, 2011, for a suggested price of $19.98.