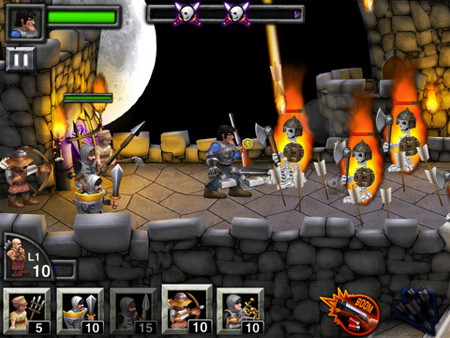 It's been about 20 years since Army of Darkness was released in theaters (I know, right!?) and tower defense games are all the rage when it comes to home tablets. It is now a perfect time to celebrate the anniversary of AoD with this fantastic gem that BackFlip Studios and MGM have brought us.
Army of Darkness: Defense throws us right into the middle of the epic battle between Ash, knights, and the Deadite army. You of course play as Ash, upgrading everything from the chainsaw hand to the metal hand and your trusty BOOM STICK. As the game moves along you will fight more and more different deadites that appear in the film. Some of which are a pain to get rid of. Don't worry, pain is a good thing!
As you gain levels you can upgrade the castle's artillery and men. There are also a few other fun surprises to unlock as you get higher in level but you will just have to play to find out what they are (did someone say 1973 Oldsmobile?).
The only thing I really disliked about this game was that there is only one level to play on. It's a large level and seeing as how this isn't your average run of the mill, top down tower defense game, it's not a bad thing. I just would have liked to see different parts of the castle to play through.
The game succeeds at being a fun tablet tower defense game for just $2.99. (You can also buy it for the iPhone in the app store for $0.99.) AoD: Defense has jumped in sales with nearly 1,500 customer ratings, maintaining a five-star rating. Still holding true that there is still only one real king and his name is Ash. Hail to the king baby!