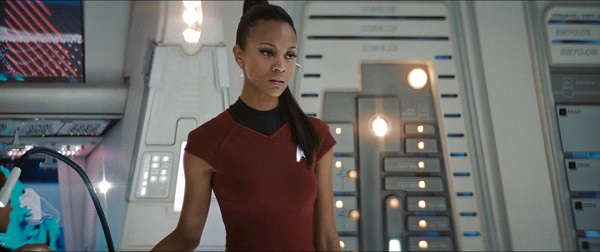 Here we are in May and while Robert Downey, Jr. is dominating the box office with Iron Man, I've already given him his time in the fangirl realm. From here on out, I will be dedicating this little section to the men and lady of Star Trek. Why? Oh no, I'm not a Trekkie. I just thought that with a franchise as grandiose as Star Trek, it deserved more than one week and since it's always and forever "ladies first," Zoe Saldana kicks things off.
You may love her only because of Star Trek, but hold up. This gal has been around a long time and has an extensive resume that's allowed everyone to have a few places to fall for her. From laughs to space, let's explore all the reasons you and I love Zoe Saldana.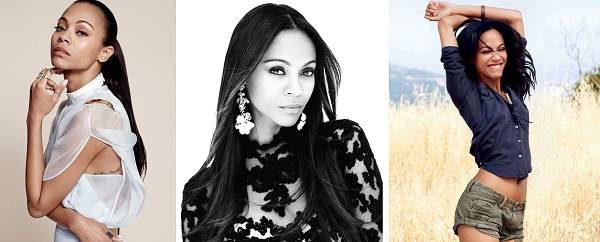 Name: Zoe Yadira Saldaña Nazario
Birthday: June 19, 1978
Place of Birth: Passaic, NJ
Twitter: @zoesaldana
Best Known For
There are things in everyone's past that they'd like to forget. For Zoe Saldana, those moments might be Get Over It and Crossroads. You know those cinematic gems Sisqó and Britney Spears starred in? Yeah, not so much, but Zoe couldn't expect to walk into Hollywood and get the roles that made her who we know today. I mean she was Annamaria in Pirates of the Caribbean: The Curse of the Black Pearl a year after that Spears atrocity, but you likely already forgot I mentioned those two movies already. Today you know Zoe because she does movies with huge budgets like Avatar and Star Trek. Those are her signatures, and although she's proven she can make us laugh in movies like Guess Who and Death at a Funeral, she seems to be comfortable making you know her for those Blockbusters since she has Star Trek Into Darkness this month, Guardians of the Galaxy next year, and Avatar 2 in 2015.
5 Quick Zoe Saldana Facts
When Zoe was 10 she moved to the Dominican Republic, where she lived until she was 17. Then she and her family headed back to the States.
Zoe loves to dance and that played a huge part when it came to her big break in Center Stage.
Someone didn't do their homework. Zoe hadn't seen the OG Star Trek when she got casted.
Zoe admires Whoopi Goldberg. Does this mean she might know how to do the last scene of Sister Act 2 since she's a dancer? She'd earn so many cool points if she did.
Thandie Newton? Wait, what? That's who Zoe gets confused with more often than not. Even her mom made that mistake one time.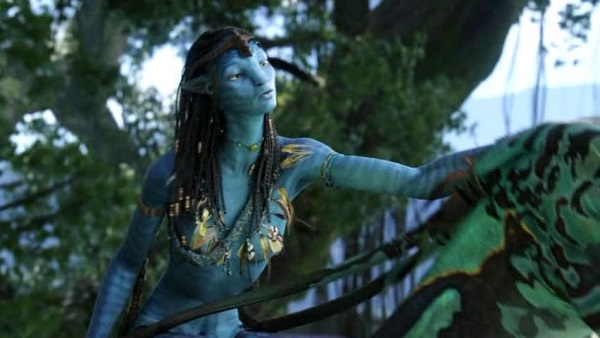 Reasons You Love Zoe Saldana
For those of you who fell in love with Zoe Saldana when you saw her in Get Over It or Drumline, bless your hearts. Although, I must say Get Over It is a good movie to wake up to. Well it was when I was in high school ( I doubt they show it anymore). So, say you happened to see her in one of her earlier films and decided that you loved her and that you'd stick by her, no matter how many teen movies she made. Luckily for you she moved on to bigger and better and you laughed at anyone who told you she'd never make it. You knew your girl would, and that's why you loved her. You loved the potential you saw in her.
Could it be you have an appreciation for beauty and laughter? We may've stumbled upon the group of people who love Zoe not so much for her action packed roles like in Colombiana, but for her comedic side. When she popped up with Ashton Kutcher and Bernie Mac in Guess Who, you forgot about the guys and centered in on her. She was even able to stand out among the likes of Chris Rock and Martin Lawrence in Death at a Funeral. Her ability to steal a scene among a sea of well-known funny men is why you've found yourself in love with Zoe and you secretly hope she stops with all the Star Treks and Avatars and just sticks to making you laugh.
Now for the crowd that worships Zoe for the biggest roles she's had to date and probably the ones she'll be associated with forever. As Neytiri in Avatar, Zoe was able to captivate even if she was a blue kitty-looking person. You questioned yourself because you were attracted to her as a creature. You still might be seeking help for that. Then there's her role as Uhura in Star Trek. When you step into a part that's been played for decades and is iconic, you have to be worried. Zoe was able to take it on and go above and beyond. Even those who are true Trekkies couldn't hate on her because she made them proud to have a new cast on board the Starship Enterprise.
Whether you've believed in her forever, love the way she makes you laugh, or just admire her out-of-this-world roles, you love Zoe Saldana. Plus, we have to mention that she's also one of the most gorgeous women on Earth. Look at her. Bradley Cooper, you let that go? Idiot.
Reasons I Love Zoe Saldana
Get Over It — I already admitted that's not a movie I'd skip if it so happened to be on, but that's not the reason I love Zoe Saldana. Drumline? I do like that movie, but not because of her. Pirates? Oh no, if we're talking girl crushes in that, it was all about Keira Knightley until she got too thin and I had to break up with her. That's another story for another day though. So where does my love for Zoe stem from? I'd have to say it started with Guess Who. If you read my Valentine's Day piece about my favorite TV couples, then you'll know why I have major love for Zoe being paired with Ashton. She owned my heart again in Death at a Funeral for the same reason as she was paired with James Marsden.
Interracial love, being the mixed girl that I am — I am always going to have a love for anyone who showcases it on screen, both big and small. That's the reason I have never cast a bad thought Zoe's way. People know that I don't get what's so special about Bradley Cooper, but when he was with Zoe? I thought that made him a tad more tolerable. Yes, my heart only smiles at Zoe based on a personal reason, but that's okay. She has enough fandom out there for so many other reasons.