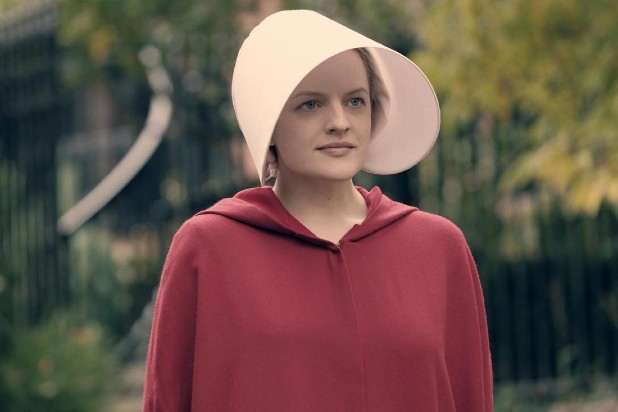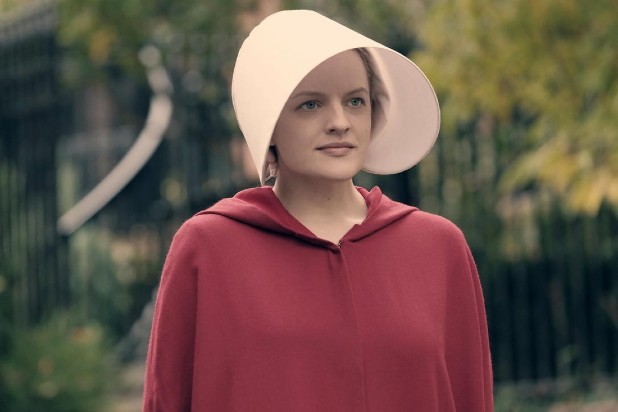 Mother's Day may be over but we're continuing our small screen mamas with Elisabeth Moss. If you have yet to see her as the baddest woman on the block in 'The Handmaid's Tale,' then do yourself a favor and head to Hulu now. When it comes to mother's on TV, ain't no one coming close to Moss' June Osborne. Girl does not play when it comes to doing whatever she can for the children. 
Name: Elisabeth Singleton Moss
Birthday: July 24, 1982
Place of Birth: Los Angeles, CA
Instagram: @elisabethmossofficial
Best Known For
Elisabeth Moss started working in Hollywood when she was around eight-years-old. She played bit parts here and there, but really set her name in stone in 1999 when she landed on 'The West Wing' as the President's daughter, Zoey Bartlet. Several years and 25 episodes later she said goodbye to that role, and a year later said hello to 'Mad Men.' Peggy Olson proved to be a fan favorite on the hit AMC series and received praise from critics every season from start to finish. It usually takes a minute for an actor to garner another defining role, but it only took Moss two. Since 2017 she's played the lead role on Hulu's 'The Handmaid's Tale.' A wild ride based on Margaret Atwood's bestselling novel, it can sometimes paint a picture of what can happen in America – so much so it is more horror than drama at times. Of course, Moss isn't just a small screen victor. She's also appeared in many major films such as 'Girl, Interrupted,' 'Us,' and 'The Invisible Man.' 
5 Quick Elisabeth Moss Facts
Originally, Elisabeth Moss wanted to be a ballet dancer. 

She's the daughter of musicians. 

To date, Elisabeth Moss has 16 major wins under her belt for her work on 'Mad Men,' 'Top of the Lake,' and 'The Handmaid's Tale.'

One of her biggest inspirations is Bette Davis. 

Fans of 'Freakazoid' and 'Animaniacs' may recall she lent her voice to those shows back in the day as a kid.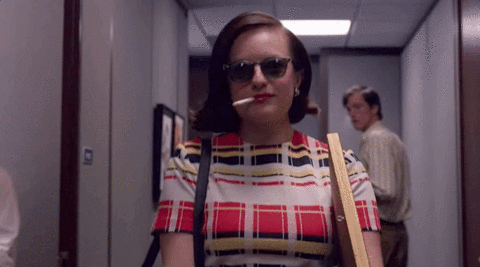 Reasons You Love Elisabeth Moss
When it comes to working hard, Elisabeth Moss is the definition of. Working since she was eight, and regularly, she has had no shortage of work since her start in 1990. However, what first got you hooked was 'Mad Men.' Those not watching for Jon Hamm's pant region were enthralled by Elisabeth Moss' portrayal of Peggy Olson. 
At the time 'Mad Men' was set women didn't have a lot of say in the workplace. The big career choices then for women were secretary, nurse, teacher, and mom. Peggy Olson started as a mere secretary but managed to shake her girl next door innocence, find her voice, and rise in the ranks as much as she could at the time. While that was the '60s, for those of you who identify as female – you felt her struggle in the present because while women have made strides in the workplace, we still come in second to our male counterparts most of the time. Peggy's journey inspired you and continues to do so as you strive to achieve your big boss goals. 
Peggy Olson was determined, but some may argue not as determined as Moss' next big role in 'The Handmaid's Tale.' Whether you followed her from AMC to Hulu, or just started to watch her on this dystopian nightmare – you could not help but be taken aback by June's determination to survive not only for herself but for her loved ones as well. Yeah, you may not be dealing with being a handmaid, but whatever tragedy you've got going on, you've learned from Moss' June that you can take it and move forward no matter what if you've got something to live for. 
Elisabeth Moss has played countless characters over the past three decades but the two above are why most fans love her. And it's not just because the shows are well made and addicting, it's because Moss' characters are feminist icons of the small screen that are as tenaciousness as they are inspiring.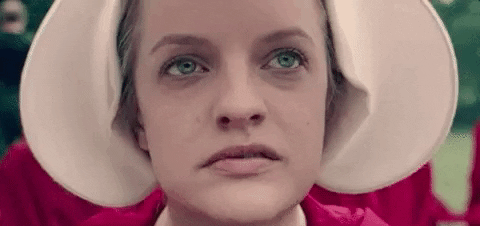 Reasons I Love Elisabeth Moss
As some of you may know, I live for a series finale. Which is the only episode of 'Mad Men' I've ever seen. So while I very well knew Elisabeth Moss because of that show, that's now why I have love for her. It's that other show. You know, the one we've mentioned here a few times…it's won a few awards, makes you have nightmares about what America may become? 'The Handmaid's Tale.' 
Other than the fabulous cinematography, 'The Handmaid's Tale' gave me a story that seemed new. A lover of sitcoms and laughter, this was far from my usual watch but man oh man, Elisabeth Moss and Co. are some of the most talented actors working right now. So much so, it was hard to look away…even when things got a little out of hand on screen. I must admit though, I'm behind (just a little, but I swear I'm gonna get back to Gilead before the year is done!)
That aside, what I, and I'm sure many of you, love about Elisabeth Moss' character in this show is how much of a badass she is given her the state she's in. I mean, she was a fertile woman who was sent to live with a powerful couple to give them a child – by force. Outside her new home, America is in shambles, and women are the worst off because if they aren't able to make a baby or cook, they're sent out to the toxic camps. Can you imagine?! This show makes you experience a platter of emotions with each episode and at the reins is Moss' June. You can't help but, as the kids say, Stan.