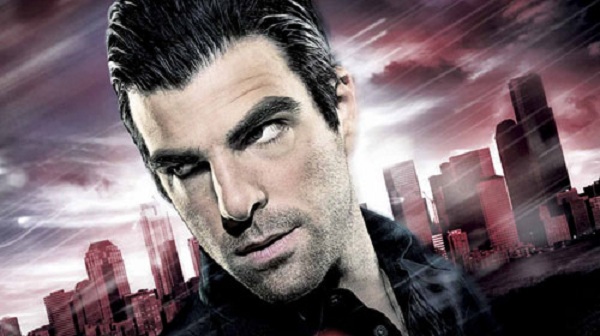 A few years ago Zachary Quinto was just some guy my friends were into. I had watched about 10 minutes of Heroes, and wasn't impressed. Over the years I've helped my friend stalk — well, casually encounter — him when he makes himself available to fans in Hollywood, so I know what his fans are capable of and am impressed by their dedication to his every move. Since Heroes is long gone and the next Star Trek is in the waiting room until next year, Quinto's fans have had to rely on American Horror Story: Asylum for their fix, which isn't too bad when you think about it.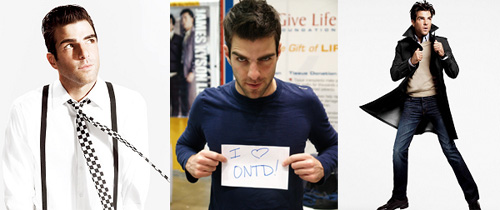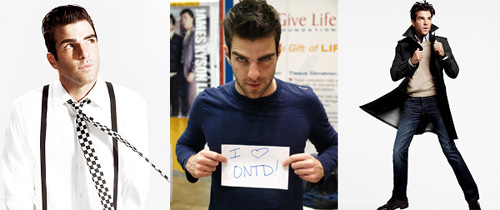 Name: Zachary John Quinto
Birthday: June 2, 1977
Place of Birth: Pittsburgh, PA
Twitter: @ZacharyQuinto
Best Known For
If you were a tween at the turn of the millennium and/or a super fan of the Disney's Lizzie McGuire, then you've known Zachary Quinto a long time. Okay, so he only played a director on one episode, but those eyebrows had to have been memorable, right? From there he went on to a role my grandma knows on 24 and then of course he played Tori Spelling's gay BFF on So noTORIous. Fangirls and boys might have perked up then, but it wasn't until Quinto went evil in Heroes that he became known with the Comic-Con crowd. From there his fan base only grew as he played the legendary Spock in the Star Trek reboot. Now he's back to his serial killer ways in American Horror Story. He was okay in the first season of the miniseries, but in the second run, he's a sleek doctor with a huge secret life that has your feelings all in a twist.
5 Quick Zachary Quinto Facts
When Quinto was only 7 years old, he lost his father to cancer.
The world may have never known Quinto if he didn't survive a very serious car accident when he was 16.
Ever wonder what superpower he'd really want? Guess no more, he'd go with invisibility because it would "simplify" his life.
He's close with Kristen Bell, so maybe he'll end up being her baby's godfather… let's hope so!
Sad news to the ones hoping they could grab this man's heart because as of right now it belongs to Jonathan Groff, best known for his role on Glee.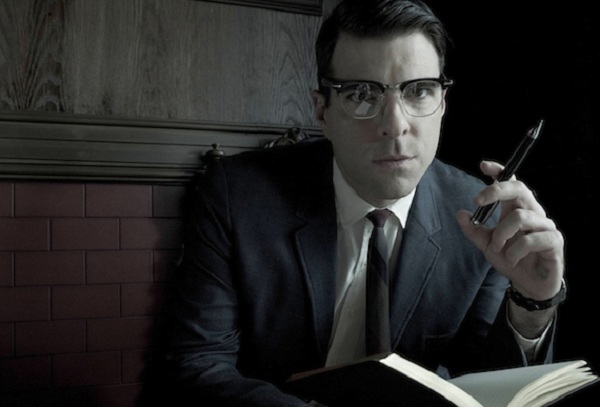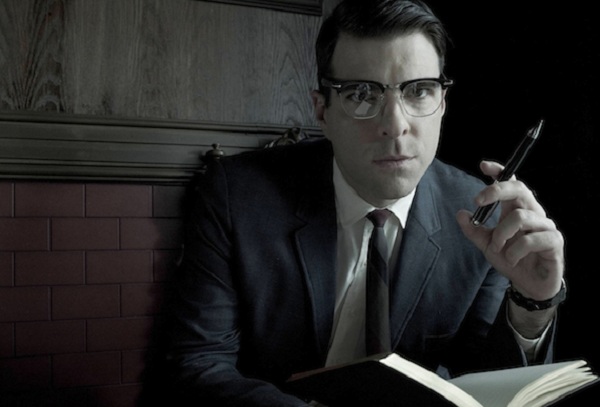 Reasons You Love Zachary Quinto
It's probaly not because he was on Lizzie McGuire, although for some that might just be it. So it's safe to assume many of the Quinto lovers out there have adoration for the dark side. How else would you explain falling in love with a man who dines on brains? Besides that hot piece Milo Ventimiglia, Quinto's Sylar was eye candy for the people who made Heroes a cult classic. With only four seasons, Heroes went on to spark a following that I just can't understand, but more on that later. Even when Quinto ditched his infamous brows to be Spock in Star Trek, his fans stood by his side even though it was rough. Currently Quinto's fan club is happy he's more of a main character on American Horror Story: Asylum as Dr. Thredson, the man you wanted on your side until you found out what was hiding beneath that charm. Girls and guys alike flock towards Quinto because he's garnered up enough cred in his respected genres that he's not only one sexy man to look at, but an actor people aren't mad at seeing over and over again.
Reasons I Love Zachary Qunito
Let's just put this out on the table… I thought Heroes was ridiculous. It was this overacted show that I really wanted nothing to do with. Plus, that little Hayden Panettiere was mean to my friend. And when it came to Quinto, I didn't see what people I knew were drooling over. His eyebrows alone were too much for me to handle. Then one day I saw him in person… I then got it. TV screens and photo spreads don't do that man justice. He is a looker, I can admit now with no shame. As far as his acting goes, like I just said, I was a no go when it came to Heroes, even though I am fascinated with serial killers. Sylar was mediocre to me, but Dr. Thredson? I have hung on that man's every word and now that his secret is out of the bag, I have to say he got a little more attractive to me. So while I wasn't always on board with Zachary Quinto, I now love him for his undeniable looks (in person) and the way he plays mind games on American Horror Story: Asylum.