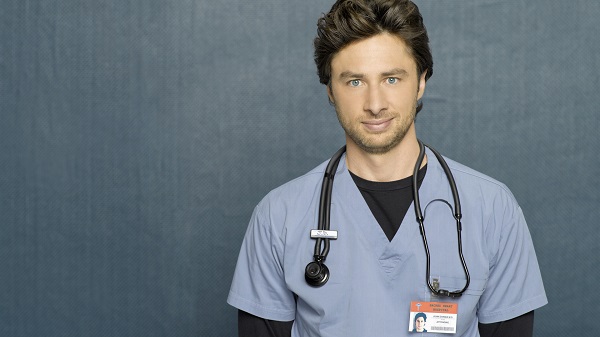 Back when I was moving into the dorms in college, there wasn't cable for the first couple of weeks. Basic local channels were it. I can't for the life of me remember what year of school I was in, sophomore or junior year, but it turned out to be more of a blessing than a curse. See, when you only have a select number of channels to surf through when facing insomnia, you sometimes stumble upon gems. Scrubs was my diamond in the syndication rough.
I never cared for Scrubs before this time in my life, for I had other shows to watch and this was before DVR (I think, but I still don't have that anyway) and before I knew you could watch TV online (I got my first Internet experience in 2005). So I was more than a few years late to the Zach Braff party when it came to Scrubs, but I knew him from Garden State, and will let you into my personal love of that movie later. At this point I will stop telling my lack of Internet history, and more about why Zach Braff is an essential part of a lot of people's crush lists.

Name: Zachary Israel Braff
Birthday: April 6, 1975
Place of Birth: South Orange, NJ
Twitter: @zachbraff
Best Known For
One of the best jokes about Zach Braff comes from Family Guy in an episode that simply refers to him as "White Scrubs." That sentiment sums up what 97% of people will forever know Braff for: that loveable, kind of goofy looking, inner-monologue-having Dr. J.D. Dorian. The other 3% is made up of those who refer to Garden State as one of the most pivotal moments of their existence, the ones who loved him as the lead in Disney's Chicken Little, the few of you who still watch Cougar Town and saw him as a pizza guy on that, and most recently for his vocal work in Oz the Great and Powerful with last week's Fangirl Star, James Franco.
5 Quick Zach Braff Facts
Could you tell that his right leg is an eighth of an inch longer than his left? Because it is.
Back in 1993, he graduated high school with Lauryn Hill.
What do Braff and John Travolta have in common? They both have their pilot's license.
Zach Braff is the proud owner of the 2005 Grammy for "Best Compilation Soundtrack For A Motion Picture" for Garden State.
Besides Justin Timberlake's tears, Zach Braff's episode of Punk'd has to be considered one of the best because he was out for blood when he thought some kid spray-painted his Porsche.
Reasons You Love Zach Braff
There are a million and one doctor dramas on television at any given moment, so when Scrubs first aired in 2001, you checked in and probably didn't check out until it got weird after Braff was no longer a regular. When it came to Braff's J.D., you were attracted to his wit, average looks and, really, the heart of the character. Your heart ached every time he didn't get the girl, when he'd get the girl, and when he'd lost the girl. While you wanted to be the girl in J.D.'s life that'd always be there, you sometimes wanted to be his BFF Turk. His loyalty to friendship was another reason you never missed an episode of Scrubs and have continued to watch every season Braff was a part of until he bid his farewell.
Assuming you were one of the many who loved Braff first from Scrubs, you held your breath and were worried about Garden State. How would your love do with his first huge movie venture? You breathed a sigh of relief when it was a hit and continued to support him. Admit it, you've watched The Last Kiss one too many times and even took up video games to play Kingdom Hearts II: Final Mix+, just to hear his Chicken Little. It's okay if you did, we all have our moments of weakness. You don't even want to know what I own because of my Backstreet Boys fandom. Don't worry, I don't judge, mainly because I can't.
For those who never cared for Scrubs or anything else Braff's done besides Garden State, then that's where we'll leave this. You love Braff because he created a movie that defined your life, whether you were a teen yearning to escape, a 20-something in the same predicament as Andrew, or someone older who remembered what that felt like. You saw yourself in that movie as an outcast searching for a place in the infinite abyss. And all these years later, even if you're still searching, you continue to find solace in Garden State.
Reasons I Love Zach Braff
While Scrubs will always make me laugh, that's not the main reason a piece of my heart will always belong to Zach Braff. Like many of you, I too fell in love with Garden State the second I watched it. You know when you're young and you watch something that has all these lines that you think are deep and profound? That's how I felt watching Garden State; each line was a winner, one to memorize and write in a notebook, so I could pretend I came up with such genius.
Almost a decade later and I still get that feeling when I watch. When I was younger, I of course gravitated towards the "infinite abyss," but a few months ago one line Braff says ironically hit home: "You know that point in your life when you realize the house you grew up in isn't really your home anymore?" I really sat in my mom's house, looked around and thought, really, am I quoting Garden State all these years later?
That idea of growing up, plus changing, self-actualization, love, loss, basically the human experience all wrapped up in a movie that made me appreciate indie music, that's the reason I love Zach Braff.