Actors who take on the small screen are lucky if they ever score one iconic role. So, two? That takes a special kind of talent. One that the likes of Ed O'Neill, Bryan Cranston, and our woman of the hour, Tracee Ellis Ross all have. From single life with her friends to being a matriarch MD with a family all her own, it's time to explore not only the talent but the veracity of Tracee Ellis Ross. 
Name: Tracee Joy Silberstein
Birthday: October 29, 1972
Place of Birth: Los Angeles, CA
Twitter: @TraceeEllisRoss
Best Known For
Without the moderate success of 'Living Single' we would have never gotten the megahit that is 'Friends,' and without either of those 'Girlfriends' may never have gotten the green light and we may never have caught wind of the one and only Tracee Ellis Ross. The daughter of the legendary Diana Ross, Tracee landed her first acting role in 1996 alongside Jennifer Connelly in 'Far Harbor.' Yeah, you've probably never heard of it and that's okay because four years later she stepped into the role of Joan Clayton on UPN's (later The CW's) 'Girlfriends.' She spent eight years on that show, worked on 'CSI' for a minute, and then in 2014 got her second hit sitcom thanks to ABC's 'Black-ish.' Since then she's helped bring her 'Black-ish' character's childhood to life on the spinoff 'Mixed-ish,' started a hair product line for those with crowns of curls and coils, and will soon voice Jodie in the eponymously titled spinoff of the '90s cult classic 'Daria.' 
5 Quick Tracee Ellis Ross Facts
Rainbow Johnson isn't the first doctor Ross has played. She played Dr. Ellen Sicher in an episode of 'Private Practice' in 2010. 

She won three NAACP Awards for her individual work on 'Girlfriends' and so far, four for 'Black-ish.' 

She's appeared in not one, but two Kanye West videos; "The New Workout Plan" and "Touch the Sky." 

Ross once worked as a fashion editor. Explains why her looks are always on point!

As a kid, she was painted by Andy Warhol. Ya know, normal kid stuff.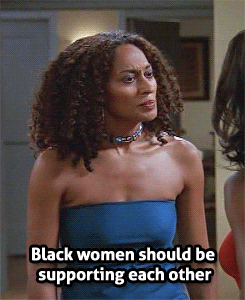 Reasons You Love Tracee Ellis Ross
Long before Tracee Ellis Ross was in our homes weekly as the voice of reason anesthesiologist who also held things down as a mother of five on 'Black-ish,' she was a woman doing her thing as the leader of her girl gang as well as at a law firm on 'Girlfriends.' For many women, both young and old, during 'Girlfriends' initial run found so much inspiration from Ross' Joan Clayton. This being just one example of what seeing a professional Black woman on TV meant to a generation that had yearned for that connection. Of course, Joan wasn't the last time Ross would play a Black woman with a badass degree in her back pocket. On 'Black-ish' while her husband does good as hell in advertising, we're never meant to forget that she's a doctor. 
Despite her professionalism in both roles, what is admirable about those characters when they weren't at work, was how each of them took care of the people around them. Whether it was Joan always being there for her best friends, or Rainbow dishing out the grandiose advice to her children, you've come to expect Ross and her roles to represent not only the heart of whatever crew she's a part of but the rock as well. Which in the end has not only inspired various generations to go for their goals but to be an amazing, caring human while doing so. 
And while her major roles have given you the strength to do better, in real life Ross has given you the opportunity to feel better with her hair product line, Patterns. For those who don't have curly, coily, textured hair – it is hard as heck to find a product that works because it's not like straight hair. And this ain't just a Black thing. We're also talking to our curly-haired friends that are everything from Hispanic to Jewish. Curly folks, they know the struggle. Just look at Mia Thermopolis. Ross spent about a decade on Patterns and it finally came to be in 2019. Since then it's received high praise from fans both near and far. 
From inspiring fans to reach their top potential to giving those with textured hair some hair care love, these are the reasons you love Tracee Ellis Ross.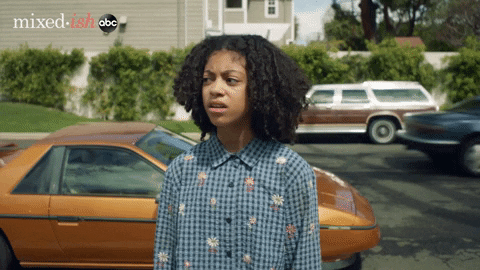 Reasons I Love Tracee Ellis Ross
A bottle of Pattern conditioner currently resides in my shower and 'Black-ish' is high on my watchlist, and without it would have never come the ultimate reason I love Tracee Ellis Ross; 'Mixed-ish.' 
When ABC first announced 'Black-ish,' I thought it was going to be about a feeling I've felt since I was younger…that feeling like you're not Black enough AKA black-ish. Instead, it has been a well-done family comedy that delivers typical plots that come with the genre while also exploring what it's like to be Black in modern-day America and easy to follow history lessons. Every episode has given me life, but the one that centered on Ross' being mixed race and the idea that those of us that are usually don't get the choice to choose two or more boxes in life, hit me hard. 
"How come there's not a box for both?" 
I'd asked that my entire life because only until recently, most standardized tests and forms wanted you to choose once race or ethnicity but for a lot of us, it just ain't possible. Choosing one often makes us feel like we're ignoring part of who we are. 
'Black-ish' explores being mixed to a point, but for the most part, it's about the Black experience. Which is great, but I yearned for more and got it when Ross helped bring her character's backstory to the table with 'Mixed-ish.' Still, in its first season, we're watching a young Rainbow Johnson explore being mixed race in the mid-80s. So many of what young Bow experiences then are realities I faced as a kid, and I'm sure some still face today. From picking a racial side in terms of identity, friends, dating, and even one of my biggest woes growing up…hair. 
'Mixed-ish' is the show I would have loved to have seen as a kid in a sea of 'Saved by the Bell' and 'Boy Meets World' where there was one Black character. Alas, it's here now and that's all because of Rainbow Johnson which in turn is because of Tracee Ellis Ross, who is mixed race as well. She and the team (many also mixed race) put a lot of their personal touches into young Bow's tales. Which makes the show even more endearing knowing people like me are behind the scenes. 
Curls on lock and a story that features the highs and lows of mixed race folks in the world, oh Tracee Ellis Ross – I love you.