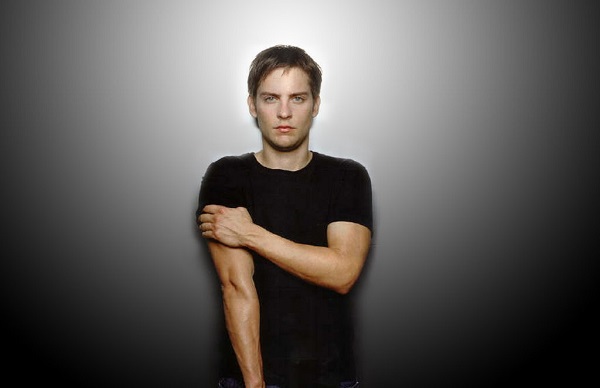 The upcoming weeks will be dedicated to four of the stars of Star Trek, but not this week. Before we get Into Darkness, we're going to talk about why you and I show love to Tobey Maguire. Why? Because when Oscar season rolls around again and Leonardo DiCaprio is likely looked over for The Great Gatsby, you'll thank me for this look at the other man in that upcoming flick, Tobey. Okay, so maybe you won't look back and thank me, but can we agree to disagree that Tobey Maguire deserves some attention? Alrighty then, let's get this started.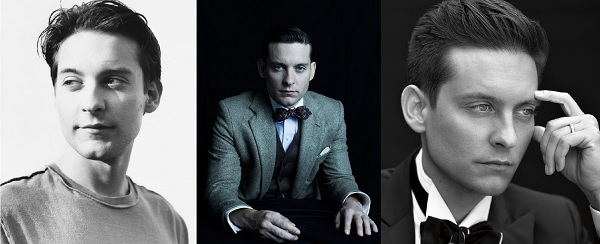 Name: Tobias Vincent "Tobey" Maguire
Birthday: June 27, 1975
Place of Birth: Santa Monica, CA
Twitter: @TobeyMaguire
Best Known For
When you become a superhero, that's likely what you'll be known for forever. Ask Lou Ferrigno, he'll tell you. So when you think of and see Tobey Maguire, it's easy to see Spider-Man. He's Peter Parker and it's hard to know him as anything else, but alas, you may. It could be possible that you noticed him in random early '90s roles when he was in one-off episodes of Blossom, Roseanne, and Eerie, Indiana. Probably not, because it's more likely that you knew him before the spandex thanks to movies like The Cider House Rules and Pleasantville — both starring roles. Then came Spider-Man in 2002 and for five years, Tobey was our friendly neighborhood, well, you get it. During that time he got itty-bitty in Seabiscuit, and after his biggest role he played insane with Jake Gyllenhaal in 2009's Brothers and will soon star alongside Jack Dawson — I mean Leonardo — in The Great Gatsby.
5 Quick Tobey Maguire Facts
Tobey dropped out of high school and got his GED in 2000. He seems to be doing fine though.
He's a father of two.
The best rumor out there about Tobey might be that he dated DiCaprio from 1987-1991.
When he's not working he likes doing yoga, playing chess, and cooking. He probably got that from his dad, who was a cook and construction worker.
Devon Sawa is forever grateful that he got the role in Final Destination because it was originally supposed to go to Tobey. Devon's just happy to work on anything after his heyday in Little Giants.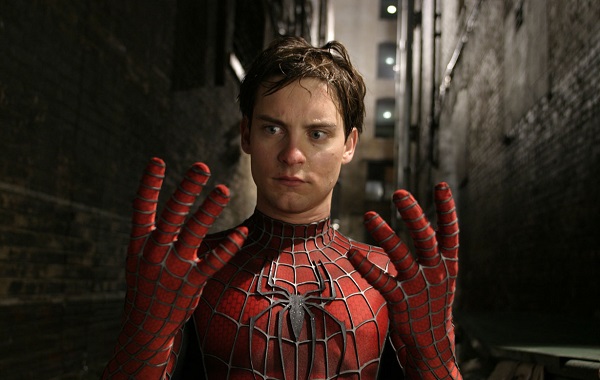 Reasons You Love Tobey Maguire
Let's just say no one here remembers when Tobey was on Wild & Crazy Kids over 20 years ago. That's not hard to do, right? Okay, so we're agreed. Let's also agree that less than 1% of his fan base spawned from his hitchhiker role in Fear and Loathing in Las Vegas. Now that that's out of the way, let's get to the real reasons you love Tobey Maguire.
Tobey isn't the kind of guy I think of when someone says "hot stuff," but for you he is. He's like if you threw Topher Grace and James McAvoy in a blender and the results weren't as violent as one would think. The ending was this man you've put on a pedestal because you admire a man who's not the typical definition of "beef cake." Your crushes sort of go against the grain and have a quirk about them.
Those looks are probably the reason your head perked up when you watched The Cider House Rules and Pleasantville. Those looks and them skills; you were in it for the long haul. Then came Spider-Man. You may've never even opened a comic book, but you were all about superheroes now that your boy was rocking the red and blue spandex. Plus, he got a little cut for that role and it was a far world away from what he was working with before. You liked and couldn't complain. You were okay with seeing him walk away from web slinging though because you'd grown to respect his craft and were excited to see where he went from there. Brothers kind of scared you, and you've decided to dedicate your birthday in 2013 to the 1920s to celebrate your boy's big break back into the spotlight in The Great Gatsby.
All of the above could have nothing to do with you and you're just a lifer with Tobey because of the Spider-Man franchise. That's fine, no shame in that. One scene in and you were A-Okay with Tobey as your favorite crime fighter. He fit the Peter Parker mold perfectly and to this day, you defend his time as the man — the Spider-Man, that is.
So to review, like with many men in Hollywood, you probably are a Tobey fan because you find him attractive and if given the chance would do that upside-down kiss with him in a heartbeat. Speaking of, there's of course the Spider-Man love you have, or just the legit respect you have for his other roles outside the Marvel universe.
Reasons I Love Tobey Maguire
Spider-Man came out when I was in 9th grade and I saw it the day it came out. That's only a lasting memory because I took a snail with me to the theater (not so long story). I ended up surprising myself and loving it and to this day I have a sweet Spider-Man washcloth that I use to wipe the bathroom counter. I can't explain why that movie took my heart in one viewing because I never cared for either sequel. I still think the third one was a practical joke taken too far. All I know is that the first one was a gem that I'll watch it whenever FX plays it on a random summer night.
That's all I got in my barrel of love for Tobey though, his role in Spider-Man — that and Brothers, because who knew that would be interesting? But really, I love Tobey because he is my idea of Spider-Man; he is Peter. When I look back to reading Spider-Man in the Sunday paper (occasionally because those had a lot of copy and I'm more a Family Circus/Bizarro kind of gal), I can only see Tobey in that role, not Andrew Garfield. I get he's "better looking," but whatever, I don't like his sassiness in the part. I'll take Tobey's weird look any day in the spandex.